Fadumo Dayib Is Risking Her Life to Be Somalia's First Female Presidential Candidate
"You're going into a boxing match even though your hands are tied behind your back."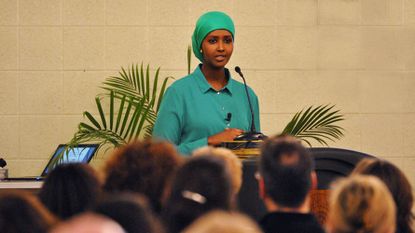 (Image credit: Lincoln School)
When Fadumo Dayib announced her bid to run for President of Somalia on national TV last year, people thought she was crazy. Somalia's violent history and the life-threatening conditions that the country's politicians and activists face on a daily basis makes Dayib's choice to run for office— especially as a woman in a patriarchal culture—a brave one. "People just can't understand why I would do such a thing," Dayib says.
Somalia's 2016 elections will be the first democratic elections held since 1967, when President Abdirashid Ali Shermarke rose to power. He was assassinated two years later and the Somali Army quickly took control, declaring a military coup d'état. A civil war followed in the early 1990s, as well as severe famine and political upheaval. A federal, democratic president was finally elected by the Parliament in 2012 to replace a series of transitional governments. And if all goes according to Vision 2016, Somalia's citizens will officially elect its first democratic President next year.
If anyone can become Somalia's first female president, it is this articulate, highly successful Finnish woman of Somali origin. Born to illiterate Somali parents in the mid-1970s, Dayib had a turbulent childhood full of financial difficulties. Her single mother, who often had to go to great lengths to make ends meet, mainly raised her. But despite the disadvantages she faced early on in life, her résumé boasts an impressive list of credentials: After receiving several degrees in international public health, Dayib is currently a MC/MPA Mason fellow at Harvard and a doctoral candidate with a focus on women, peace, and security at the University of Helsinki. She also has over a decade of experience working for the UN. An especially notable feat considering Dayib didn't become fully literate until about the age of 14.
"Throughout my childhood, I was constantly moving back and forth between Kenya and Somalia. At the age of 11, I really started to concentrate on my studies and I fully became literate at 14, having less than five years of primary schooling," she says.
At around 17 years old, she and her two younger siblings moved to Finland as refugees, and there Dayib was able to take advantage of academic opportunities and build a successful career. Dayib's husband and four children are still based in Finland today.
Dayib was deemed resilient from the moment she entered the world. She is her mother's first surviving child after the loss of eleven children to treatable diseases. Perhaps that's why, despite not having an extensive political background, connections, or a privileged upbringing, Dayib truly believes she can lead her homeland to a better future.
"I've been waiting for 25 years, and nobody is taking that responsibility seriously, and I have decided to do it," Dayib says.
She's hoping her clean reputation, education, and international policy-making experience will bring the refreshing change that Somalia needs today. She also hopes that having a woman lead the country will bring about much needed social change to the everyday life of a Somali woman.
"We currently have a 30 percent quota requirement for women in Parliament but it's only at 14 percent today," Dayib explains. "And even that 14 percent are women who probably don't have a lot of say in real issues."
Dayib will focus her policies on security and economic development, particularly for women and girls, who are doing much worse than their male peers, she says. "We have an entire generation that doesn't know any other life other than violence. You have four years to effect change, you can't do everything. The priorities are too many."
But her roadblocks to winning the election are substantial—the biggest, of course, being that she's a woman. "They say that my place is in the private sphere, not in the public space," she says of her detractors. "They tell me it's un-Islamic, 'how dare you step out of your place.'"
Sexual violence for women and girls has been a major cause of concern in Somalia. The UN reported nearly 800 cases of sexual and gender-based violence in Mogadishu alone for the first six months of 2013. When asked what steps she would take to combat this problem, Dayib responded that there's a desperate need for good governance.
"Somali women and their children face a lot of challenges including sexual violence," she says. "I think if people were dealt with according to the law, that would make a huge difference."
So far, Dayib is the only female candidate for the 2016 presidential election. "I hope there will be others," she says.
But Dayib might have more to contend with than just detractors. There are rumors that the current administration might ask for a two-year extension—even though the UN recently dismissed the idea of it.
In spite of this uncertainty, Dayib is currently preparing as best she can, and is ready to fight hard for her chance to lead her country—no matter the odds. "You know you're going into a boxing match even though your hands are tied behind your back," she says. "The people have to have a say."
Jennifer Chowdhury is an independent journalist based in New York City and Bangladesh. She covers the South Asian and Muslim diaspora with a specific focus on gender rights. She is passionate about covering stories on women of color around the world whose voices are stifled by patriarchal attitudes, systematic racism and socioeconomic burdens.