One of the Soccer Fans Who Harassed a News Reporter Live On-Air Was Fired from His $100K Job
Oh, and they were all banned from the stadium. Justice.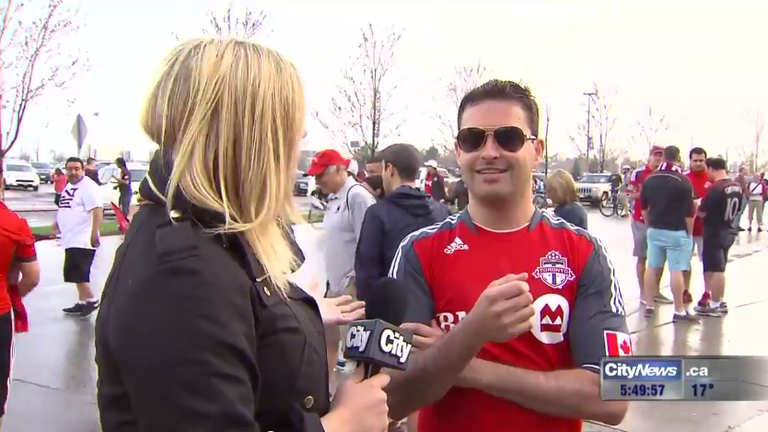 (Image credit: YouTube)
Update, 5/14: Joke's on these dudes. After making an offensive remark to a female reporter on live TV, at least two of the men are being punished. And one of them has already lost his job.
That's right. The man at the end who says the joke is "f*cking hilarious" was later identified as Shawn Simoes. Simoes was an assistant network management engineer with Hydro One, making $106,510.50 a year. We say was, because, he's not anymore. He's been fired for violating company conduct.
In a statement issued and reported by EliteDaily.com, the company explains: "Respect for all people is ingrained in the code and our values. We are committed to a work environment where discrimination or harassment of any type is met with zero tolerance."
As for the dude in the glasses? He's also being punished. He works for Cognex, and the communications director had this to say about the incident: "While the individual was attending the event on his own time and was not at a Cognex activity, the views expressed are totally inconsistent with Cognex's values, and we find such comments reprehensible."
Oh, and did we mention everyone in that group is being identified and quickly banned from the stadium for at least a year? Yep.
Justice feels amazing, doesn't it?
Original post, 5/12: Hey, remember that time everyone thought it was just SO funny to ruin live broadcasts run by women by yelling "f*ck her in the pussy"? Maybe you don't, considering it happened EONS ago. Well, 1) it's apparently still funny to some people, like the douchebag version of a dad joke 2) it's still happening out there...in the world. Like, now.
But a reporter fought back against her harassers on live TV, and it was both infuriating and soul-satisfying and ridiculous, all rolled into one. Shauna Hunt, a news reporter for Canada City News, was covering the Toronto FC game when a heckler interrupted her broadcast to say the gross thing that we already mentioned once so we won't again. Then, she asked him and his group of friends (who laugh, until they realize they're being filmed and fled the scene) about the comment. Not only did she keep her cool (you are a better person than most, Hunt), but she made these men look like jackasses on live TV. (Granted, it didn't take much.) It is, in sum, the best thing.
The most important takeaway, however, is that at the end a man continues to defend the comment, saying that it is hilarious. When asked what his mother would think, he said she would "die laughing, eventually." We think he might have meant to take out the "laughing" part. (And quick, someone get that man a real sense of humor.)
Watch it go down below:
I'm Sam, the senior editor at MarieClaire.com. I love shining a light on awesome people doing things that matter, cool products and hacks for everyday life, and advice you'll actually use. I'm pretty much always looking for the perfect GIF for any situation. When I'm not trolling the internet, I can be found dancing like a weirdo or napping like it's my job. Right now, I'm probably eating or drinking something filled with sugar or booze. (Sorry, mom.)