Exclusive: Watch Seven Courageous Women Tell Their Stories About What It's Really Like to Have HIV
For World AIDS Day, the Moth and (RED) teamed up for a powerful project.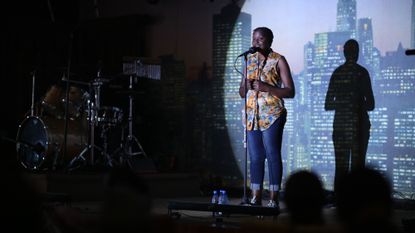 (Image credit: Courtesy The Moth/Red)
According to Kate Tellers, "It's hard to care about numbers, but it's impossible not to care about stories." Tellers would know—she works as a senior producer at The Moth, the live storytelling nonprofit organization loved by audiences for the true and unscripted stories participants share at its events.
In September, The Moth collaborated with AIDS fundraising nonprofit RED to produce an event in Zambia, where seven women affected by HIV received a week of storytelling coaching that culminated with a performance where each told her story.
"Sometimes I take for granted that I've been speaking about this thing," says Connie Mudenda, who was diagnosed with HIV 25 years ago and works as an AIDS educator at a clinic in Zambia. "But after working with the Moth, I realized there's a systemic way to present my story. You start with the introduction, main body, and conclusion—how are you going to catch the attention of the audience?"
RED and The Moth have been working together for two years, staging previous shows for World AIDS Day in New York and London. Zambia, where over 1 million people live with HIV, was a natural next choice. It's one of the countries RED has focused on most. "We've been able to cut the transmission of mother to child HIV in half," says RED CEO Deb Dugan. "In 2012, the country hit a tipping point: More people are now getting treatment than getting HIV. Zambia is making incredible progress."
There is still much headway to be made. Today, more than 37 million people are living with HIV, and AIDS has killed over 34 million. To commemorate World AIDS Day today, Marie Claire has been given exclusive videos of the RED x The Moth workshops and event. In the videos below, watch Connie tell her story and learn more about the two organizations' collaboration in Zambia—and prepare to be moved.
Follow Marie Claire on Instagram for the latest celeb news, pretty pics, funny stuff, and an insider POV.
I'm the features editorial assistant at Marie Claire. Before working at MC, I spent time in the production department at The New Republic and writing about politics for Bustle. When I'm not writing, you can find me museum-hopping, practicing mediocre yoga, and stalking pugs on Instagram.