More Than a Pretty Face Calista Flockhart
Calista Flockhart -- More Than a Pretty Face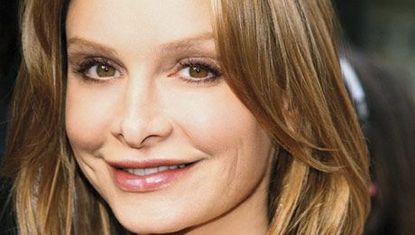 (Image credit: Unknown)
Name: Calista Flockhart

Age: 42

Job: Actress/activist

Where you'll see her now: On ABC's new drama Brothers and Sisters
Q: How did you get involved in the issue of violence against women?

A: When I traveled to Africa with Eve Ensler, I met rape victims and girls who'd endured female genital mutilation. Seeing how powerless they were to defend themselves against outdated practices made me unbelievably angry. Women and girls are often the most vulnerable people in a society; as a mother I'm extremely sensitive to this.
Soon after my trip, I attended an event hosted by the Los Angeles Commission on Assaults Against Women (now called Peace Over Violence), and I had the chance to hear survivors talk about their experiences. Their personal stories were so raw, and at times hard to hear, but I realized that it could have been my sister or friend up there talking. I knew I had to get involved.
Q: Is this an issue that has affected your own life?

A: I have friends who are survivors of abuse, so yes, it impacts my life personally. I also acted in two of Eve's plays, The Vagina Monologues and Necessary Targets (about the rapes in Bosnia and Herzegovina). In both projects, I gave voice to the stories of rape survivors and battered women.
Q: What's the biggest hurdle for women who have been assaulted?

A: Many women are scared to seek help. Only 17 percent of rapes are reported to the police, because there's still a stigma attached to being a rape survivor. One woman I spoke with told me how, for 35 years, she kept the fact that she'd been raped a secret. Hearing other women come forward and share their experiences with violence helped her finally open up.
Q: What myths persist about women who have been assaulted?

A: That women lie about getting raped. It's true that this happens — but most often, it doesn't. The public still wants to look for reasons why the assault may have been the woman's fault. Sexual violence is a messy issue in the U.S. Many people are still uncomfortable with the idea of women asserting their sexuality. The message from Peace Over Violence is that there is no excuse for violence against women.
What Is POV?
Founded in 1971, Peace Over Violence tries to protect women and children from violence by providing emergency intervention services and prevention programs in California (where a woman is raped every 54 minutes). "We focus on separate counseling services for women, youths, men, the disabled and elderly, gays, and immigrant populations," says Patti Giggans, the agency's executive director. POV offers a variety of other programs, including self-defense and safety training, and it participates in the Men of Strength campaign, which empowers young men to take a stand against sexual assault, gender discrimination, and violence. In November, POV celebrates its 35th anniversary with a photo-driven campaign. "We want to get people's attention so we can change the attitudes about how we combat violence," says Giggans. To support the campaign, log on to POV's Website: peaceoverviolence.org (opens in new tab).