More Than A Pretty Face: Sveva Makena Gallman
She has endured tragedy and traveled the world. At 26, Sveva Gallmann is ready to take on some of her generations not-so-minor problems.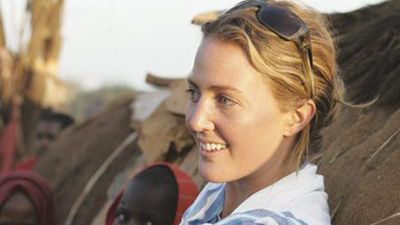 (Image credit: Nell Freeman)
She has endured tragedy and traveled the world. At 26, Sveva Gallmann is ready to take on some of her generation's not-so-minor problems.

Name: Sveva Makena Gallmann

Age: 26

Job: Somewhere between an anthropologist, an environmentalist, and an educator.

Location: Kenya

Philosophy: Never let anybody deter you from your position. Make sure you live what you preach and never be complacent.
The daughter of conservationist and I Dreamed of Africa author Kuki Gallmann, Sveva's early years were marred by family deaths. Today, she's helping African children preserve their heritage.
Q: HOW DID YOUR UNUSUAL CHILDHOOD SHAPE YOUR LIFE TODAY?

A: My father was killed in an auto accident before I was born; my brother died after being bitten by a poisonous snake when I was 3. My mother turned the loss of their lives into an appreciation of everything that symbolizes life. I was brought up on a 100,000-acre wildlife conservancy that she developed. As a child, nature was my greatest companion and playground.
Q: HOW DID YOUR "FOUR GENERATIONS" PROJECT COME ABOUT?

A: In Africa, older generations of tribal herbalists are not passing their knowledge on to younger generations. More and more children are going to Western schools, where they learn to believe the old ways of understanding the world have no relevance in modern life. The elders, who cannot read or write, are no longer seen as teachers—even though their knowledge comes from thousands of years of observing nature and coexisting harmoniously with it. Through Four Generations, I designed a course to help schoolkids write down their tribal history for the first time.
Q: HOW ARE HERBALISTS DEALING WITH THE AIDS CRISIS?

A: AIDS is a taboo subject in Africa, and the abstinence program favored by the West only makes young people more secretive about sex, which increases the spread of the disease. In rural areas, people go to herbalists to treat the symptoms of AIDS—rashes and fever—which herbalists do quite effectively. But Western doctors are often hundreds of miles away, so the ability to get drug treatment is slim.
Q: WHAT CAN WE LEARN FROM AFRICA?

A: Coming back to the U.S., I am often shocked at the misery that Westerners feel sometimes. I have friends buckling under pressure and taking Prozac, feeling trapped by their jobs . . . depression, insecurity, anorexia. What strikes me about Africa is the resilience that keeps people moving forward even after the most brutal experiences. Look at Rwanda, and how they've rebuilt. People are ingenious in how they cope with life's shortcomings.
SUPPORT GALLMANN'S WORK

To contact the Gallmann Africa Conservancy, log on to www.gallmannkenya.org or e-mail sveva@africaonline.co.ke. Visit Wings WorldQuest, which supports female scientists and researchers in many fields, at www.wingsworldquest.org