Worth the Fight: Inside the U.S. Women's Soccer Team's Important Boycott
"Gone are the days when women are going to say, 'We're just grateful to be here.'"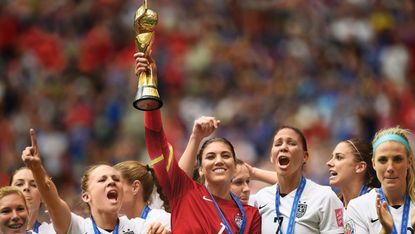 (Image credit: Getty Images)
Back in 2000, when Hope Solo joined the U.S. women's national soccer team as a goalie, what she'd be paid to play a sport she'd loved since she was 5 years old wasn't on her mind. "I was just trying to make the roster," she says. It wasn't until she'd been playing for about five years that she started asking questions about the team's compensation. "I've been fighting this fight for about a decade," Solo, now 34, says. "I was constantly trying to stir the pot and ask questions people weren't asking. It didn't always go over well, but I always had a bigger sense of what women should fight for."
Now, Solo is no longer alone. In March, she and four teammates filed a complaint with the Equal Employment Opportunity Commission (EEOC) alleging gender discrimination because, as part of the top-ranked women's team in the world—with three World Cup wins and four Olympic gold medals—they are tired of being paid less than the players on the men's national team, which has never won a World Cup tournament. The complaint is an attempt to force the U.S. Soccer Federation to compensate them equally, but if they have to, they say, the entire team is willing to boycott next month's Olympic Games in Brazil. (But that may not be possible: On June 3, a U.S. district court judge ruled that the team was bound to an implied no-strike clause.)
"This is not something I take lightly—I want to play in the Olympics—but I stand with my team, and what my team decides to do is what I'll decide," says forward Alex Morgan, 27, one of the complainants. "What we're fighting for is bigger than us and women's sports; it's about women receiving dollar for dollar, not 79 cents to the dollar."
Compensation is a sticky issue in women's sports. Female athletes have been pushing for equal pay since 1973, when Billie Jean King formed the Women's Tennis Association and won the fight for equal purses at the U.S. Open. (Venus Williams followed up on that victory, helping to win equal pay at Wimbledon in 2007.) But outside of tennis, victories have been few. On the whole, women's sports bring in less revenue, fewer endorsement deals, lower ticket sales, and lower ratings, resulting in lower pay. In the WNBA, for example, only half the teams are profitable, and its highest-paid players make $109,500. Meanwhile, the NBA reportedly brought in north of $5 billion last year, and its lowest-paid player made $525,000.
The U.S. women's national soccer team argues that its situation is different: It pulled in significantly more revenue than the men's team in 2015 and is projected to bring in another $5 million in profit this year, while the men's team has a projected loss of $1 million. In the complaint, the five players—Solo, Morgan, Megan Rapinoe, Becky Sauerbrunn, and Carli Lloyd—claim that the highest-paid players on the women's team are limited to $99,000 each, but players on the men's team average $263,000 each. They also claim that the women earn less than half of the $68,000 each male player is paid when he makes the World Cup roster, and that they are paid less for appearances and per diems. (U.S. Soccer has vowed to rectify the per diem issue.) "If the men's team started winning, this would be a whole different conversation," says Abby Wambach, the world's all-time leading goal scorer, who retired from the U.S. team in December. "But they haven't, so how can they be paid exponentially more dollars than the women?"
U.S. Soccer, however, contends that the women are presenting misleading figures. "Looking at a single year of revenue generation does not provide the entire picture," says spokesperson Neil Buethe. "If you look at four or eight years cumulatively, the men's revenues are almost twice that of the women's." According to U.S. Soccer, the women's team has always been paid a greater percentage of its revenue than the men's team, and the players are also paid a regular salary, while the men are not.
The wage issue at home isn't the only unequal treatment the women face. When the U.S. women won the World Cup last year, FIFA paid the team $2 million. In 2014, when the men's team lost to Belgium in the round of 16, it made $9 million. And last year, Wambach and other top players from around the world filed a lawsuit against FIFA and the Canadian Soccer Association after they discovered the Women's World Cup would be played on turf instead of grass, which they say is more dangerous and requires a different style of play. "We can't keep going down this road," Wambach says. "Gone are the days when women are going to say, 'We're just grateful to be here.'"
The women didn't pursue that lawsuit—they realized there'd be no decision before the World Cup and withdrew it—and it's possible that, in this case, the EEOC investigation could determine that unequal pay does not amount to gender discrimination. (The EEOC hasn't said when it will hand down a decision.) But either way, the women say, it's worth the fight. "When we look back 100 years from now, this is going to seem absurd," Solo says. "And we can stand here and say, 'I was on the right side of history.'"
This article appears in the July issue of Marie Claire, on newsstands June 21.