They Told Me I Wasn't Pretty Enough to Be a Rock Star
Former Cobra Starship musician Elisa Jordana on the sexism she experienced in the music industry.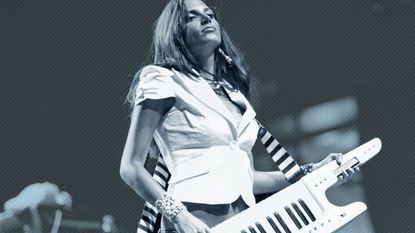 (Image credit: ARCHIVES)
When I started writing songs as a kid, I thought I'd be the next Madonna. But I didn't look like Madonna. I didn't sound like Madonna. As many men in my life were fond of reminding me, I was never going to be her. But then I got a chance at fame.
"They said you're not beautiful enough," my manager informed me, relaying a memo from a record label representative. It wasn't the first time I'd been told I didn't have the right "look" to be a pop star. Feeling masochistic, I asked him to elaborate. "Too old, too fat, and weird nose," he clarified. At least they were being honest.
"Did they like the songs?" I asked.
"They didn't mention the songs, but they pointed out you looked like a mom, and not a hot one."
After years of trying to make it as a solo artist in the male-dominated music industry, I knew the drill: If they didn't want to bang you, they weren't interested in talking to you. Image was a major factor in building a successful singing career, and I felt tremendous pressure to dress and act very sexy. Growing up I'd always been extremely awkward and shy. Sometimes I'd go a week in school without saying a word. I had a super skinny body, a big nose, and a huge frizzy mop of hair with fluffy bangs. To succeed in the music industry I'd either have to cut my head off and start with a completely new face and body, or pump up the sex appeal. So I put on a tight dress, fake eyelashes, a bright orange spray-tan, and neon lipstick.
Producers started asking me the following questions:
I just wanted to succeed.
I started playing piano at age four and took lessons for over ten years. I loved to write music and felt happy performing. It was the only time I felt like people paid any attention to me. Without music, I was invisible. I would practice all day long, until my parents would make me go to bed. They tried to be supportive, especially my dad. He got ripped off for thousands of dollars when producers promised him they could get me a recording contract, and I felt enormously guilty that he was put in that position because of me.
After I left home, I waitressed in NYC, took the occasional modeling job, go-go danced, and tried to navigate the music industry. Multiple times, I found myself alone with random "music producers" trying to get in my pants. I say music producers in quotes because most of them were just doing this as a hobby. I experienced little to no success, sending demo tapes to anyone with a working mailing address, yet still so hopeful that I was right about myself and my talent.
[pullquote align='C']"After years of trying to make it as a solo artist in the male-dominated music industry, I knew the drill: If they didn't want to bang you, they weren't interested in talking to you."[/pullquote]
I had finally given up and accepted that I'd be a cocktail waitress and/or shady foot fetish model when I bumped into a guy at a nightclub who said he was forming a band and asked if I'd be interested in joining.
"Yes! I'll do anything!" I said too quickly, not looking very cool at all.
"Great, we rehearse Monday in Jersey City."
I forced myself to go to every single rehearsal, and worked 12 hours a day learning the songs he wanted me to play. I picked up a cool instrument, the "keytar," which is a combination of a keyboard and a guitar. I loved being part of something—it was as if I finally belonged somewhere. When we left New York to embark on a national tour, I couldn't have been more excited. But I let my emotions get the best of me and ended up falling in love with my band's lead singer. He made my dreams come true and actually told me I was as talented as Mozart (I know, what a great line). I think he had a girlfriend at the time, but I was so enthralled with him I hardly even noticed. Our relationship was a secret I was not capable of handling. I wanted to tell the world about us. But instead, the whole situation just became really awkward. At times, it felt like I was in danger of being replaced.
I'd cry in the bathroom of the venues we played at. I knew I made a horrible mistake. I had no power in this situation. I hoped I could feel better about myself, but everything got worse when, after playing a venue in NYC, I learned a music executive had said I looked like a slut onstage. It was especially horrible because the night of that particular show, my parents were in the audience.
We were touring the midwest when a new girl started sleeping on the tour bus. She was there for a week yet she never looked at me and we never spoke. It wasn't so uncommon for bands to pick up pretty women so I didn't think much of it. But then a random fan at an autograph signing mentioned a rumor that this new mystery girl might be my replacement. I saw her holding my keytar backstage, figuring out how to adjust the settings. I walked up to her and said "That's mine."
Eventually, I recognized that my dreams hadn't come true after all. They replaced me with someone I'd never seen before—a younger, more attractive version of myself—with perfectly straight hair and a smaller nose. More devastation came when a few months later the band had a number one hit single on every pop radio station across the country. They performed at the MTV Video Music Awards that year, with my replacement front and center. I'd been dumped and fired from jobs before, but never one that gave me a constant reminder on how much I'd royally screwed up my life. I became depressed for years, and moved to California to escape the daily remembrance of how much I'd failed in New York. I was working at a bikini bar when my former band's song "Good Girls Go Bad" came on the radio. I never felt like such a loser in my life. I developed a stage name for myself, no longer being Elisa Schwartz but Elisa Jordana, hoping this new identity would bring me some better luck.
I became enamored with the comedy scene in LA. I needed laughter in my life, I was desperate for it. I started writing jokes but was too scared to perform them on stage. After dating a brilliant comedy writer while visiting New York, I ended up being inspired enough to submit material to The Howard Stern Show, where he worked. Eventually they hired me and I felt a little bit less horrible about myself.
As it turned out, The Howard Stern Show wasn't the best place to work for someone whose self esteem had been broken. When talk show host Jimmy Kimmel went on the air and said "Elisa Jordana isn't funny or talented," I just about lost my mind. When I got the opportunity to play some original music live on the show for record industry exec Tommy Mottola, he called my voice "thin," and said I should "stick to comedy."
Having Jimmy Kimmel say I wasn't funny and Tommy Mottola say I was a horrible singer made me realize something. I had been heartbroken. I'd been through humiliations. I'd had famous and successful people criticize me in front of an audience of millions. Of course I should've quit trying things, at least publicly. People could put me down for my looks or my talent (or lack thereof), but I wouldn't let them break my spirit. That is something they have failed at.
If I could start over in the music business I wouldn't try to be someone I'm not. I wouldn't be wearing a tight, uncomfortable dress, or sing about threesomes, or have an affair with someone who doesn't love me. I would be shy, nervous, awkward, playful, and curious. Because then I would be myself, and if the music industry didn't accept that, I wouldn't want to be in it.
Follow Marie Claire on Facebook for the latest celeb news, beauty tips, fascinating reads, livestream video, and more.
Celebrity news, beauty, fashion advice, and fascinating features, delivered straight to your inbox!