Lena Headey Opens Up About Her Struggle with Depression and Anxiety
"Magic happens when you are vulnerable and truthful and HUMAN."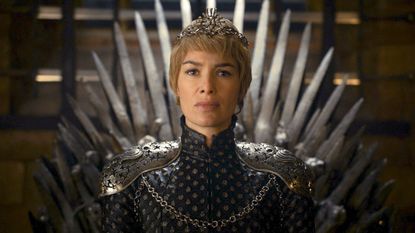 (Image credit: HBO)
She may play the unshakable Queen Cersei on HBO's Game of Thrones, but in real life, Lena Headey is a human woman that's subject to the same emotional and mental challenges many others face.
On Thursday, one of her fans asked her if she ever feels insecure.
Three minutes later, she provided an intimate response in which she admitted she's struggled with anxiety and depression in the past.
I overthink for sure. I am familiar with depression. I get HUGE anxiety (always fun 😫) Insecure, not really. https://t.co/5dwrO4ByYzApril 13, 2017
See more
Then she offered some wonderful, concrete ways to deal with your inner demons, especially in the current political climate.
Anxiety is a beast. You have to talk to beasts. Release them back into the wild. Easier said than done I know but still. Good to Practice.April 13, 2017
See more
Join the club. I tend to turn it around by the only known antidote, by judging myself favourably and compassionately.April 13, 2017
See more
And yes and yes and yes.... major breakthroughs with this beauty https://t.co/Y7rtYb80GZApril 13, 2017
See more
Anxiety. Depression. It's real and it's chemical. It's also spiritual. .. stay with me everyone (and before you ask, yes I'm ok)April 13, 2017
See more
Globally we see constant destruction of human lives. Which no matter your belief, has an effect. If we scale it back to family and communityApril 13, 2017
See more
It's been lost to greed and aspiration, no wonder we have anxiety, no wonder we overthink ..we're slammed with bullshit. ...April 13, 2017
See more
Tricked into thinking. You don't have enough. You're not enough. Pretty enough. Thin enough. Rich enough. Capable enough. Successful enough.April 13, 2017
See more
Let's REMEMBER that. Don't be afraid to let someone really SEE you. Magic happens when you are vulnerable and truthful and HUMAN.April 13, 2017
See more
Try one conversation face to face without hiding your true self. You'll feel terrified maybe .. for a second .. and then BOOM ...April 13, 2017
See more
Drop the Mike. You fucking did it. Swagger home with some complex fucked up shared human realness 👍👍😘👻💗💗💗April 13, 2017
See more
She even took questions like a virtual psychotherapist.
can't. I'm a super-introvert. nice thought though 😊April 13, 2017
See more
Your thought will become an action. I know it. Deep breaths. https://t.co/VYVc90jV5DApril 13, 2017
See more
This is the hard part. LOVE YOU first. Don't second guess someone's reaction. 👊👊 https://t.co/Q4CDtbkYKGApril 13, 2017
See more
Wise words.
We're nominated for a Webby Award—but we need your vote to win! Vote for the Women and Guns project here. (opens in new tab)
My writing has regularly appeared in The New York Times, The Paris Review, Salon, VICE, Guernica, The New York Observer, BuzzFeed, Cosmopolitan, Seventeen, Esquire, Elle, Harper's Bazaar, and many more publications.

I was previously the Senior News Editor at Best Life Online and the Viral Content Editor in the Newsroom of Hearst Digital Media. My portfolio consists of a vast and diverse body of work that includes personal essays, lifestyle articles, breaking news posts, and viral content. My areas of expertise, however, are Russia, sex and relationships, and mental wellness.