An Insider's Guide to Making the Most Out of Coachella
You're not there for a long time, so have the *best* time.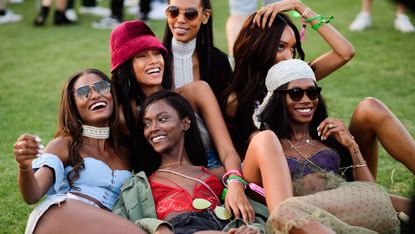 (Image credit: Tyler Joe)
As some of us (not this extremely responsible writer) continue to recover from the first weekend of Coachella, we've compiled some advice for our friends, whether you're attending the same massive, bucket-list-festival Friday or low-key thinking about all the time, money, logistical anxiety, and patience with rampant extra-ness it'll take to get there—someday. Here, our top tips and tricks, learned the hard, muddy way.
Get the Party Started on Your Way There
Touching down in Palm Springs is nice, but why not build in a scenic road trip that'll pump you up for the shows—without pumping more greenhouse gases into the atmosphere? From experience, I recommend picking up a Chevy Bolt EV from LAX and frantically answering last-minute work emails using the all-electric car's super-fast WiFi, because even though your OOO's on, we all know you can't help it. Then, after you've sent that final "sorry for the late reply," use Apple CarPlay to blast some proper CHOONS (and directions for how to get back on the freeway). You'll want to pull over for pee breaks and a Double Double, but you won't need to stop for gas—one charge can get you all the way from New York to Washington, or whatever the West Coast equivalent of that is.
For the Love of Your Respiratory System, Bring a Bandana, Even If It'll Smudge Your Makeup
Don't be a knob. You *will* inhale several hourglasses' worth of dust when the wind blows, and you will spend the next day hacking up a lung if you don't. Plus you can't sing about molly or Percocet if you're wheezing, which is a bummer. (Also pack a water bottle or recycle your first one of the day and fill it up at one of the many hydration stations. The best one is the light-up sculpture. Also sunscreen.)
RELATED STORY
Use the Bathroom That's Always a Bit Further Away but Way Less Crowded
Sometimes, it's just around the corner. Other times, there will be nobody in line at all, which is a sign something is terribly wrong in there. (Do not enter.)
Don't Be Bummed If You Can't Get Right Up to the Stage
The greater the distance from the artist, the greater the chill. You need a break from flailing around sometimes, so sitting on the outskirts with a cider and looking at the planes flying ads can be pretty nice.
Stick to the Ideal Daily Itinerary
It goes like this: Wake up absurdly late, stumble down to pool, sit by pool unless you are taking a refreshing dip, drink, maybe find a party at which you can drink more, roll up to the festival in the afternoon, realize you've underestimated traffic, sprint through security to catch the last three songs of Two Door Cinema Club's set. It's practically tradition.
Be Cool About the Famous People
Regardless of what level of access you've got, you will see celebrities. And they will see you trying or not trying to take a creeper pic. And that will make them feel like April the giraffe before her feed got cut off, so be chill and ask for a pic if you really want one.
Cut Your Wristband Off as Soon as You Have Access to Scissors
First of all, keeping it on for the next week and a half is not a good look. Second, it has been dragged on scummy sinks and bars, across scanners shared by thousands of other people's arms, the ground, and so many other grimy surfaces it's better not to think about it. By the end of the weekend, it will be a petri dish of bacteria that will make you sicker than you already are from the Absolut.
We're nominated for a Webby Award—but we need your vote to win! Vote for the Women and Guns project here.
Chloe Metzger is the deputy beauty director at Cosmopolitan, overseeing the editorial content and growth strategy of the hair, makeup, and skin space on digital, while also obsessively writing about the best hair products for every hair type (curly girl here; whattup), and the skincare routines that really, truly work (follow her on Instagram to see behind-the-scenes pics of that magazine life). She brings nearly a decade of writing and editing expertise, and her work has appeared in Allure, Health, Fitness, Marie Claire, StyleCaster, and Parents. She also has an unhealthy adoration for Tom Hanks and would like to please meet him one day, if you could arrange that. Thanks.