Why It's Such a Big Deal That 'The White Princess' Features People of Color in Tudor England
This should be the norm. Not the exception to it.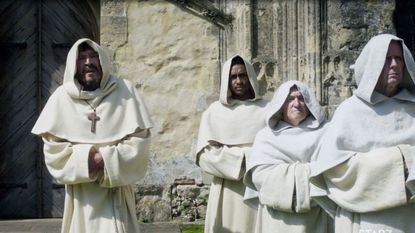 (Image credit: Starz)
To cast a person of color in this show would be a stark anachronism." That's what Emma Frost was told after asking The White Princess' on-set historian if there were people of color in Tudor England. Let's just say his answer didn't sit well.
"There is an assumption that on a show like this, everyone is going to be cast as white," the showrunner/writer/executive producer told MarieClaire.com. "People don't usually question it, and it's perpetuated by the fact that almost every movie and TV show made about this period is white-washed. His answer just annoyed me—there was no context, evidence, or backup for that statement."
So she embarked on a mission to prove him wrong—roping in her script team to spend hours researching the history of people of color in Tudor England, which, turns out, is much more robust than TV's white lens will have you believe.
"I spent a couple of hours Googling and found two books," Frost says, citing Blackamoores: Africans in Tudor England, Their Presence, Status and Origin by Onyeka Nubia and Black Africans in Renaissance Europe by T. F. Earle and K. J. P. Lowe. "It's all there to be found for someone who can be bothered. And what you find is that there were a considerable number of people of color in England—particularly around the port towns."
And so, The White Princess went from being a show entirely populated by white people (which again, is historically inaccurate) to a show featuring people of color. [Edit lang='EN-GB"> a regular musician at the courts of both Henry VII and Henry VIII.']
"We examined as many roles as we could to readjust the balance," Frost says. "Because when you're making a show about people who have been excluded from history—as women have—it would be entirely hypocritical to exclude other groups of people who have also been excluded from history. It became important to me to look at how other groups' history had been lost, and try to reclaim it and reframe it in the show."
Since The White Princessis is based on Tudor history and the British royal family is as white as they come, Frost was unable to cast people of color as the main cast. But she says that she made a concerted effort to include non-white people in court scenes (as well as non-court scenes)–and made sure there were speaking parts.
RELATED STORY
Of course, at the end of the day what TV needs more of is stories where marginalized groups are in the *foreground*, not the background. And next on Frost's wish-list is a show about Catherine of Aragon and her lady in waiting—a woman from Africa about whom next to nothing is known about because (ugh) history is written by white men.
"What's really exciting about the story of Catherine of Aragon actually, is that her main lady in waiting—which is a very senior role—was an African woman called Catalina," Frost says. "The show would recover an African woman from history that people didn't know."
Make this, please, Emma Frost. It's time.
Follow Marie Claire on Facebook for the latest celeb news, beauty tips, fascinating reads, livestream video, and more.
Mehera Bonner is a celebrity and entertainment news writer who enjoys Bravo and Antiques Roadshow with equal enthusiasm. She was previously entertainment editor at Marie Claire and has covered pop culture for over a decade.