Announcing Marie Claire's First-Ever Sustainability Issue
Editor-in-chief Anne Fulenwider on our historic environmental undertaking—and what you can do to help.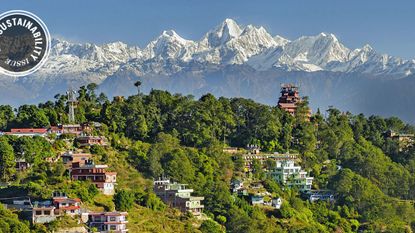 (Image credit: PASCAL LE SEGRETAIN/GETTY IMAGES)
I 'm thrilled and proud to announce Marie Claire's first-ever sustainability issue. When we first sat down a year ago to talk about climate change (and voted to send Creative Director Nina Garcia to a glacier in Alaska last September), we never dreamed that by the time we published this, the United States would have pulled out of the groundbreaking 2016 Paris Agreement ratified by 148 countries to battle climate change. Like many of you, we were shocked to find the U.S. in the company of Syria and Nicaragua on the very short list of countries that have not signed on to take action in this global climate effort.
But just as the world has been heartened by the more than 1,200 American business leaders (the CEOs of Google, Apple, Facebook, and Microsoft among them), governors, mayors, and college presidents who have resolved to act on their own, by joining the "We Are Still In" campaign, and Michael Bloomberg and California Governor Jerry Brown's recently-announced "America's Pledge" coalition, we have been greatly encouraged by the efforts of the fashion and beauty industries to minimize their environmental footprints. This issue is filled with inspiring examples. Take PVH, which owns brands including Calvin Klein and Tommy Hilfiger: It developed an industrial park in Ethiopia that brings all operations (dyeing, sewing, etc.) into one place to eliminate transportation costs and reduce carbon emissions, and reuses all of its water (and also created 30,000 jobs). And did you know that 71 percent of Nike's apparel and footwear contains recycled materials? The more we learned about sustainability, the more we realized we had to learn. So we assembled a powerhouse advisory board of experts in the field (Burak Cakmak of Parsons, Abigail Dillen of Earthjustice, Amanda Hearst of Maison de Mode, Kara Hurst of Amazon, Aurora James of Brother Vellies, Sara Kozlowski of the CFDA, and Cara Smyth of Fair Fashion Center), partnered with the Natural Resources Defense Council (hearstforhumanity.com/mceco), and teamed up with Miroslava Duma, our guest editor. Already a fashion force and media mogul, Duma has just launched the extraordinary Fashion Tech Lab to help transform the fashion ecosystem into one that is technologically advanced and sustainable.
RELATED STORIES
In this issue, you'll find sustainable fashion in our trends pages, stories on designers Prabal Gurung (who produces part of his collection in his native Nepal) and Reformation (which upcycles vintage clothes and uses deadstock), plus news on how fashion and jewelry brands are helping the planet. In our Newsfeed section, we feature meteorologist Kait Parker discussing The Weather Channel's "United States of Climate Change" project; Al Gore's latest documentary, An Inconvenient Sequel; and a woman bringing solar power to the masses. In the Beauty section, we take you to Embu, Kenya, where power ingredient macadamia nuts are being sustainably farmed, and to San Diego for its annual Farm To Bay Festival. In "Fashioning the Future," we spotlight 12 leaders—from Francois-Henri Pinault to Stella McCartney to Emma Watson—raising the eco-consciousness of the fashion industry. And Adrian Grenier, UN Environment Goodwill Ambassador (and the first guy on our monthly Backpage!), talks about his Lonely Whale Foundation dedicated to marine conservation. One of my favorite moments in the issue is when, citing his environmental heroes Rachel Carson, Jane Goodall, Sylvia Earle, Alice Waters, and his mother, Grenier notes, "Women really are the protectors of our Mother Earth."
Fashion comes together when times call for it, and that time is now.
Join Marie Claire and the Natural Resources Defense Council to protect the planet—donate now at hearstforhumanity.com/mceco.
Celebrity news, beauty, fashion advice, and fascinating features, delivered straight to your inbox!