Out of the Box
Writer Jodi Jill tells her extraordinary story of being raised in a 10-by-20 storage unit, cut off from society and denied school — and how she finally found the strength to change her life.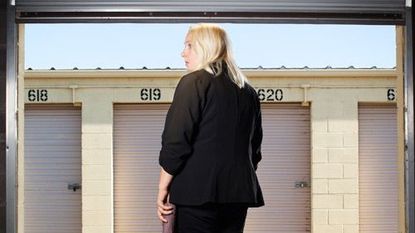 (Image credit: Gregg Segal)
For most people, making the trip to their childhood home may include visiting an old swing set in the backyard or a bedroom with posters of teen idols lovingly preserved on the walls. But when online entertainment columnist and former literary agent Jodi Jill recently returned to the place where she grew up, there were no nostalgic mementos. Jodi's family "home," which she shared with her parents and four siblings, is a 10-by-20-foot storage unit.
For the first time in two years, Jodi visits the unit in Loveland, Colorado, hoping the trip can help her make sense of a bizarre and troubled childhood. As she drives up to the desolate facility, her blue-green eyes are sober and wary. Walking across the lot, she enters unit 151 and runs her fingers along the cinder-block walls. Overwhelmed with emotion, she turns to leave, grabbing the handle of the metal door and rolling it down — ca-clunk, ca-clunk. The sound is enough to trigger panic, and she quickly ducks back outside into the sun.
"I'd forgotten how bad it was," she says. "The only things living here are weeds."
A TRANSIENT LIFE
Jodi didn't always live there. For the first seven years of her life, she lived in a two-bedroom house in Buffalo Center, Iowa, with her little sister and her parents, Pam and Donald Wubben. When her parents announced that they were moving to a new house with a yard and a swing set, Jodi was sad to leave her grandparents who lived nearby. The family packed up whatever belongings they could fit inside a small trailer and hit the road in their '68 Ford station wagon. But after a few days of roaming the highways of the Midwest, it became clear to Jodi that they had no destination. The family spent their days driving aimlessly and sleeping in their car at night. "No one explained anything to my sister and me," says Jodi. "To this day, I don't understand ... We kids weren't allowed to speak in the car or listen to music, and the only food we really had was one or two $1 fast-food hamburgers per day."
Neither Donald nor Pam was raised for a hardscrabble transient life. Both came from educated families. They met at Iowa State, although when Pam became pregnant with Jodi, she dropped out. After Donald grad-uated, they moved into a home Donald's parents owned in Buffalo Center, where Pam waited tables and Donald built motor homes for Winnebago. The couple, who believed that the government was trying to "control" their lives, began withdrawing from society. When Donald and his par-ents argued over his and Pam's increasingly odd behavior, he and Pam packed up their kids and took off in their car.
For as long as Jodi can remember, her parents seemed strange. "They never bought milk because they said people put 'stuff' in it. And we had to use a P.O. box because they said the government was reading our mail and following us," says Jodi.
For three years they lived like nomads. Finally they landed at the self-storage facility in Loveland one winter night, where Donald announced they would be sleeping in unit 151. "Tomorrow we'll move into that house with a yard and swing set," Pam promised. As Jodi fell asleep in the cold storage shed, watching rats skitter across the rafter overhead, she squeezed her hands together, pretending that someone — maybe God — was there with her to comfort her.
When the next day came, the Wubbens didn't leave the shed, and eventually Jodi realized that unit 151 was now "home." With wood pilfered from construction sites, Donald built a sleeping loft. For a toilet, everyone used the same bucket, emptied only once a day in a nearby ditch; to bathe, they filled another bucket from a spigot in the parking lot. A propane heater kept the temperature just above freezing. To cover the $45 monthly storage-rental fee, Donald obtained an old printing press and created flyers for local businesses.
Because the facility barred people from living in the units, Donald and Pam avoided suspicion by refusing to let the kids out during the day, even to attend school, and forbade them from speaking to people outside the family. "Never tell anyone your name — they'll use it against you," their father warned.
To relieve their boredom, Jodi and her sister drew faces on their fingertips, with pens they found in trash cans, and staged puppet shows. At night, they were sent to dumpster-dive, searching for food and furniture. The family didn't own a mirror, and when Jodi caught her reflection during a trip into town, she didn't recognize herself, with her tangled brown hair and dirty-looking skin.
Once, when Jodi smiled at a woman on the street, Pam slapped her, so Jodi never looked at strangers again. "My parents told us that everybody hated us," says Jodi. "I wondered, What awful things have we done? But soon I started to believe them." Maybe the world was a perilous place, Jodi thought, and the shed was where she belonged.
FAMILY SECRETS
After a year of living in the unit, Jodi found a brown-and-white mutt tied up outside; she named her Jingle for the bell on her collar. "I wondered who left her there and why," Jodi says. "Maybe someone knew we needed a friend."
The storage facility owners, Bob and Carol Colock, had always suspected that the Wubbens lived in the unit. "My husband drove through the lot daily, and they were always there," Carol says. "After a while, you suspect."
Her hunch was confirmed one afternoon when Pam invited Carol into the shed. Carol saw cooking utensils, a grill, and Jingle tied up in the corner. "Their living conditions were shocking," Carol says, and yet she didn't feel comfortable prying. "I didn't think they could afford to live elsewhere."
Others knew the Wubbens' secret, too. There were the guards who patrolled the two-acre lot and often chatted with Donald. And Ron Denton ran a tire shop next door and allowed the Wubbens to grow vegetables on his property. "I pitied them," he says, but never reported the family. "People live like that. Back then, homeless people were living under the bridge. That was worse."
But no one reached out to the children. And completely cut off, Jodi lacked the most basic knowledge, living in her parents' warped world: drawing her own conclusions that money was a toy and cops wore uniforms because they came from privileged families, and believing the stories that her parents told her, like that storks delivered babies. Pam had told Jodi the tale when she was 10 to explain why Pam had disappeared for a few hours and returned with Jodi's new baby brother. By her teens, Jodi still had no idea how babies were born.
One freezing November night when Jodi was 14, she awoke to the sound of her mother's screams. Donald had left after arguing with his wife. Pam lay on the floor, yelling for hot towels, which Jodi rushed to warm in the skillet, then placed them on Pam's bulging stomach. A pool of blood was forming beneath her. Mom's dying, Jodi thought.
"Hold my hand," Pam ordered. Jodi laced her fingers with her mother's, for the first time ever.
Pam groaned and screamed for hours. And then something red and round emerged from between her legs.
"Pull it," Pam panted. "It's stuck."
Feeling sick, Jodi reached in, found her baby brother's armpit, and eased him out, handing him to her mother, who sighed with exhaustion.
Two years later, Pam gave birth in the shed again, to another boy. Typically, she referred to her children as Things 1, 2, 3, 4, 5; on bad days, Mistakes 1, 2, 3, 4, 5. When the kids upset her, she beat them with a phone book, which didn't leave a mark.
BREAKING THROUGH
Every Sunday, the family visited the public library so Pam and Donald could read magazines. The kids roamed the children's section, trying to understand the books, as their parents hadn't taught them how to read. One day when Jodi was 15, she was studying a book about a monkey on a bicycle. There was a cassette tape player attached, and Jodi popped the cassette into it. Placing the headphones over her ears, she realized that the words on tape must match the words on each page.
Jodi replayed Curious George over and over again, beckoning to her sister. For the next few months, the sisters played the tape hundreds of times, slowly teaching themselves to read, using hand signals to alert each other when Pam was nearby. After mastering Curious George, they moved on to Clifford the Big Red Dog. At night, they practiced their new words: Car. Jump. Jungle.
When Jodi was 18, she advanced to the adult section. From a plumbing manual, she learned that water in sinks comes from underground pipes. An atlas introduced her to the concept of oceans and the fact that Colorado is a state within the United States of America. And from an anatomy book, she finally learned where babies come from.
"Books showed me that our life wasn't normal," Jodi says. The more she read, the more restless she became, wondering about the world beyond the shed.
A year later, while Pam and Donald were out, Jodi and her sister, then 15, fled to the nearby town of Longmont, where Jodi mowed lawns to afford rent for a small room in a house. The sisters embraced their independence, going to the movies and seeking out free attractions — from fish farms to candy factories.
But it was Jodi's love of books that sustained her. Four years after moving to Longmont, Jodi decided to pursue a career as a literary agent, a job she'd heard about through friends — the first she'd ever made. Saved again by her own imagination, Jodi invented a boss named Karen Eden, who was always unavailable because she was "stuck in traffic" or "at a conference." As manuscripts trickled in from writers she met at workshops, Jodi submitted them to editors whose names she culled from books; over the course of three years, she says, her operation represented dozens of writers. She began keeping a journal about her life in Colorado, and at age 32, decided to write her own book. The following year, she published Tours for Free Colorado based on her experiences exploring free fun in her home state.
But Jodi couldn't stay off her family's radar. Although she had legally changed her last name to Jill to avoid being found by her parents, somehow Pam discovered where her daughters lived and one night came pounding on their door. When the sisters wouldn't answer, Pam camped in her car outside the house for days, and Jodi and her sister used their back door to bypass her. Eventually Pam drove off, but over the next five years, she repeatedly showed up and left. Jodi knew that she needed to put more distance between them.
A NEW BEGINNING
Three years later, Jodi moved to L.A., a city that provided the anonymity she craved. She got a job at a costume manufacturer and in her spare time, relied on her trusty companions: books, magazines, and newspapers. After stumbling upon the website examiner.com, she learned she could get paid per click for writing about celebrities. Jodi began sneaking into Hollywood events (posing as security after purchasing a $26 dark suit from Goodwill), chatting with stars like Justin Bieber and Ryan Seacrest, then blogging her stories. "I became a writer because I spent my childhood silent, and writing is how I can be heard," says Jodi.
Today, now a highly paid columnist for examiner.com, Jodi earns as much as six figures a year and regularly makes the rounds of L.A.'s media parties. The matted brown hair of her girlhood has been straightened and dyed blonde, and she lives alone in a sunny studio apartment where she writes on her patio, owns a dog, and enjoys hanging out with friends. But there are still many ordinary experiences that seem exotic. At 42, she's never been on a date or kissed a man. "I'd like to have a boyfriend, but the idea of physical intimacy terrifies me," she says.
Robbed of a normal life for so long, Jodi still can't believe that no one came to her and her siblings' aid. Once freed from the shed, she and a brother wrote a list of 173 people in Loveland who knew of their living conditions but didn't report them. "Nobody cared," she says. "I had to save myself."
The Wubben family has scattered. Jodi speaks to one of her brothers. She doesn't know where her two other brothers are, although she suspects they live near — and are in contact with — their father. Her sister moved to Florida and is no longer in touch with anyone. Jodi cut off all contact with her now-divorced parents 15 years ago.
She has no photos from her childhood. The only connections to her past are the copies of Curious George and Clifford the Big Red Dog she purchased at thrift stores. "I read them every week because I'm still trying to sort out who I am and they give me perspective," she says. "Some people call their parents for this; I have my books."