Malala's Mentor
Behind every great young woman is another great woman. Shiza Shahid is the Pakistani teen activist's right hand.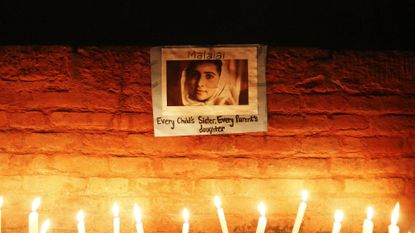 (Image credit: Navesh Chitrakar/Reuters)
SHIZA SHAHID WAS getting off a plane in Egypt last October when an earth-shattering message appeared on her phone: Her young friend, Malala Yousafzai, had been shot. Taliban gunmen had targeted the Pakistani teen activist for her views on girls' education. They boarded her school bus and shot her at point-blank range in the head. No one knew if Yousafzai would even survive.
Shahid jumped on a flight to England, where Yousafzai was hospitalized. The two had an emotional reunion at her bedside. "She was so weak, but she was very much herself. She was very strong and being brave and saying, 'I'm OK, I'm OK,'" Shahid recalls.
The two had become friends in 2009, when Yousafzai was just 11 years old and Shahid was a 20-year-old student majoring in international relations at Stanford University. Wise beyond her years, Yousafzai had gained world renown for blogging about her experiences in the Taliban-controlled Swat Valley, where girls were being admonished not to go to school, and Shahid, who grew up in Pakistan, wanted to help. "It was a shocking story," Shahid says. "It was the 21st century … and the Taliban were threatening to ban female education. To me, that was incomprehensible."
She organized a weeklong retreat in Islamabad for Yousafzai and 26 other girls. Once there, they were able to relax, attend plays, and sing Bollywood songs. "[I] just wanted to let these girls leave this war-ravaged society and have some fun," Shahid says. They also met some important female activists—an experience Yousafzai, who suffered hearing loss from the shooting but has no signs of major brain damage, says shaped her activism. "At the camp, I met women who were speaking up for their rights," Yousafzai says. "I saw that I could be a strong, independent woman but still hold on to my traditions and beliefs."
Shahid, now 24, quit her global business consultant job in the United Arab Emirates and spent most of the past year helping Yousafzai manage her new status as an international icon. She accompanied the teen when she gave her groundbreaking speech at the United Nations and helped her with her memoir, I Am Malala (Little, Brown and Company), out this month. She has also just assumed the role of executive director at the Malala Fund, which gives money to activists working to further the cause of girls' education around the globe. (They've already awarded $50,000 to a school near Yousafzai's hometown.)
Shahid says when Yousafzai's parents first asked her to start working with the family full-time, she felt torn. She had just graduated from college and launched her career. But she soon realized there was nothing she'd rather do more. "To help children go to school and find their voice—the way Malala did—to me that's the most fulfilling thing I could be doing right now," Shahid says.