How the World Eats
American women have one of the highest rates of obesity on the planet. What can we learn about healthy eating from the rest of the world? We asked five women to tell us how they manage their meals. See what could work for you.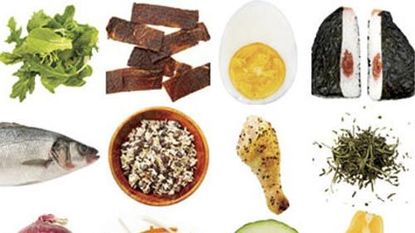 (Image credit: Philip Friedman)
American women have one of the highest rates of obesity on the planet. What can we learn about healthy eating from the rest of the world? We asked five women to tell us how they manage their meals. See what could work for you.
ANNA KIRYAKOVA, 25

Ph.D. student
St. Petersburg, Russia
Percentage of obese Russian adults: 17
BREAKFAST: Green tea without sugar; a couple of small sandwiches (think finger sandwiches) with ham and cheese, or maybe lox on whole-wheat bread (sometimes I'll just eat a piece of cheese).
SNACK: Green or black tea and a sweet bun (we drink a lot of tea!).
LUNCH: Soup — often either a cream-based soup or borscht (soup is good for digestion); steak with mashed potatoes.
DINNER: Salad and kefir (or a bottle of mineral water and chocolate if I'm running late to my dance class).
Average calories per day: 1,200
WHY IT WORKS: In Russia, we eat with the weather, so that means a lot of root vegetables and hot food to stay warm in the winter, and salads in the summer. I completely trust my body on the choice of food. If my body says I want to eat, I eat. If I feel like eating an apple, I have that. If I feel like chicken instead of steak, I do that. I eat to live, not live to eat.
YAYOI OGUMA, 36
Interpreter and PR Consultant
Tokyo, Japan
Percentage of obese Japanese adults: 3.1
BREAKFAST: Mineral-enriched fruit juice; bowl of sticky rice, toast, or yogurt
LUNCH: Bowl of rice; cup of miso soup; grilled fish; side of shredded vegetables such as gobo roots flavored with soy sauce (about two-thirds of an American portion)
SNACK: Strawberry cake or green-tea-flavored mousse (in Japan, desserts aren't very sweet — they're more French than American).
DINNER: Onigiri (little rice triangles with a salty plum paste in the middle), sushi (which I stand at a counter to eat), or a bowl of ramen or soba from a street vendor (we are a busy culture, so dinner is never long).
Average calories per day: 1,400
WHY IT WORKS: I think the way we eat is much healthier than other cultures. We take rice seriously and eat it with every meal. In general, our food is lower in calories and healthier than hamburgers. But I think Japanese people are gaining weight because of Western food — potato chips are easy to come by, as is Italian and American food. On the healthy side, we are now paying a lot of attention to buying produce locally to avoid pesticides.
NILMA RAQUEL SILVA, 38

Writer
São Paulo, Brazil
Percentage of obese Brazilian adults: 11.1
BREAKFAST: Papaya; baguette with cream cheese; black coffee
SNACK: Fruit or yogurt
LUNCH: Grilled chicken with steamed vegetables or a potato and salad — or with just a small amount of rice and beans
SNACK: Cereal bar or crackers with juice; at 5 p.m., coffee with pão de queijo (cheese bread)
DINNER: Pasta with passionflower juice; one or two glasses of wine (once a week)
Average calories per day: 1800
WHY IT WORKS: We don't do frozen food; we like things made fresh every day. Food is a celebration, and we often have people over for long meals. I only feel guilty about eating sometimes when I look in the mirror! But I try to be reasonable on both sides — not overindulging in food and not worrying so much about my weight. For instance, rice and beans, a typical dish, has a lot of calories and carbs, so I try to eat just a little.
ANNE MOLLET, 26

Marketing Manager

Capbreton, France

Percentage of obese French adults: 11.3
BREAKFAST: One piece of black bread; scrambled eggs with mushrooms, tomatoes, and cucumber on the side; black coffee
LUNCH: Sandwich with fresh lettuce, tomato, and eggs on bakery bread
DINNER: Fish wrapped in foil with onions, thyme, sea salt, pepper, and olive oil, cooked in the oven or on the barbecue for 20 minutes; salad with homemade dressing of honey, balsamic vinegar, and olive oil
Average calories per day: 1,200
WHY IT WORKS: In France, it's important to pay attention to what you eat (three meals and no snacks) and how you eat. Fresh food is essential, so I go to the market on Saturday mornings. I also spend time preparing the table, since presentation is 50 percent of the taste. Your senses are connected, and your eyes should tell your palate you want to eat. If it tastes good, then your senses agree. The only exception: my grandma's escargot.
ZODWA KUMALO, 29

Magazine Bureau Chief
Johannesburg, South Africa
Percentage of obese South African adults: 21.6
BREAKFAST: Boiled egg; whole-wheat toast with tomato slices; coffee
SNACK: Ouma's muesli rusk biscuit — an Afrikaans specialty of twice-baked dough with muesli, dried fruit, seeds, nuts, oats, and honey — dunked into coffee
LUNCH: Chicken drumsticks brought from home; salad with cucumber, nuts, tomato, roasted butternut, watercress, and anything else I can find in the fridge (if I go out, it's usually for a special occasion; eating out for dinner is expensive).
SNACK: Biltong (strips of dried, raw ostrich, beef, or game)
DINNER: Pasta with salad or roasted vegetables; glass of red wine
Average calories per day: 1600
WHY IT WORKS: Black people in the suburbs are losing their culture in terms of food. Traditional dishes like umngqusho (a stew of boiled samp and sugar beans served with meat) or ulusu (sheep tripe) take a long time to prepare, so I don't have them often. We either pay tourist prices for them or yearn for a visit home, when our mothers can make them for us. In general, we are not adventurous eaters. We love pastas and red meat.
Celebrity news, beauty, fashion advice, and fascinating features, delivered straight to your inbox!