Bible Study: A Week of Living Biblically
Could you give up gossip, designer clothes, and makeup for a week to be a better person? Cleo Glyde gives it a try.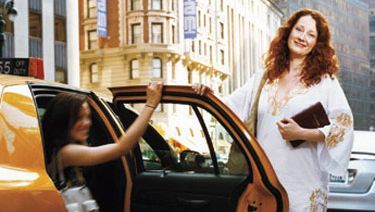 (Image credit: Jessica Antola)
Like many modern women, I have done just about everything wrong you can think of, Biblewise, short of murder. I've lied, I've bitched, I've coveted, I've even committed adultery. I would have been pockmarked with pebbles back in the day. Despite my convent-school past, I couldn't resist the secular freedoms of big-city life, where "no carbs" is as harsh as the rules get. But having it that easy is no way to develop character. When writer A.J. Jacobs began to wrestle with his agnosticism, he vowed to literally obey the Bible for a year as the ultimate test. His new book, The Year of Living Biblically, stirred my own desire to be a better person. It got me wondering: Could I do it for even a week? Could I reset my moral clock in time for the New Year?
MONDAY, 9 A.M.
Full of hope, I take out cash for the week to avoid credit cards: "You shall not borrow" (Deuteronomy 28:12). I wait for a green light on an empty street — no jaywalking; it's a civil law. But when a monster, gas-guzzling SUV passes by, I automatically think, God, what an asshole. I'm appalled — an uncharitable, negative thought and taking the Lord's name in vain (Commandment Three) before lunch!
9:30 A.M.
All the womanly fun I take for granted — skirts that swish, floaty chiffon blouses, costume jewelry, and full makeup — are verboten (1 Peter 3:3: "Your beauty should not come from outward adornment, gold jewelry, and fine clothes"). Ecclesiastes 9:8 narrows it down: "Let your garments always be white" — and mixed fibers are a no-no. Done: This week, everything I wear is 100 percent cotton. Despite working in a building where hems bubble, blowouts reign, and designer accessories are more emblematic than a sheriff's badge, I replace my Furla red patent clutch with a charity feed bag in reversible sackcloth. I am totally defanged as an urban player.
TUESDAY, 1 P.M.
Harder still is refusing to participate in gossip, banned in Leviticus 19:16 ("Do not go about spreading slander"). There goes watercooler chat, blogs, the better part of diplomatic relations, and my usual sweep through the tabloids that litter the office. I walk away from sotto voce chats about Marc Jacobs's boyfriend and gleeful speculation about Lindsay's next tailspin. It's only when you have to shun the mean-spirited that you realize, that's what gossip almost always is, and it rarely makes us feel better.
WEDNESDAY, 5:30 P.M.
When someone cuts in and steals a cab, I have to suppress my outrage, invoking Proverbs 14:29, "He who is slow to anger has great understanding." Calm, collected, I say to the next harried female executive who comes along, "Go ahead, take it. I'm in no rush." Totally disarmed, she breaks out into the most grateful grin, and I feel flush with goodwill. It's liberating to drop the petty striving, even though it likely means I'll be late.
9 P.M.
Office workers spill into the bar in search of some very unholy good times. The raucous male patrons want to engage, mock, and score; I want to relax and read. My "Bible directional" clothing piques their curiosity and unleashes some witless boys-will-be-boys comments: "You can still see your tits in that, alright." Mentally, I flip to Matthew 6:15: "If you do not forgive men their trespasses neither will your Father forgive your trespasses." Snappy comebacks just aren't an option. As the guys slam shots and blather on, my unruffled politeness and happy grin rob them of their power to insult me. Chastened, they christen me a "good sport" instead of a freak in white cotton.
THURSDAY, 11 A.M.
When a colleague inquires about my apartment hunt, I respond, "Actually, I'm ready to start self-mutilating." I typically exaggerate to make life seem more interesting and fabulous — in other words, I fib on a regular basis, flouting the Ninth Commandment, "Thou shalt not lie." But it feels okay to admit that I'm finding it hard when I can't even lie to myself. At work, fudging the truth helps oil the wheels of PR, but I need to recalibrate. I choke back a "My pleasure" after a tedious renegotiation. I dodge discussion of a weak runway collection by praising the brand's brilliant marketing strategy.
FRIDAY, 12 P.M.
Tantalized by the promise of 80 percent off, I'm going to a designer sample sale, and quite possibly to hell. "Thou shalt not covet," warns the Tenth Commandment. I get the symbolic problem with embellishment — but I am too busy stashing a brocade skirt behind the plumbing to remember. I feel like a dieter on a chocolate binge, until Luke 12:15 comes back to me: "Be on guard against every form of greed; life is not in the abundance of possessions." Ashamed, I put the skirt back on the table and leave the store empty-handed but with my wallet intact.
Later, I repair to a kosher restaurant, free to feast within biblical confines. All is well until I check out the Israeli restaurant owner who is tall, dark, and smolderingly handsome. Last night I rewound Craig Bierko's boxing scenes in

Cinderella Man over and over. A movie-geek appreciation of Ron Howard's work? Hell, no! Bierko's hot. John Mayer stares down at me from Gap billboards everywhere. But Job 31:12 warns us: "Lust is a devastating fire." With all this imagery around, the flames are getting pretty close. I place an emergency call to A.J. Jacobs. "Just keep your eye on the sidewalk," he counsels. "It's the only way."
SATURDAY, 4 P.M.
"Fuck you," rants a homeless guy at passersby. "Have a couple of bucks and be well," I hear myself saying, heeding Deuteronomy 15:11 ("Thou shalt open thine hand wide unto thy brother, to thy poor"). I'm on a roll. All week I have given away money, and it feels amazing. The hard truth of city living is, it's easy to tune out the misery of street people. But with the biblical principle of charity, the indifference has to crack. I feel forced to fork over, to connect with strangers, and imagine their backstory instead of walking on by. I can afford to pass up Must Love Dogs on pay-per-view and the ritual Luna bar for a day.
By week's end I do have a "road to Damascus" change of heart: I am determined to remember the Bible's big, sweeping humanist laws. Yes, I lapsed hourly, but I was inspired by the effort not to. When everything you do and say is part of a grand plan, you are humming with a sense of purpose — that's the payoff for all the lifestyle sacrifices. And yet, zipping up my Calvin Klein dress in inky black and snapping on clanking, faux-Deco Lia Sophia cuffs, I'm also relieved to be back in the pleasure dome. Here's to walking the path of righteousness in six-inch heels.
Marie Claire email subscribers get intel on fashion and beauty trends, hot-off-the-press celebrity news, and more. Sign up here.