Instant Party Plan: Red Carpet and Awards Show Viewing
Whether you're watching the Oscars, Emmys, Grammys or VMAs, this play-by-play guide makes party planning as easy as a stroll down the red carpet.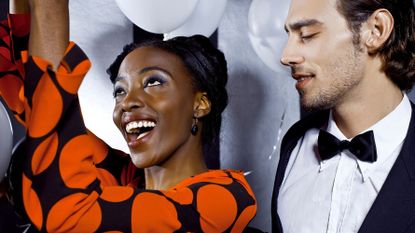 (Image credit: Duel)
The Invitation
Awards ceremonies are all about glamour, so you'll want your invitations to be on point. If you opt for paper, design the invites to look like actual invitations to the ceremony you'll be watching. If you're short on time, opt for a fancy e-invite (opens in new tab) that has a similar aesthetic.
The Game Plan
In your invitation, you might also want to mention the time people should arrive if they want to watch the red carpet and when the actual awards show begins (not everyone cares about both). To give the party an anchor, plan a key "party moment" for which everyone should be present (see The Theme section below for inspiration).
The Awards
As this is an awards ceremony, you will also be handing out awards throughout the evening. Some faux statuettes (opens in new tab) can be personalized and ordered in bulk, so plan ahead of time – they'll be great party favors (and paperweights).
The Theme
Trust us: It's more fun if people dress up. Ask half of the party to wear red carpet attire and the other half to dress as award nominees or characters from nominated films or shows. At some point in the evening, have each group judge the others' ensembles and hand out awards to the winners. Acceptance speeches highly encouraged.
The Red Carpet
Set the scene. Make it special. Roll out a house-friendly red carpet (opens in new tab) against a blank wall and snap photos (with paparazzi-level flash) as guests arrive. If you really want to go big, print out life-size photos of your favorite nominees and post them along the wall. The guest with the best "red carpet" pose also gets an award.
The Ballot
Before the party kicks off, hand everyone a ballot of nominees to predict the winners of the night's awards show. Be sure to include all of the obscure nominations, too. (Check out this sample ballot (opens in new tab) for inspiration.) Whoever gets the most wins correct gets – you guessed it – an award.
The Food
No show is complete without snacks. Keep it simple with finger foods that have been dressed up a bit – think popcorn served in glammed-up, easy-to-carry cones. Even better, lay out a few seasoning options (grated cheese, spices, melted truffle butter) so guests can top their popcorn as they please.
The Drinks
Pre-mix a few drinks for guests to choose from, each inspired by an award nomination. Opt for fizzy, sparkly drinks served in real champagne flutes, so you can toast when one of your ballot picks wins.
The After Party
Some guests will want to stay late to watch the post-ceremony press conferences and party coverage. Have blankets, cushions and some light desserts on hand to make it a cozy wind-down before people head home.
The Gift Bag
Nominee schwag bags are worth thousands of dollars and have contents that run the gamut, from tech gadgets to beauty treatments to free vacations. Yours can be just as cool and cost a sliver of the price. Include a sweet treat for your guest's ride home, a sample-size beauty product (buy a pack (opens in new tab) of a particular product and split it among bags to save money) and a tea sachet for the morning after. While you're at it, you might as well include custom buttons with celebs' faces or nominated film quotes on them (opens in new tab). Everyone wins.