Mad Decade: A Modern Take on Zelda Fitzgerald's '20s Style
Jazz Age staples you can sport today.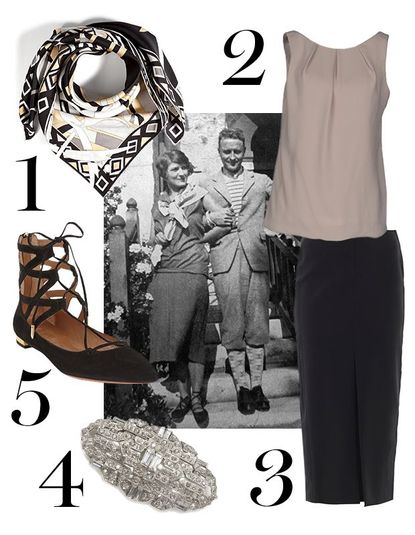 (Image credit: )
Today marks what would've been Zelda Fitzgerald's 114th birthday. While her golden age hath long passed, her vivacious spirit — it's a thing of legend, really — has been immortalized by the famous works of her husband F. Scott Fitzgerald. Deemed the "first American flapper," by her other half, Fitzgerald epitomized 1920s glamour (opens in new tab) with her bobbed haircut, tea gowns, silk satin dance shoes, and sparkling deco jewels. Her style was a reflection of the women's rights movement, which emancipated women from the constricting, feminine-form enhancing garments of yore. Since most of today's clothes err on the side of comfort and ease, it's more simple than you think to build a look around Fitzgerald's Jazz Age (opens in new tab) staples.
1. Emilio Pucci Silk Printed Scarf, $485; stylebop.com (opens in new tab).
2. Ben-Amun Bridal Crystal Deco Brooch, $195; charmandchain.com (opens in new tab).
3. Hope Collection Top, $116; yoox.com (opens in new tab).
4. Adam Lippes Grosgrain-stripe Midi Pencil Skirt, $690; matchesfashion.com (opens in new tab).
5. Aquazzura Belgravia Flat, $650; barneys.com (opens in new tab).
Related Links:
Roaring Revival: '20s-Inspired Hair Accessories (opens in new tab)
The Marie Claire Midsummer Night's Playlist (opens in new tab)
Jessica Valenti is a columnist and author of five books on feminism, politics, and culture. Her latest book, Sex Object: A Memoir, was a New York Times bestseller. Valenti is also editor of the ground-breaking anthology Yes Means Yes: Visions of Female Sexual Power and a World Without Rape and the founder of Feministing.com, which Columbia Journalism Review called "head and shoulders above almost any writing on women's issues in mainstream media." She has a Master's degree in Women's and Gender Studies and lives in Brooklyn with her husband and daughter.