Every Woman Needs a Statement Necklace
Every wardrobe deserves an LBD, a white blouse, and a pencil skirt. Catherine Hageman adds a statement necklace to the list of fashion staples.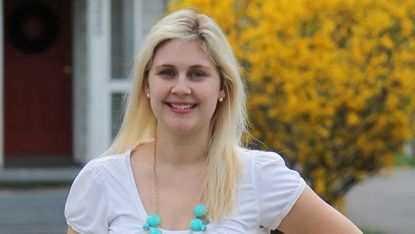 (Image credit: Archives)
My dear friend, Annie, recently complimented my necklace, explaining that she doesn't often wear them herself. I'm very passionate about wardrobe staples that every woman should have in her closet: a white blouse, a pencil skirt, and an LBD. But there's another piece in which we should all invest: a fabulous statement necklace.
Unlike an in-your-face shirt or jacket, this attention-grabbing jewelry can be worn with a multitude of outfits. It can dress up a t-shirt and jeans, and best of all, no matter how your body may change, a statement necklace will always fit.
Bold necklaces are also a great way to subtly incorporate trends into your look. If neon colors are outside your comfort zone, a brightly-colored necklace will lend a fun pop to your outfits.
I know steal-the-show necklaces can be intimidating — not to mention heavy — so if you don't usually include them in your daily outfits, start small. A longer necklace with delicate beads transitions easily from day to night, and looks as striking with a casual top as it does with a dress. I prefer long necklaces and usually wear them layered. Don't worry about silver versus gold — I love mixing metals.
I recently splurged on a new statement piece — a J. Crew bubble necklace — and have already gotten a ton of use from (and compliments about) it. I've worn my necklace with dresses and jeans alike, and love how its over-the-top style and aqua color add an exclamation point to any outfit. It was definitely a worthy investment for my wardrobe!
Catherine Hageman dispatches fashionista tendencies fit for a corporate career on Small Town, Big Wardrobe.