Happy Hands
Paws get parched in the summer, too. Dara Adeeyo shares her favorite remedies, each of which also strengthens fingernails.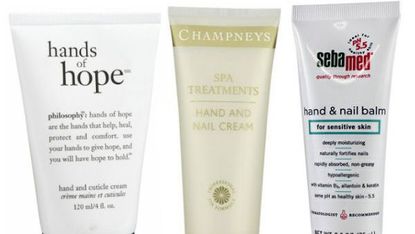 (Image credit: Archives)
The beauty concerns that plague us in frigid temperatures may not be the same as those we face during humid heat. In winter, cold air hits the skin of our hands and dries it, leaving it parched and rough. To keep hands soft, we apply cream as often as possible. But it's summer, so why should you care? Well, even in the hotter months, properly-moisturized hands are happy hands, free from crocodile skin and dry cuticles (which are susceptible to hangnails).
As a nail polish junkie, I'm obsessed with keeping my hands and nails in tip-top condition, and thus apply cream frequently. However, my most-loved salves are the ones that not only keep digits smooth, but also fortify fingernails. Here are a few of my faves:
Philosophy Hands of Hope ($10) — With all-day-smooth coverage, this product is like a drink of water for your hands. Thick and non-greasy, it absorbs quickly into skin, and its light, neutral scent is pleasant without being overwhelming.
Champneys Hand & Nail Cream ($8) — If you're looking for a fresh-out-of-the-spa experience, this should be your tube of choice. Its sensual fragrance and medium-thick formula make hands soft to the touch.
Sebamed Hand & Nail Balm ($13) — For those with sensitive skin, this one is hypoallergenic, and will fortify nails and leave hands silky for the entire day.
Dara Adeeyo is a nail polish junkie who blogs her beauty diary on Dark Berry Beauty.