Meet the All-Female Executive Team Behind Cult-Favorite Shoe Brand Rothy's
Many companies act like there's only room for one woman at the top—Rothy's has six.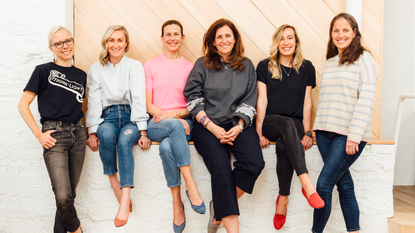 (Image credit: Courtesy )
Marie Claire Newsletter
Celebrity news, beauty, fashion advice, and fascinating features, delivered straight to your inbox!
Thank you for signing up to Marie Claire. You will receive a verification email shortly.
There was a problem. Please refresh the page and try again.
The world of women's shoes has a lot of men in it. Think of Christian Louboutin and Manolo Blahnik, or Stuart Weitzman and Steve Madden. Two more recently entered the fray: Stephen Hawthornthwaite and Roth Martin, founders of Rothy's, a San Francisco e-commerce startup that makes flats fancied by the tech set.

Yet as Rothy's expands—including opening its first retail store this week—the male founders have put together a senior management team comprised entirely of women. Five of the six women joined the company in the last ten months, including Kerry Cooper, a veteran of Modcloth and Levi's, as the new president and chief operating officer, and Elie Donahue, now vice president of marketing, who has held positions at Pinterest and Sephora.
In a group interview, along with discussing shoes, these six executives describe a kind of workplace utopia, one without ego but with trust and vulnerability, where office politics are kept to a minimum and work-life balance is actually possible.

"Just like the women we're creating shoes for, we're trying to do everything," says Donahue.
Rothy's colorful flats line the cubicles of Silicon Valley and dot sidewalks of cities on both coasts. The shoes are easy to spot because they're so distinctive, with a 3D-knitted top made from recycled water bottles. The shoes, priced from $125 to $165, come in three styles: a round and a pointy-toe flat as well as a loafer, in a wide array of colors and patterns. Fans say they are drawn to the brand's comfort, style, and sustainability. And people who wear Rothy's seem to really love Rothy's—a stop-you-on-the-street-to-rave-about-them kind of love. Their customers are enthusiastic, engaged, approaching cult-like.

The founders, longtime friends, had heard from many women in their lives that there was a need for a versatile, comfortable shoe that wasn't a sneaker or a flip flop. They spent three years developing the first two styles. Both Hawthornthwaite, a former finance guy, and Martin, the co-founder of a design gallery, were new to the shoe industry. Before launching in 2016, they recruited another friend, Erin Lowenberg, who had extensive experience at Gap, as a consultant. What was intended as a short-term gig turned into a pivotal hire: Lowenberg is now the creative director.
In compiling the rest of their team, the founders were open about what they didn't know. Hawthornthwaite and Martin's candor surprised Lesley Clifford, who joined Rothy's last July as director of merchandising. When Clifford worked as a shoe buyer for a major retailer, she grew accustomed to someone else telling her how to do her job. It was a familiar profile: "A guy, who could be my uncle, in his 60s, saying, 'No, no, that's not a good shoe. This is a good shoe,'" she recalls. It was off-putting and unhelpful, she says. After all, Clifford was the demographic of the customer she was buying for—not the older men.
Hawthornthwaite says he was impressed by Clifford's ability to spot trends and forecast what would sell. Take the Marigold Point, a deep, golden yellow version of its pointy-toe flat, which was supposed to retire after the 2017 fall season. Clifford pushed to keep it. "The color is timeless, and, frankly, it looks great with jeans," she asserts. Many months later, it's still one of the brand's best sellers.
That ability to dissent is important to Kerry Cooper, Rothy's new president, who came on board in February. Biting your tongue or worrying how something might come across kills collaborative culture, she says. Yet it's critical that others receive the feedback with an open mind, Cooper adds, preferring "I hadn't thought about it that way" as a response, instead of "I need to prove to you why I'm right."
Cooper, who has also worked at Walmart and mentors students who want to start their own companies as an entrepreneur-in-residence at Harvard Business School, recalls her early days at consultancy McKinsey & Co. Her female boss always wore blue suits and never displayed a picture of her children. Cooper, a mom to two teens, is cognizant of being a better model for her own employees.

"The only way we can help women grow is to bring your whole self in," she says. "I want to show what's it like to make this balance work." Kids are welcome, and often present, in the office—not just as back-up childcare, but so that they can see what their parents do. And Cooper frowns upon the trickle-down effect of late-night emailing, when the boss sends an email and everyone feels the need to respond. "It's a lack of respect for your human being-ness," she says.
Building trust in the workplace requires a certain amount of vulnerability, too. Admitting your faults or calling yourself out on a mistake makes you more approachable, Cooper has found. Recently the team voiced concerns over aspects of a new product and recommended delaying the launch. "It was something we had spent considerable time and investment in," Cooper says. "It wasn't an obvious choice." After a meeting with a handful of key players, it became clear that delaying was the right decision. "That's how you keep great employees," she says.
On a recent weekday afternoon, the six women gathered in the brand's main conference room to talk openly about asking for a raise (ask for what you are worth, Cooper says) and crying in the office ("It's not something you really want to have happen," Cooper says, but if you feel tears coming on, give yourself permission to do it; trying to stop makes it worse. "To be clear, I run to the bathroom every time."). They were dressed in classic San Francisco office casual attire: unstructured white blouses or chunky sweaters, distressed denim, and, of course, Rothy's flats. They all wore the new loafer style, with two in each the dark red and leopard print, one in black-gray camo and another in heather gray.

The group grew most animated when discussing shoes and the intimate relationship women have with them, their ability to make a look or break a day. "To leave your house at the beginning of the day and feel pulled together is everything," says Donahue. And if those shoes fail you? What about when it's two in the afternoon and you start to feel a blister? "Then it's too late!" bemoans Cooper. "If you dare take them off, you will never get them on again," Clifford groans. Given the unique feel of the 3D-knitted Rothy's styles, these kinds of insights are an invaluable part of the development process.
It becomes clear, quite quickly, that the women like one another. Not just tolerate as a co-worker, as in I like you because I sit next to you, but more of a I like to spend my days with you. One of Cooper's go-to boxes to tick before hiring—Is this person someone you would like to be stuck on a layover with?—has clearly yielded the desired results. Clifford regularly sees Lowenberg, the creative director, and Lauren Taflinger, director of production and R&D, on weekends. "We have real friendships outside the office," Clifford says.
What about the clichés that plague women, of cattiness or cliques? "People can be emotional," Donahue says, but it never veers into destructive territory. Even internal politics are kept to a minimum, says Heather Howard, Rothy's vice president of operations and people. Howard credits the office's open-floor plan, without doors to shut or hallways to whisper in. The team is still small enough—about 30 people in the San Francisco office, only nine of whom are men—that everybody has a hand in just about everything. "If I'm going to grab popcorn, I can see what they are working on, I can be involved," says Howard. The entryway has a big L-shaped gray sectional, where employees can work on their laptops. And it's not uncommon to see folks working on the floor, sorting product or having an impromptu shoe trying-on party whenever a box of samples arrives.
Indeed, it does not feel like the hyper-competitive, socially awkward office setting of a typical tech company depicted on HBO's Silicon Valley. Although it does look the part of an e-commerce startup, occupying a former art gallery in the historic Jackson Square neighborhood with a communal kitchen where people gather and an array of top-notch snacks (melon pomelo La Croix, anyone?).
It's an entirely different vibe from the major department store where Taflinger began her career. Being at your desk from 9 a.m. to 5 p.m. was not only celebrated, but required. "What are people doing when they are sitting in their chair?" she says. "That doesn't inspire creative energy."
At Rothy's nobody is keeping tabs on who's first in the office or last to leave. "What you bring back to the office when you are thriving in your life, as a woman, adds more value than some time clock," says Lowenberg. There are 1,440 minutes in a day—that's right, Lowenberg looked it up—and there is only so much you can do, she says. Her advice is to not get too hung up on the imperfections of a particular hour or day but rather consider what you accomplish in a week or a month.

"We are humans," she says. "We have families, we have dogs, things happen, we cover each other," she continues, "and we trust each other that we will figure it out."
RELATED STORY
Celebrity news, beauty, fashion advice, and fascinating features, delivered straight to your inbox!
Elizabeth Holmes is a writer based in the Bay Area and the author of the forthcoming book HRH: So Many Thoughts on Royal Style. She spent more than a decade on staff at the Wall Street Journal, most recently as a senior style reporter and columnist; her work has also appeared in The New York Times, InStyle, Real Simple, and Town & Country.