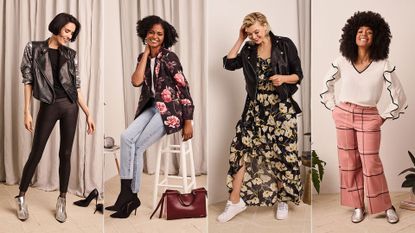 (Image credit: Jason Kim)
Fashion is not frivolous. It can be fun, freeing, and fierce, often all at once—there's power to the outfits we put together. Supporting women in their quest to feel great in what they wear, we've joined with Macy's The Edit, a curated mix of trends and inspiration, to highlight some remarkable women. Styled in some of this fall's key looks, each shared insecurities they've faced and how fashion became a tool for fighting through it.

"My position is that even when you're not 'making a statement,' you're making a statement," Cassandra Jones, Senior Vice President, Macy's Fashion Office, shared. "What you chose to put on is always an outward expression of yourself. It doesn't have to [mean] spending tons and tons of money on an outfit to make it that. Fashion isn't frivolous—it's a way to express yourself."
Name: KhrystyAna Kazakova
Occupation: Model, body positivity activist
"Growing up, I felt pretty invisible. I was quiet and went unnoticed by my teachers at school, despite my height and being a bigger girl compared to my classmates. By the time I hit my teens, I [had] discovered magical fashion.
"My family was pretty poor, so having [lots of clothes] wasn't really an option. Finding secondhand stores was an exciting discovery, and I was able to figure out my fashion voice. I tried being a goth, a pattern-addict, a rock-n-roll girl, a hip-hop girl... I tried it all. I was really into the color red for a number of years, probably to compensate for my invisibility. I even dyed my hair cherry red at some point.
"I feel like what I wore helped me express how I felt and to be understood better. There's a definite connection between how I feel and what I'm wearing. It's empowering to choose an outfit every day acknowledging that—it's like owning a part of yourself and being responsible for the outcome. I love fashion, and I love choices."
Shop Khrystyana's Fall Floral Look
Name: April Kae
Occupation: Musician
"Mental health in the Black LGBTQ+ community is something that really matters to me, and I've found clothing, like music, is an amazing tool for encouraging who I am on the outside to take better care of who I am on the inside. This can be as literal as wearing my 'RESPECT BROWN GIRLS' shirt or as abstract as rocking a cheerleader uniform onstage—because I'm my own cheerleader and number one fan.
"Despite the fact I've been an activist and musician since I was 11 years old, as a queer, black woman, I still find myself not being taken seriously by men in the music industry. But by adorning myself in a way that feels truly 'me'—vintage florals, chunky black four-inch heels, and, of course, my aggressively beautiful afro—I feel [strong and able] to demand to be respected as the bold, confident, creative I know I am."
Shop April's Updated Plaid Look
Name: Candice McIndoe
Occupation: Mother, student
"I'm generally shy and a little awkward in social settings, so if I wear an outfit that's interesting and it sparks a conversation, it's an ice breaker. I get to express myself without saying anything, which is great. I can be as loud or as subtle as I want, and I truly love that.
"In the moments when I forget to take care of myself, clothing can really boost my confidence and remind me to feel beautiful. Self-care is really important. I'm not a stylish person, but during the [Marie Claire and Macy's] shoot, I felt chic and stylish—I felt more confident than I have in a while. Clothing has an impact on how I feel, whether it's jeans and a t-shirt to run around in or a dress that makes me feel pretty when I'm out with friends or on a date night."
Shop Candice's Fall Floral Look
Name: Elle Dee
Occupation: DJ
"It feels great to stand out, or even apart, [through fashion.] As a teen, it was a way to express my feelings and taste in music. Your [style] choices can also attract the right people into your life—I mean, how many friends have been made over outfits?
"Wearing something you love and feel great in is the ultimate confidence boost. You want to be on the top of your game, but also look great as you do it. As a DJ, I'm sometimes expected to be more out-there in my outfit choices, but still need to be able to move and do the job. When I find that perfect mix, it lets me be me. An outfit that works makes you feel like you can do anything—because you can!"
Shop Elle's Updated Plaid Look
Marie Claire email subscribers get intel on fashion and beauty trends, hot-off-the-press celebrity news, and more. Sign up here.
Leah Melby Clinton is a writer, editor, and serious shopper who loves discovering new labels, detailing the best ways to build a wardrobe, and interviewing interesting people.