Gemma Kahng, Legendary Designer on Her New E-commerce Site
Gemma Kahng, the legendary designer who dressed Madonna in the '90s, exclusively spoke with Marie Claire about her first ever e-commerce launch.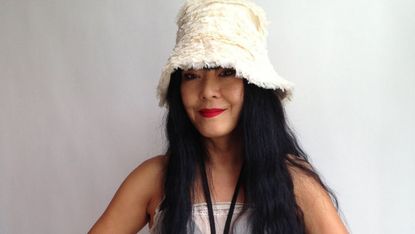 (Image credit: Courtesy of Subject)
Gemma Kahng, the legendary designer who dressed Madonna and Sharon Stone in the '90s, is now making quite the comeback with an internet boom: her first ever e-commerce store. The designer, known for her intricate designs and ornate embroideries, is branching out from her couture dress line sold at Neiman Marcus and focusing on a "lighter collection" of accessories and t-shirts. Although her online collection is more relaxed, every item still receives the same amount of meticulous attention and handwork. The site, gemmakahng.com, is set to launch tomorrow, August 23. We spoke with Gemma about what we can expect from her e-commerce launch to the inspiration behind her collections.
Marie Claire: This is your first-ever e-commerce site — what brought on the change ?

Gemma Kahng: In Neiman Marcus, my items are next to Chanel and Prada — everything is a big deal and very serious. Things retail from $2,000 to $5,000 dollars and the quantity is very small. I have a tons of other ideas that I'd like to branch out. I can use the same techniques and expensive fabrics but I also like to have some fun. That's when I thought maybe I should do an online store. My team has been talking to me for the last two years, telling me that I should have a site. It was a matter of making the decision and doing it. Now it all came together.
MC: What types of items will you feature on the site?

GK: I will have many different categories compared to the main collection, which is mostly dresses and coats and is very expensive and high fashion. For [my e-commerce site], I want to do little things like T-shirts, hats, and bags.
MC: What's the inspiration behind Fall/Winter 2013?

GK: It is loosely inspired by Native American costumes, but it isn't at all ethnic looking. I'm just using their angular patterns that are on their blankets. The most popular piece so far is a leather coat on top of lace. It is practical and feminine with the lace, but slightly tough with the leather. We may add it onto the site.
MC: Tell us about your accessories, specifically your one-of-a-kind hats?

GK: This e-commerce site is going offer things that are one of a kind — things that are hand embroidered, hand done, and made with a little bit of a crafty feeling. I want my clients to feel like they are getting something done by hand. In today's world it is a luxury for someone to get something that is touched by human hands and made with care. That is the kind of feeling that I'm trying to give to each item that is offered on my website.
MC: What are you looking forward to for Fashion Week?

GK: It is going to be low-key. I'm going to have a small dinner in my studio, invite editors, and keep it casual. They can really look at the clothes up close, like a presentation but more private.
MC: What are you going to do after Fashion Week?

GK: I'm probably going to go to my house upstate! It's on a small farm. I'm going to go there relax, go hiking, and decorate my house. That is my main home, I go there every weekend.
Head to GemmaKahng.com on August 23, 2013 to start shopping!
Celebrity news, beauty, fashion advice, and fascinating features, delivered straight to your inbox!