The Most Excessive Yet Glorious On-Screen Closets
If diamonds are a girl's best friend then the perfect wardrobe is her soulmate.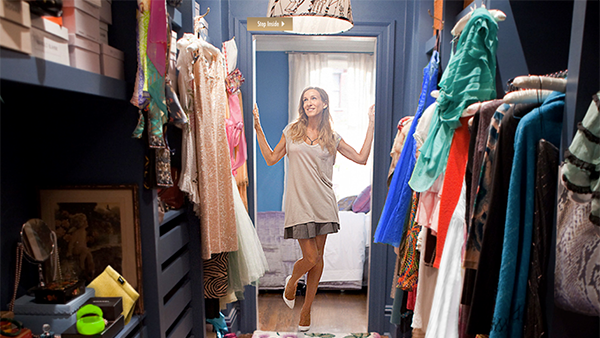 (Image credit: Archives)
There's nothing glamorous about stuffing your cashmere sweaters in boxes or suffocating your blouses in a bursting closet. While we don't all have the room for a jaw-drop-worthy space to keep our clothes, we can dream. In honor of these dreams, we rounded up the best closets we've ever seen on screen.
1. Sex and the City
A closet round-up wouldn't be complete without the most infamous on-screen closet of all time. Carrie Bradshaw's closet hall, which connected her bathroom to her bedroom was filled to the brim with enviable items (more Manolos than you can count). The only thing better than her apartment's closet? The closet Mr. Big built for inside heaven on 5th.
2. Clueless
When Clueless was released in 1995, it seemed as if we were on the brink of the future for outfit selection. Cher Horowitz put her outfits together each morning using a virtual closet that even had its own remote control. Why the program isn't a standard in closets across America is a mystery to us.
3. Princess Diaries 2
Princess Mia's San Francisco loft was nothing compared to her Genovian digs—a palace, complete with a drool-inducing closet. Automatic drawers stuffed with diamonds? Check. Velvet-lined cabinet to store your tiaras? Check. Plush ottomon to sit on while deliberating her next outfit choice? Check.
4. The Great Gatsby
Ladies aren't the only ones with closets to lust after. Everything about The Great Gatsby's protagonist is over the top, and his closet is no exception. Jay Gatsby's closet is more a separate room than it is a closet. The two-level space is filled with with shirts made of finest flannel, silk, and linen. With all those parties to get dressed up for, a great wardrobe is key.
5. 13 Going On 30
The best part of Jenna Rink's warped aging was the departure from her neon '80s garb and crimped hair to a sophisticated, "grown-up" wardrobe—all housed in a giant walk-in closet and the amazing rainbow-esque wall of shoes!
6. Gossip Girl
Blair Waldorf's closet is the envy of fashionable women everywhere. She's got a wealth of designer duds that most women won't have by the time they're 80, let alone 18. Not to mention, they're stored in a space bigger than most bedrooms. The real irony is that for most of her years on the show, she wore a school uniform. On the off hours, however, she took full advantage of the pieces at her disposal, making for some of the most memorable TV fashion of the past decade.
7. The Bling Ring
We may never get a full glimpse of the sure-to-be-incredible closets of celebrities like Paris Hilton and Megan Fox, but The Bling Ring comes pretty close. The film gives viewers a fictionalized look at the celebrity robberies of 2009, with one major exception—Paris Hilton. The socialite let filmmakers use her actual closet as the set. The designer goodies that fill the spacious walk-ins of celebrities like Hilton and Fox, among others, makes it easy to see why anyone would want to get their hands dirty.
Diana is a producer at ELLE.com. She previously wrote for MarieClaire.com. Diana is a Syracuse grad and a Chicago native, and therefore a pro at dealing with cold weather. She's also an Anglophile, which means she love all things British—especially Downton Abbey, London, and Will and Kate (and Prince George!)