Who Really Dresses Us?
We're a shopping-obsessed generation, spending billions a year, but how do the clothes we buy make it from the runway to the rack? Meet the tastemakers of America's most influential stores, who call the shots every season.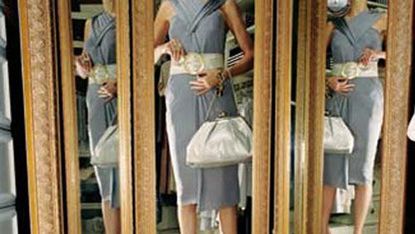 (Image credit: Karin Catt)
We're a shopping-obsessed generation, spending billions a year, but how do the clothes we buy make it from the runway to the rack? Meet the tastemakers of America's most influential stores, who call the shots every season.

WARDROBE MISTRESS

Stefani Greenfield co-owner and creative director, Scoop
OUR CUSTOMER: On average, she's 18 to 48. We cater to the mother, daughter, and granddaughter who want to stay in fashion. The clientele is internationally diverse, with different careers and social lives. Some use public transportation and need practicality while others can drive in stilettos. In Dallas, women drape coats prettily at night; in a New York winter, they're shelter.
OUR SIGNATURE: The season's must-have pieces, updated basics, and modernized classics.
THE PROCESS: It starts with the vision. I depend on my great buying team, and no product enters Scoop that I'm not involved with. We kick off with fashion weeks in New York, London, Milan, Paris, and L.A., but I'm looking 24/7. I'll be inspired by a napkin at a dinner party or what I see when I travel. We take chances on future superstars, like we did with Alice + Olivia, Matthew Williamson, and Jimmy Choo. Scoop is the ultimate closet. Once we believe in one item, we buy a lot of it. A great wholesaler says, "Let me show you some stuff you missed," and I'll take another look. It's a "we" process — sometimes I get voted off the island!
WHY IT WORKS: Even our basics offer something new. Our T-shirts will be funky and different. Our linen trouser will be on-trend; this season it's the drapier leg. We'll balance our never-fail sellers — like bra-friendly tanks and strappy heels — with items that boom due to magazines or celebs.
SPRING PICKS: Softer femininity and fluid, drapey dressing. Go with geos, florals, sorbets, and brights.

VP OF LUXE

Ken Downing senior vice president and fashion director, Neiman Marcus
OUR CUSTOMER: She loves luxury, travels globally, and follows the runways. She could be 25 and terribly classic or 65 and outrageous.
OUR SIGNATURE: We're a luxury retailer for women with event-driven lives that require amazing cocktail dresses, eveningwear, and luxurious fabrics.
THE PROCESS: I head an enormous team of amazing buyers. Before a runway show, we look at boards of fabric swatches in the showrooms for what's ahead. At fashion week, I slim down the trends like a magazine editor — if it's all about a wide-leg pant this season, we'll have the best ones from each collection. I have to capture the whole story for an entire nation of waiting women, so I put myself in their Manolos. Dark, heavy fabrics may work in Manhattan, but what is a woman in Miami or Arizona looking for when it's 99 degrees outside? I blog and spend time in-store doing events and meeting with customers.
WHY IT WORKS: It excites women to shop, and we stock the store with what they love: subtly sexy clothes, lightweight fabrics, and color. Imposing geographic clichés is so antiquated — the luxury customer is not regional. She has more information at her fingertips and works with our selling associates to create her own look.
SPRING PICKS: Exciting prints. Prepare to be a little bolder.

PROFESSOR OF POSH

Michael Fink vice president/women's fashion director, Saks Fifth Avenue
OUR CUSTOMER: The woman who keeps her work wardrobe modern or wants to stay fashion-forward and buy new, now, and different — regardless of her age.
OUR SIGNATURE: We educate our client about directions — from the veiled neon brights at Jil Sander to the global-inspired prints at Oscar de la Renta. We interpret major trends in a realistic way to last seasons.
THE PROCESS: At fashion weeks around the world, I get a sense of fabric and silhouette. When the bubble skirt, with volume that accentuated hips, first appeared a few seasons ago, I thought, Who will wear this? But our customers had to be able to try it, so first we bought small. Then we saw playfully modified interpretations, and it took off. We showcase chic products like Lanvin and labels that take artistic risks, like 6267. We integrate what we offer with our customer's existing wardrobe and get her out of her comfort zone. She trusts us and will try a cropped jacket or a shorter shift.
WHY IT WORKS: Our clothes are about the workmanship — you can see and feel it. There are copycats, but you won't find 20 shaping seams that tailor the garment; you'll be lucky to get five.
SPRING PICKS: Florals — even on shoes and jewelry.

THE MODERNISTA

Lisa Axelson senior vice president of design, Club Monaco
OUR CUSTOMER: A savvy urban professional with an interest in culture and travel.
OUR SIGNATURE: Impeccably designed essentials each season — the perfect pencil skirt, white shirt, and party top, along with affordable luxuries like cashmere cardigans.
THE PROCESS: It all moves fast because new product is delivered every month. Our distinct black-and-white aesthetic is the basis for every collection. We look at the silhouettes, color palettes, textiles, and era references in fashion, art, and design. We then refine our basics with a new viewpoint — an injection of menswear styling or a new texture. The fit of our two iconic pant cuts never changes. "Ursula" is fitted, sexier, and lower-waisted; "Tex" falls slightly under the natural waist. We update the fabric and silhouette throughout the season.
WHY IT WORKS: Our girl knows what to expect, yet still discovers a great new bag or upcoming trend because we have edited for her. It's never complicated. Our staples work seamlessly with previous Club Monaco collections and designer labels, which our clientele loves but isn't a slave to. This is how modern girls build their wardrobe.
SPRING PICKS: White and off-white will be very strong, with pops of black in patent belts, and elastic belts with great closure detailing.
HEAD OF THE CLASSICS
Bobbie Smyth-Fitzgerald fashion manager/visual merchandiser, Lord & Taylor
OUR CUSTOMER: The most classically dressed woman in the room. Each generation has its own evolving version of Audrey Hepburn — that's who we aim for.
OUR SIGNATURE: Unabashedly classic American style.
THE PROCESS: We start with the designers, then select looks from runways and showrooms that reflect our mantra of classic style. The central concept is well-thought-out, but we stay flexible. A new label we're banking on is Bryan Bradley, who has created the line "Bryan by Bryan Bradley" exclusively for us.
WHY IT WORKS: The displays take hold of the customer's imagination. As the first step in the brand experience, we take a theatrical approach with set design and lighting as a backdrop for the clothes. The store windows are important. Almost every style we feature there sells out.
SPRING PICKS: Bright color, aviator jackets, and the return of the waist.
Celebrity news, beauty, fashion advice, and fascinating features, delivered straight to your inbox!