Lanvin's Fashion Philosopher
Don't let the teddy-bear charm fool you. Designer Alber Elbaz has enough endurance, shrewdness, and shredded pom-poms to close the deal — whether it's his six Paris shows or his sellout fling with H&M.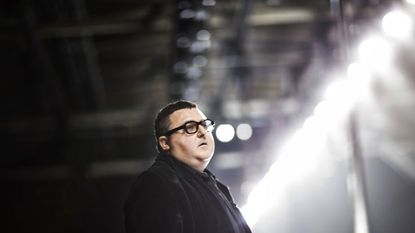 (Image credit: Courtesy of Lanvin)
Stretched out across a sofa, looking not unlike a reclining Buddha, the creative director of Lanvin shares a moment of enlightenment. "I'm backstage watching the models rehearse my spring show, and they're all stumbling around like alcoholics. It's the stilettos. Stupid me! A man who never wears heels and look at the agony I've created!" With 17 minutes to showtime and his team freaking, Alber Elbaz asks for flats for everyone. "I knew I might be killed for it," he recalls, "but you know what? It was OK." Better than OK, according to the fantastically fickle front row: It was "powerful," "unimpeachably modern," "a hit." And, btw, Alber: There's nothing better than a guy who feels our pain.
Sweet-natured, neurotic, but so shrewd, Elbaz may dangle ribbon-wrapped gold-chained Happy Bags from his client's wrist, but he still has his finger firmly on her pulse. Celebrating his 10th year heading up the world's oldest fashion house, Elbaz has triumphed during buoyant economies and recession sludge and has stood fast during every march of minimalism. Increasingly philosophical — he turns 50 this year — he admits he can still be kept up at night, doubting his vision: Does he still know how to give women what they really want? "I was thinking recently, If the body really is the new dress, as some are saying — with women buying boobs, butts, faces — then who needs a dressmaker? So I started designing spring like a plastic surgeon — everything stretchy and nude. But after three weeks, I was so bored with myself and the world, I began adding diamond butterflies and chiffon and colors. I realized that fashion is not about second skin. It's not the perfect white shirt or camel jacket. What women need is a dream."
New isn't necessarily good, Elbaz maintains. Good is good. And glamorous is better still. The "dream" Elbaz enables can be interpreted many ways depending on the client (fans include Natalie Portman, Kate Moss, Chloë Sevigny, and Carey Mulligan), but basically it goes like this: You're an incurably chic, luxe-loving female padding around Paris or St. Bart's, swathed in a simple satin frock, pink python espadrilles, loaded up with heavy-metal necklaces, and you don't take merde from anyone.
In tune with our chaotic era's call for clean and calm, Lanvin spring was an opportunity for Elbaz to reinvent modernism. Less froufrou than usual, perhaps, but his take on pared-down never loses its feminine edge. Defaulting to mere basics and stark androgyny would for Elbaz be a total "fail" of the imagination. Stunningly simple chiffon goddess gowns, neon-hued neoprene dresses that zip sexily up the back. The former Israeli soldier (Elbaz lives in Paris but calls Tel Aviv home) armed several models in metallic-plated mini gladiator dresses and flat leather sandals with chunky gold cuffs. Then there were skinny jersey bodysuits fastened with leather harnesses and sparkling chokers and tucked into full-pleated chiffon skirts. "What we want is clothing we think we can fly in. That's why I opened the show with flying dresses."
The flat sandals and his ubiquitous ballet flats aside, Elbaz has never seen his mission as grounding his women with sensible wardrobe basics. "Making them feel gorgeous and comfortable is my way of making women's lives easier," he says. "There's so much pressure to be perfect — perfect bodies, careers, boyfriends, children." Elbaz makes a point of hiring women. "Except for my boyfriend, who runs merchandising, almost everyone in my studio is female," he says proudly.
Elbaz was 8 years old in Tel Aviv when he first started sketching the dresses his third-grade teacher wore. "For me the drawings were about fantasy and escape. In my little room I felt that I was somewhere else — in Paris, for instance." It would take Elbaz a few years to finally get there — with a stop in New York to work for American master Geoffrey Beene, where Elbaz discovered he had a gift for draping. To this day he designs everything on the body, not on the computer. "Our clothes are not always beautiful on the hanger," he concedes, "but put them on and they fit like bathing suits." His acquired American know-how merged with the Lanvin tradition of intricate trimmings, timeless silhouettes, and the finest fabrics resulted in his winning both the CFDA's international designer of the year and France's highly prestigious Legion of Honour.
"Expensive? Yes," he sighs, having heard this a thousand times. "But it costs money to experiment. Sometimes in order to make one successful pattern, I have to make up seven dresses."
Even last fall's H&M line was more a case of the superstore going luxe than Lanvin slumming. From the faux-fur military coats to the lace-trimmed leopard pumps, red ruffled party dresses, and pearl-embellished T-shirt dresses, everything was made in Paris at Elbaz's insistence and — for the most part — was silk, cotton, and wool. "I thought, You know, I'm not going to kill what we do at Lanvin but work around it." Lanvin for H&M sold out almost immediately, boosting the Swedish retail behemoth's sales a full 8 percent in its debut month and begging the question: Are we going to see a permanent cheaper Lanvin line sometime soon? "I don't know, you know?" he says. "Everybody's talking about the new democratic world and whether high fashion is relevant. But without high there is no low. I don't like to intellectualize. I've always said fashion is like roast chicken: You don't have to think about it to know it's delicious."
The truth is today's designers can never stop thinking about fashion. "In fashion the time is so short, and even with pre-collection, there are not only dresses, shoes, bags, and furs but now raincoats and T-shirts. It's just an endless amount of work that we have to produce in no time." Right after the whirlwind New York stop, he was headed back to Paris to start pre-fall 2011. Does he at least feel the thrill of the intensity of it? "A thrill? No. After every show I do, I think it's the worst show I've ever done. But then imagine if you thought every dress you made was fabulous. You'd never go anywhere creatively."
His mother's advice to him was always to have a very big work life and a very small private one, yet following it has taken a toll. "I've never done drugs because I'm sure I'd love them too much. I'd become a junkie or a dealer," laughs Elbaz. "I do sport at the gym a few times a week, but I hate it. Work is my only remedy. I feel so twisted and horrible in the morning, but then I go to the office and I start feeling better. Work is my Tylenol. Extra-strength."
There are no doors or job titles in his open-plan Paris office, and by all accounts it's a happy shop. It better be, as Elbaz spends most of seven days a week there. "On weekends when I cross the park to the office, I see all these kids running around and their grandmothers watching. I feel sometimes that I'm walking parallel to life and not inside life." But without the benefit of a big fashion conglomerate behind Lanvin that could catch him if he falls, Elbaz feels compelled to work incessantly. Success means he can pay everyone's salary. "Ask me where I'd like to be after each collection, and I'd tell you home in Tel Aviv seeing my family. But I don't have time to go. I'm not just here giving directions. I'm one designer who works in the kitchen." Who just happens to make a deliciously good roast chicken.