Two-Piece Wonder: The History of the Bikini
Turns out we're all channeling the French.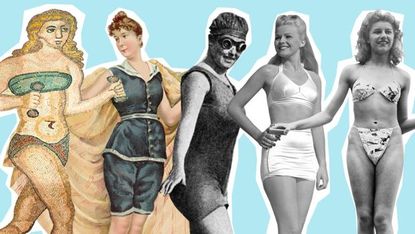 (Image credit: Archives)
1. Trendsetters, 300 A.D.:

Women of antiquity rocked the two-piece early on, with several illustrations discovered depicting competitive athletic events. The most well known mosaic at Villa Romana del Casale (opens in new tab) in Italy features Roman women in bikini-like garments, performing sports like weight lifting, discus throwing, running and ball games.
2. Covered Up, 1800s:

Despite the style of some fourth century ladies, women's bathing suit styles remained heavy and constricting through the 19th century (opens in new tab). Women would sew weights into the hems of their garments to prevent them from riding up underwater and showing their legs.
3. Scandal, 1907:

The precursor to the modern bikini emerged with a bit of a ruckus — Australian swimmer and silent-film star Annette Kellerman (opens in new tab) was arrested for indecent exposure after wearing a form-fitting, sleeveless tank suit on a Boston beach. The high–profile incident led beaches to relax their swimwear restrictions.
4. Modesty, 1930s:

Suddenly, the two-piece was everywhere, but it only showed a thin sliver of skin. Hollywood's Hays production codes (opens in new tab) restricted films from showing interracial dating, "lustful kissing," and even the navel — making for super high-rise bikini bottoms on screen and off.
5. Innovation, 1946:

French engineer Louis Réard officially created the bikini as we know it, naming it after Bikini Atoll (opens in new tab) (just four days after the U.S. military had conducted nuclear tests there). French women, always ahead of the curve, embraced the new style, but the Catholic Church and most of the public found it too risqué.
6. Banned, 1951:

Contestants in the first Miss World competition in London wore bikinis, but the suit was quickly banned from worldwide beauty pageants thereafter. The bikini was even officially banned in some countries like Belgium, Italy, Spain, and Australia.
7. Celebrity, 1953:

Actresses helped to garner better feedback for the bikini. Bridget Bardot was photographed wearing one on the beach during the Cannes Film Festival and other Hollywood stars followed suit — Rita Hayworth, Ava Gardner, and Marilyn Monroe were also fans of the new look.
8. Culture, 1962:

James Bond movie Dr. No propels the suit further when Ursula Andress emerged from the water wearing a bikini. Models also wore them on the covers of Playboy and Sports Illustrated (opens in new tab), making the look more mainstream.
9. Champions, 1997:

Model/professional volleyball player Gabrielle Reese led her four-person team to a title at the Beach Volleyball World Championships — in bikinis, of course, proving the style both fashionable and practical.
10. Empowered, 2014:

The global swimwear market is estimated to reach $17.6 billion by 2015 (opens in new tab) — not to mention how other industries thrive off the bikini's popularity, such as in bikini waxing and tanning salons. Some link the rise of the bikini to women's empowerment — French fashion historian Olivier Saillard famously told AFP (opens in new tab) that the bikini imposed itself due to "the power of women, and not the power of fashion." In Saillard's words, "The emancipation of swimwear has always been linked to the emancipation of women."