Yara Shahidi Joins Forces With Cartier Women's Initiative to Empower Entrepreneurs
"Giving back is essential to existing in the world."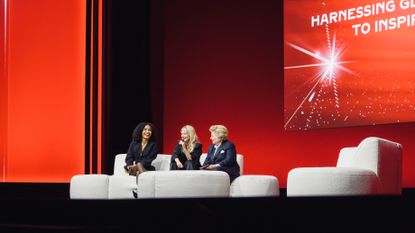 (Image credit: Jean Picon)
At the age of six, Yara Shahidi was already hyper-aware of the importance of giving her work meaning. "Abundance must flow" was a quote and a sentiment often expressed in the Shahidi household. "As someone working at a young age, receiving paychecks, my parents told me I had three piles: save, spend, and donate," says Shahidi, who would pick causes to donate to, writing notes to her parents on why those specific organizations touched her on a personal level.
As an adult, the actress, budding producer, and recent Harvard graduate, is using her platform to fight for equity and be a voice for advocacy. Earlier this month, she spoke at the Cartier's Women Initiative awards ceremony. The CWI entrepreneurship program, established in 2006, has supported inspiring businesswomen—ones driving social and environmental changes through their early-stage start-ups—with financial assistance, mentorship, and networking opportunities that help bridge the gender gap and offer a platform for small businesses to gain resources and visibility.
We connected with Shahidi at the 16th annual event in Paris to learn about her involvement in CWI and why it's vital to create networks and opportunities for individuals building businesses that are forces for good.
On Creativity and Social Impact
"The intersection of fashion and philanthropy is art at its best. These cultural mediums have infinite possibilities to help influence and change our world. Often before there's policy and social shift, there are cultural shifts, so when fashion brands and people at the forefront of them pour resources into social and philanthropic change, it's a butterfly effect—with a small investment from the fashion world comes potential for infinite good."
On Engaging Communities
"Cartier finding ways to give back to people doing great work in their communities speaks to me in many ways. They've looked at many regions globally and every intersection of entrepreneurialism and giving back, knowing it takes multiple voices and efforts from all industries to create the change we want to see. Spending the evening looking at the people doing incredible work inspires my work and my next steps—it's fuel and the hope I need to keep going.
The CWI is not just about highlighting entrepreneurs. Cartier's blueprint for them helps these start-ups exist for years to come. It's sustainable philanthropy. They've engaged multi-hyphenates and multi-industry perspectives to tackle equity and women's rights, which aligns with how my family and I think about our fight for equity. I love being outspoken because I know I'm one of many voices in a symphony of them. Change requires everyone's participation."
---
---
On Creating Meaningful Change
"Giving back is essential to existing in the world. It isn't an add-on—it's integral. To have a world to operate in, you must constantly be helping that world become a better place—to hold the door open continually. I think Cartier understands that in its truest form. They engage everybody [at every level] in CWI. They know we must constantly shape the world into a more equitable place filled with thoughtfulness and kindness in order to progress."
Sara Holzman is the Style Director at Marie Claire, covering runway trends and tracking down the latest finds to buy and wear. When she's not writing about fashion, she pens about the best places to jet-off to. Over her six years with Marie Claire, Sara has reported on the ever-evolving world of fashion— covering both established and emerging designers within the industry. Sara has held fashion positions at Lucky and SELF Magazine and was a regular contributor to Equinox's Furthermore website, where she wrote across their style, wellness, and travel verticals. She holds a degree in Journalism from the University of Missouri, Columbia, and currently resides in Manhattan. Follow her along at @sarajonewyork.