The 5 Shoe Trends of Fall 2022 to Slip Into
Step right up.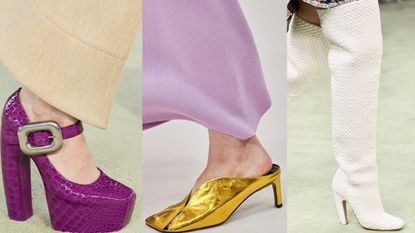 (Image credit: Bottega Veneta, Jil Sander)
As temperatures drop—a sigh of relief for many after a stifling hot summer season— the fall 2022 trends are just heating up. A cold front will not only usher in sweaters and leather jackets, but a new crop of handbag silhouettes, autumnal jewelry, and fresh shoe trends. Whether you're looking for a sneaker style—with creative fashion twists like lace insets—or a towering platform heel that will add a few vertical inches, you'll likely find something for you in the trending footwear styles for fall. Here are the major fall 2022 shoe trends you can start shopping (and wearing) now.
Getting the Boot
As the colder weather rolls in, there's no better shoe to embrace than a reliable boot silhouette. This season, designers are leaning into over-the-knee styles with rich leather hues. Pair your fall boots under knit and tweed fabric dresses as seen on Bottega Veneta and Chanel's runways, or styled over body-hugging denim styles with one of fall's oversized sweater offerings.
More Mules
Historically worn inside the home, a mule-style shoe's trademark is the backless silhouette. Like their clog cousin, mules wear with the ease of a slipper and the refined look of a heel. With sophisticated square toes and shearling fabrics, a mule can be worn anywhere and with anything.
Futuristic Flats
You don't have to master the art of time travel to look like you've gone to Mars and back. Quirky sci-fi style flats are ruling the roost this season, crafted with flexible designs and a second-skin feel.
On Track
The distinction between fashion sneakers and athletic sneakers is nearing nonexistent. While Valentino's running-style sneakers have lace floral panels rather than mesh, and Gucci has mastered leather uppers that are likely not waterproof, you still look like you can run your fastest mile in them. With fashion and athleisure collaborators coming together in droves, we're sure this fall will give sneakerheads lots to lust after.