The 10 Biggest Fall 2022 Trends From the Runways
And just like that, we're back.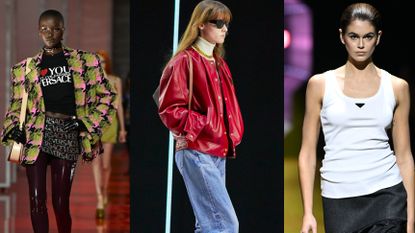 (Image credit: Getty)
The not-so-distant past forced the fashion universe to swap luxury for loungewear—but the industry is back and roaring. The simple act of getting dressed can be a window into our hearts and soul—optimistic or otherwise— and the Fall 2022 trend ethos was nothing short of excited. From glitzy sparkles to full leather, clothes encompassed indulgent moods and attitudes, from exceedingly elegant to ultra-eclectic. We saw a similar theme through fall's handbags, shoes, jewelry, and color trends. Whether you're starting to whet your palette for fall's crisp air à la the equestrian look or want to revitalize your wardrobe with a little (or a lot) of that tantalizing hot pink hue, the Fall 2022 trends prove that inspiration is imminent.
Everyone's an Equestrian
The fall runways took equestrianism to the masses this season— the internet has even gone so far to deem this the summer of the horse girl, and we expect the trend to ride well into the fall. From structured herringbone and elbow patch blazers at Tory Burch to quilted jackets at Burberry to stirrup strap leggings (well paired alongside riding boots), you don't have to own or ride horses to incorporate equine apparel into your fall wardrobe.
---
Think Hot Pink
Pre-dating the Barbiecore trend, hot pink was a focal point of the fall runways—Valentino dedicated their entire show to the vivid hue. At once, feminine, strong, and sultry, you can wear the power color piecemeal or announce your arrival with a monochrome look.
---
Think Tank
We sometimes believe less is more, especially when talking about one of the fall season's most simplistic trends— the little white tank top. Designers put their stamps of approval all over the wardrobe essential via house logos, but you don't have to spend a ton. The humble white tank comes in a variety of fabrics and price points.
---
It's Electric
Designers are embracing a more-is-more attitude with all over sheen. Sequins at Altuzarra mimicked those of mermaid scales, while Bottega Veneta's newly minted designer, Matthieu Blazy, designed tunics with a cool, electric green current running through them.
---
Aviation Nation
There's something subversive about rocking a bomber jacket—a calling to wingman Maverick from Top Gun. The fall runways thought so too. Shearling bombers infiltrated the catwalk at Coach, Celine embraced a cool collegiate version, and Versace naturally put their spin on the outerwear standby— opting for cape-like arm positioning.