Editors handpick every product that we feature. We may earn commission from the links on this page.
14 Comfy Slippers You'll Want to Live In
Can I superglue these things to my feet?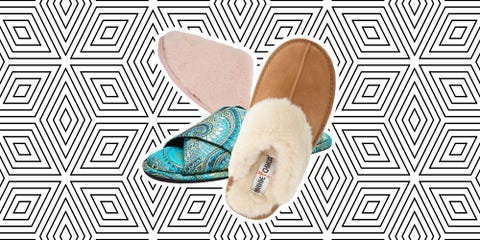 Design by Morgan McMullen
Most of us are spending a majority of our time at home, and having a comfortable wardrobe is a top priority as our attire becomes more loungewear and athleisure-focused. (Unless you're like Olivia Palermo and still dress up every day, even if it's just to walk the dog. Kudos.) But even Palermo likely has a pair of at-home slippers to change into from her summer boots and sandals. Indoor footwear runs the gamut, from fuzzy shearling slippers to minimalist cotton blend styles, with the goal of providing your feet with all-day cushion and comfort. Sometimes, house slippers receive a bad rep for not being the most stylish—but that's where we come in. We searched around to find 14 super-comfortable slippers you won't be embarrassed to greet the delivery guy in. And for a bonus: 13/14 of the house slipper options are under $100.
Hand Woven House Slippers
Indian Cotton Open Toe Room Sandal Ecru
When the bottoms look dirty and not-so-mysterious stains appear (sauce spills and the like, oops) on these cotton slippers, you can toss them directly into the wash. They're lightweight, hand woven, and add a minimalist touch to your slipper collection. One thing to note is that the underside of these slippers can be slippery depending on your floors.
Cushioned House Slippers
Slippers
Uniqlo's slippers have two layers of cushioning, which means you won't have to feel the floorboards through your soles again. The lightweight slippers even have a specific toe design to keep you from tripping over.
Animal Print House Slippers
Tiger Cashmere Slippers
Minnie Rose
shopbop.com
$67.20
You'll feel bold and fancy in this tiger print cashmere slipper. They have cushioned footbeds, rounded toe designs, and faux suede soles.
Furry House Slippers
Victoria Bridal Party Faux Fur Slipper
Flora Nikrooz
nordstrom.com
$20.00
You're putting together your bridesmaids' proposal packages and wondering what the heck to put inside. Consider gifting everyone a pair of these fuzzy slippers, which they can wear on the bachelorette trip and on your wedding day as you all get ready together.
Gray House Slippers
Wool-Blend Slides
These machine-washable wool gray slippers are as simple and plain as they come. You don't have to worry about them not matching your colorful pajamas or printed teddies because, well, they will!
Quilted Cashmere House Slippers
Quilted Cashmere Slippers
Sofia Cashmere
saksfifthavenue.com
$240.00
Cashmere slippers are practical and make for a luxurious gift. The next time you're visiting the in-laws, pick up a pair of soft, quilted cashmere slip-ons for mom.
Funny House Slippers
Offline Cozy Slippers
OOO for the week? Lounge in these funny "offline" slippers while you binge on your favorite TV shows and snacks. The shoes serve as the perfect reminder to not check your emails or Slack messages.
House Slippers
Indoor Slippers Memory Foam
This memory foam slipper has three layers of insole for support and is made from 100 percent breathable cotton. It has a non-skid rubber sole and is suited for all floors, especially wood, carpet, and tile.

Paisley House Slippers
Brocade Indoor Slide
Banana Republic
bananarepublic.gap.com
$29.99
These brocade indoor slides might be the most intricate house slippers we've seen so far. The paisley design is great for those who like a little drama in their loungewear and crave colorful footwear.

Sheepskin House Slippers
Birche Slipper
These fluffy slippers are almost sold out on every website, which is a testament to their popularity. Your feet will feel nice and snug inside these shoes.
Faux Shearling House Slippers
Mule Slipper
Minnetonka
nordstrom.com
$49.95
These faux shearling slippers come in three different neutral colors and can be worn indoors or outdoors thanks to its sturdy rubber sole. If you have a "no shoes in the house" rule, you might want to invest in two pairs: one for outside and one for inside.
Fluffy House Slippers
Fluffy Feet Slipper
Sunday Forever
sundayforever.com
$34.00
There's no better feeling than when your feet sinks into soft, fluffy material. Sunday Forever's house slippers promise a comfortable fit and from the looks of it, we believe them.
Chambray House Slippers
Chambray Quilted Slippers
Madewell x Parachute
parachutehome.com
$39.50
Parachute and Madewell partnered up to create this chambray weave slipper that has a denim-inspired look. The soles have rubber dots for slip prevention while cozy cushioning keeps your toes warm come fall/winter.
Cozy House Slippers
Coffee Slipper
Haflinger
nordstrom.com
$89.00
The coffee addict in your life needs this house slipper. Turn this into a cool gift idea by pairing it with their favorite coffee beans and a cute mug from your local store.
This content is created and maintained by a third party, and imported onto this page to help users provide their email addresses. You may be able to find more information about this and similar content at piano.io