15 Beaded Bags and Purses That Are the Definition of Arm Candy
I have my eye on the cherry one.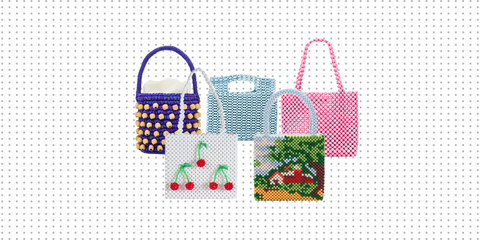 Design by Morgan McMullen
There's a compelling reason for the beaded bag's resurgence: It elevates any outfit with a splash that's equal parts edgy and playful. Accessories designer Susan Alexandra led this revival of everyone's favorite '90s bag last year and now other retailers have caught on to the trend as well. You'll find beaded bags come in a vary of silhouettes, colors, and prices, from a $300 Loeffler Randall option to a $60 version at Topshop. Everyone can wear the trend this season, so I set off to find the best beaded bags on the market. Without further ado, here are 15 options to complement your spring/summer outfits.

Cult Favorite
Ma Cherie Beaded Tote Bag
Susan Alexandra
needsupply.com
$87.00
New York-based designer Susan Alexandra's name has become synonymous with the beaded bag trend, thanks to her cherry-embossed tote. Handmade by women artisans in NY, this statement piece is as playful as beaded bags come.
Orange and Wooden Beaded Handbag
Urban Outfitters
urbanoutfitters.com
$24.00
This top-handle beaded number is vacation vibes in the form of a handbag. Made with neutral woven wood and orange beads, the accessory will look especially chic with a backdrop of palm trees or set next to your mimosa at brunch.

Mini Leopard Beaded Bucket Bag
Sensi Studio
shopbop.com
$378.00
This top-handle bag checks off so many of spring 2019's best trends. Leopard print? Check. Micro size? Check. Top handle? Check again. Beads? Say it with me, check.
Great Deal
Multicolored Beaded Shopper Bag
Zara's multicolored beaded shopper bag can hold everything you need for an Instagrammable, warm-weathered afternoon: your sunglasses, wallet, a grapefruit, and that book you've been meaning to finish.
Wooden Beaded Clutch
Cult Gaia
saksfifthavenue.com
$158.00
Featuring a natural, woody palette and a top-handle shape, this clutch will be your go-to for adding a pinch of style to casual outfits. It's a savvy choice for beachside strolls or backyard weddings.
Prairie Faux-Pearl Beaded Bag
Shrimps
matchesfashion.com
$564.00
UK-based brand Shrimps, designed by Hannah Weiland, has also been a pioneer behind the beaded bag revival. I especially love this wearable piece of art from her spring 2019 collection. The graphic landscape captures the loveliness of a countryside afternoon.
Goldie Beaded Grab Bag
Topshop
topshop.com
$60.00
Topshop's acrylic beaded pouch is for those who plan on bar hopping Friday nights and want a bag to hold the necessities, but not get in the way of dancing. This tiny pouch is perfect for concealing your keys, wallet, lipstick, and more. Now your items won't tumble into your Uber Pool's dark floor on the way home.
Monticello Sequin Embellished Bag
Ganni's beaded cacti are subtle ways to tap into the western trend without incorporating the cowboy boot motif. The sequin-and-beaded pouch is a playful accessory to any outfit, especially with jeans. Editorial note: I own many cacti and overuse the cactus emoji daily, so I will be getting this bag.
Most Versatile
Beaded Satin Shoulder Bag
Loeffler Randall
net-a-porter.com
$295.00
Loeffler Randall's functional beaded shoulder bag is spacious and practical. The "Roz" style is especially suited for women who, like myself, prefer running errands with a supply of everything they need for unexpected hurdles. (We're talking space for a back-up charger, a 60mL skincare product, a wallet, and a sunglasses case.) Of all the bright colors this season, this orange hue is the most foolproof as it easily works in lieu of tan in ways that pinks and greens cannot.
Beaded Bag in Matte Pink
Lovers + Friends
revolve.com
$238.00
$115.00 (52% off)
This Elle Woods-approved bubble gum-colored bag is 100 percent shoulder candy. Pair this beaded confection with your animal print outfit of choice for a look that, in the best possible way, feels somewhere between Milan fall 2019 and Paris Hilton circa 2005.
Great Deal
Light Blue Mini Beaded Bag
Urban Outfitters
urbanoutfitters.com
$39.00
Here, a miniature baby blue number for occasions when you technically don't need to carry a bag, but will inevitably be photographed and want something cute to do with your arms. Swing it back and forth for that boomerang shot or place it on your lap for a "candid" I'm-drinking-coffee-and-look-cute snap.

Yellow Beaded Purse
Lovers + Friends
revolve.com
If you're looking to lean into the neon color palettes dominating spring 2019, here's an adorable shoulder bag option. It's just big enough to hold your phone and cardholder. The highlighter yellow will add an energetic splash to any poolside attire.
Heart-Shaped Crossbody Bag
Moschino
shopbop.com
$122.22
Moschino didn't just create a bold red bag, he amped it up with a heart-shape silhouette. The accessory has a thin silver crossbody chain and a zipper closure, necessary details for those who don't want to pick between practicality and style.
Editor's Pick
I Love NY Beaded Tote Bag
Susan Alexandra
saksfifthavenue.com
$173.25
This beaded tote features the iconic "I love NY" tagline and I am inclined to agree (that is, whenever the MTA isn't running with delays). Cooler than a "I love NY" hoodie version or a regular ol' tote, I'll be carrying this beaded bag on the subways Monday through Sunday.
Beaded Straw Bucket Bag
Sensi Studio
modaoperandi.com
$47.00
Sensi Studio's bucket bag is handwoven from toquilla straw and strung with wooden beads. It has that beachside souvenir vibe, except you don't have to travel far to get it. Just place your order with Moda and wait several business days for it to arrive at your doorstep. Wear with a puff-sleeve white Mara Hoffman dress.
•••
For more stories like this, including celebrity news, beauty and fashion advice, savvy political commentary, and fascinating features, sign up for the Marie Claire newsletter.
This content is created and maintained by a third party, and imported onto this page to help users provide their email addresses. You may be able to find more information about this and similar content at piano.io