13 Spring 2020 Trends to Know and Shop Right Now
Now that you're all caught up.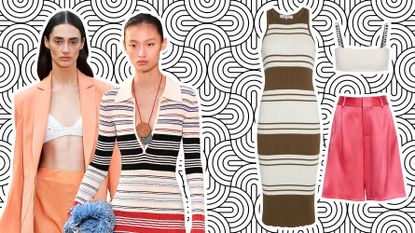 (Image credit: Design by Morgan McMullen)
Most of us can officially retire our puffer jackets and snow boots. Our days spent dreaming of breezy dresses, sandals, and basically any warm-weather gear is now a reality. As you step into spring/summer, what do you need to know? The top spring/summer trends of 2020, that's what. This season, designers are offering up a bevy of styles, from feathered tops to bralettes that look elevated and sophisticated when paired with a blazer. It helps to know what the most popular looks are so you can prep your shopping list in advance—we even provided "get the look" options so you can shop the pieces before everyone else starts wearing them. Knowledge is power, and with this trend info, you'll be the most fashionable dresser in your friend group. Want even more insider tidbits? Here are the top bags, jewelry, and shoe trends to know for 2020.
1/53
1. Feathers
As seen at Jason Wu, Valentino, Burberry, and Prabal Gurung
Will designers ever get bored of feathers? The short answer: no. Every season you'll find at least a few designers incorporating this embellishment into their designs. For spring 2020, fashion houses like Valentino, Jason Wu, Burberry, and Prabal Gurung all offered up feathery creations, whether it be a full dress or just along the sleeves. If you fancy a quick touch up to your everyday pieces, feathers will surely make the garment stand out.
2/53
COS Short Sleeve Feather Top
This all-over feather top can be dressed down with jeans or up with a black skirt and heels. No matter where you wear it, it'll make a statement. (Don't forget to scoop up a COS promo code before you hit checkout.)
3/53
P.A.R.O.S.H. Feathered Hem Tank
Unsure about this trend? Test the waters by getting a top that only has feathers along the hemline. This extra detail elevates your ensemble without making you feel extra.
4/53
Cult Gaia Shannon Feather Silk Minidress
Whether you're the bride or birthday girl, this feather silk minidress is a show-stopping party look. The wispy plumage flutters as you mingle with guests and show off your moves on the dance floor.
5/53
2. Short Shorts
As seen at Saint Laurent, Isabel Marant, Salvatore Ferragamo, and Chanel
Dare to bare your...butt cheeks? Or at least, a small part of them? Short shorts made a comeback on the runways of Chanel, Saint Laurent, and more. These bite-sized bottoms offer a cheeky vibe to your outfit (pun intended), whether you rock it with a knit cardigan or a bodysuit. We get it, however, if short shorts aren't for you. If you're a pass on this trend, you might want to try Bermuda shorts instead (we'll explain that further ahead).
6/53
Imaan x Frame Le Bootie Coated Short
These coated denim short shorts have a high-rise fit and a self-tie belt. Since these are part of Imaan Hammam x Frame's limited-edition capsule collection, you should add to your shopping cart before it's too late.
7/53
Marques Almeida Blue Denim Folding Waistband Shorts
Don't go for the same pair of denim cutoffs as all your friends. Give this Marques Almeida design a try. The detachable belt with pin-buckle fastening and a fold-down waistband are key features that make this piece look cool.
8/53
Miu Miu Tweed Short
The Miu Miu girl isn't afraid to wear short shorts and if they all look like these, sign me up. The tweed fabric and red check print give the bottoms a retro look, especially when paired with the matching jacket.
9/53
3. Knit Dresses
As seen at Marc Jacobs, Zimmermann, Celine, and Altuzarra
Think of the striped knit dress as the transitional piece to wear in lieu of sweaters from the end of fall into spring. The piece provides warmth underneath a denim jacket, but will keep you cool if you go with a short-sleeve or midi length option. Dress it down with sandals for vacation or with kitten mule heels for after-work rooftop drinks with your besties.
10/53
Banana Republic Stripe Knit Dress
This black and white knit dress is your "no brainer" piece, a.k.a. the kind of dress you can throw on quickly and head out the door in. Since it leans towards the plainer side, dress it up with fun springtime accessories.
11/53
Lanvin Striped Long Knitted Dress
You're not afraid to stand out, which is why this colorful striped dress is calling your name. The sunshine yellow and sea blue colors offer much-needed calming vibes.
12/53
Frame Striped Rib Knit Dress
This calf-grazing tank dress contours to the body without making you feel suffocated. Style with a turtleneck top underneath, if it's still cold, or layer with a leather jacket. A pair of white sneakers completes this outfit.
13/53
4. Bermuda Shorts
As seen at Bottega Veneta, Givenchy, Tod's, and Valentino
First biker shorts were everywhere, now it's Bermuda shorts' turn. Bottoms are trending towards that middle length for spring/summer 2020. On the runways, Bermuda shorts came in all materials, from leather to silk to denim and styled with everything from blazers, tees, and blouses. This bottom will add a touch of sophistication to any warm-weather outfit.
14/53
Alice + Olivia Eric High Waist Satin Bermuda Shorts
These satin Bermuda shorts come with a high-rise waist, so you don't have to worry about them making your legs look short. The color is fruity and bright for spring, which instantly lifts our moods.
15/53
Mango Pleated Bermuda Shorts
For bottoms that graze slightly past your knees, try this pair from Mango. It goes with every type of shoe from ankle boots, to strappy heels, to knee-high silhouettes.
16/53
Remain Manu Leather Bermuda Shorts
If your workplace allows, this pair of Bermuda shorts screams wear me. It's tailored to perfection while the burgundy hue offers a color break from your all-black winter wardrobe.
17/53
5. Vests
As seen at Coach, Celine, Hermès, and Saint Laurent
Shake off the dust on your vests from yesteryear, because this garment made a comeback on the spring 2020 runways. Whether you opt for a sexy tuxedo design sans shirt like Kaia Gerber at Saint Laurent or a furry number for those colder months (see Coach), a vest is the optimal layering piece.
18/53
Topshop Belted Denim Vest
Forget the denim jacket for spring and try a denim vest instead. This one layers easily over a graphic t-shirt or cami.
19/53
Gucci Houndstooth Gilet
The older I get, the more I don't mind dressing like a (chic) octogenarian. This vest has all those vintage vibes, like a hidden gem you'd fine in your grandma's closet, with a modern twist thanks to the oversized fit.
20/53
Asos Design Tall Tux Suit Vest
A sexy vest (check out the back!) that you can wear at night in lieu of a dress. This piece evokes feminine and masculine vibes at the same time.
21/53
6. Drawstring Details
As seen at Bottega Veneta, 3.1 Phillip Lim, Salvatore Ferragamo, and Stella McCartney
Designers added drawstrings to anoraks, jumpsuits, coats, and dresses for a touch of sportiness. Anyone can wear this athleisure design, even if you've never played a sport in your life (me). I'm coming for that Bottega Veneta lewk.
22/53
Monse Deconstructed Cycling Top
Leave it to Monse to create a top that's sporty yet high fashion. This top is made from lightweight activewear jersey and has a cutout in the front/back to show a hint of skin. Wear with biker shorts.
23/53
Jacquemus Mimosa Gathered Poplin Top
This top is made from crisp poplin and has boxy sleeves and a gathered overlay that ties at the front for a unique design.
24/53