Chic "Something Blue" Pieces to Work Into Your Wedding Day
Now you just need something new, old, and borrowed.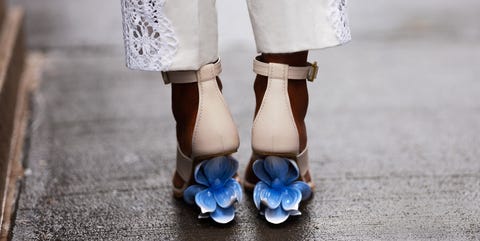 The tradition of wearing "something blue" on your wedding day comes from an Old English rhyme: "Something Olde, Something New, Something Borrowed, Something Blue, and a Sixpence in your Shoe." Wearing a blue piece—an earring, a ribbon, a ring, etc.—is said to bring the bride good fortune. To help bring you all the luck you need on your big day, we've found some modern "something blue" pieces to incorporate into your ceremony or your outfits on your wedding day. Whether it's a blue robe for pampering or a blue ring box, these chic picks just work.
A Ring Holder
Jewelry Box
Sophie Bille Brahe
thewebster.us
$5,995.00
You don't actually have to wear your "something blue" down the aisle. Consider switching things up by storing your wedding bands in this sophisticated blue velvet jewelry box. It also makes a pretty accessory for your nightstand.

A Pair of Earrings
Peek A Boo Earrings
Gabriel & Co.
gabrielny.com
$500.00
The easiest way to incorporate something blue into your wedding day look is to wear a pair of ocean-colored earrings. This pearl and topaz piece can rise to any occasion, whether you've opted for a princess dress or subdued suit separates.
A Silk Robe
Cuff Robe Coat
Prada
farfetch.com
$1,770.00
A silky robe with plume feathered sleeves will make you feel extra special as you're getting ready with your bridesmaids on your wedding day. There's no doubt that this look pairs perfectly with a celebratory glass of champagne.
Oliva Shoppe
oliviashoppe.com
$88.00
Feathery silk robe not quite you? Wake up on your big day in a more casual, sweet set of pajamas embossed with blue florals. You can also gift a set to your bridesmaids, so you girls can gather for that cute getting-ready photo opp.
A Delicate Bracelet
Heart Bracelet
Alison Lou
alisonlou.com
$650.00
Wear your heart on your sleeve—literally—with this blue-and-gold charm bracelet. Let the tears and emotions flow; your bridesmaids will be standing next to you ready with tissues.
A Ultra-Feminine Bow
Hair Pin Bow
Jennifer Behr
farfetch.com
$285.00
You have your something blue, and now your flower girls will too. This adorable blue bow hair pin easily clips in to pull back loose waves or adorn straight-as-a-pin hair in a half-up style.

Smythson
net-a-porter.com
$110.00
Jot down your wedding vows in this something-blue Smythson notebook, or use it to reflect on your celebrations while you're on your honeymoon.
A Pair of Heels
Indigo Blue J'Adior Slingback Fishnet Pump
Here's a kitten-heeled shoe that can take you down the aisle, through multiple photo opps, and straight to the dance floor at your reception. The fishnet and slingback strap emblazoned with the fashion house's logo adds a luxe touch to any outfit.
A Bottle of Perfume
Wild Bluebell Cologne
Jo Malone London
bergdorfgoodman.com
$130.00
Get creative with the something blue by spritzing yourself with this "Wild Bluebell" scent from Jo Malone London. You'll smell notes of persimmon, lemon, and fresh bluebells.
A Trusty Handbag
Ascot Two Bag in Washed Satin
The Row
bergdorfgoodman.com
$176.00
This handbag is your hold-all accessory for the rehearsal dinner and day-after wedding brunch. Pair it with work outfits long after the big day is over.
This story appears in the February 2020 issue of Marie Claire.
This content is created and maintained by a third party, and imported onto this page to help users provide their email addresses. You may be able to find more information about this and similar content at piano.io