Editors handpick every product that we feature. We may earn commission from the links on this page.
Gaucho Pants Are the Cool New Trouser for This Season
The "flood pant" is back.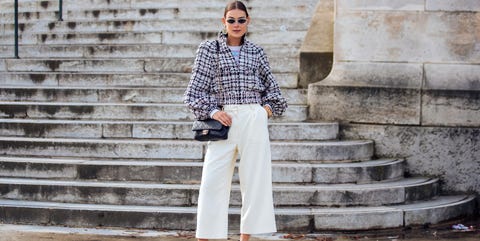 Cowboy culture has inspired fashion trends that come and go as quickly as tumbleweed, but gaucho pants? They're here for the long haul. First worn by ranchers in the South American lowlands, the wide leg, calf-gracing pants have a distinct style of their very own. Fitted pant loyalists might feel a sense of hesitation about giving the voluminous silhouette a try, but the flattering cinched waist and roomy legs will award a fresh take on existing outfits. They key? Play with proportions. A flood-length pant doesn't have to read Urkel. (Remember Steve?) Try a lightweight gaucho, belted, with a fitted tee for the weekend. Layer a crisp white button-down under a menswear-inspired waistcoat for that interview. It's chic! Bonus: You can showcase your shoes. Pull out your pointed toe flats, the thigh-high boots at the back of your closet, even pop on tights underneath. Whether you lean towards a casual aesthetic or prefer ladylike appeal, there's a gaucho pant for every day of the week.
This content is created and maintained by a third party, and imported onto this page to help users provide their email addresses. You may be able to find more information about this and similar content at piano.io