The 14 Best Maxi Skirts for 2023
They're the season's biggest (and longest) trend.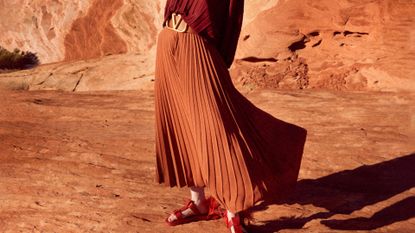 (Image credit: Betina du Toit/Future)
While the mini skirt has reigned supreme in recent seasons, its more demure and grown-up sister style, the maxi, is a front-running trend this spring. Look to the Spring/Summer 2023 runways from Altuzarra, Brandon Maxwell, Khaite, and Tibi, which showed an assortment of the season's best maxi skirts, some in utilitarian denim, others in opulent sequins. To wit, Kendall Becker, the fashion and beauty trends editor at Trendalytics, tells Marie Claire that there's actual data to back up the maxi momentum: "According to Trendalytics, the [maxi skirt] is up 18 percent to last year and is most saturated in the luxury market, which is a strong indicator of an emerging trend," she shares over email.
The Maxi Skirt Trend
Moreover, the spring 2023 maxi skirt trend comes at a time in fashion where we're oscillating between two sartorial extremes: On one side of the spectrum, there are micro-mini skirts, cutout dresses, and see-it-all sheers. But on the other end, conservative Coastal Grandma dressing prevails, and many are reaching for more humble classics like ballet flats. Becker says spring 2023's maxis reflect this split style perspective: "What's interesting this time around is the range: 16 Arlington showed a tastefully slitted silk skirt while Altuzarra opted for an edgier leather option, and Erdem and Etro kept fringe top-of-mind. Case in point, the maxi trend is bound to be versatile and a vehicle for market innovation," she describes.
Stitch Fix expert stylist Gillian McHattie also notes the maxi skirts' recent popularity, adding that 74 percent of Stitch Fix's clients say they'll opt for maxi silhouettes in the coming months. However, she believes there might be a deeper theme at play. "We believe a reason that longer silhouettes are trending in 2023 could be the Hemline Theory Index, which presumes that popular hemline lengths mirror the shifts in the economy," McHattie offers.
An abridged explanation for those of us who aren't fashion historians-cum-economists: Hemlines are shorter when the economy's doing well (see: the knee-length flapper numbers in the Roaring Twenties or the flirty '60s-era miniskirts), but then plummet to the shin and below in periods of financial downturn (the Great Depression's floor-length silhouettes, the flowing maxis during the stagflation of the 1970s, etc). And given today's economic turmoil and impending inflation, McHattie believes history could be repeating itself yet again.
The Best Maxi Skirts
No matter the why behind it all, the best maxi skirts are effortless and speak to a slew of aesthetics, from laidback and boho to experimental and futuristic. Ahead, we rounded up our favorite long skirts to style for spring/summer 2023, including picks from Banana Republic, J. Crew, SIR., Coperni, and more.
Meet the Fashion Experts
Emma Childs is the Style Editor at Marie Claire, where she researches up-and-coming trends, curates shopping guides, and gushes about the must-buy items she can't stop thinking about. She previously wrote for TZR, Editorialist, Elite Daily, and Mission Magazine and studied Fashion Studies and New Media at Fordham University. When she's not writing up fashion deep-dives or finding the season's best pieces, you'll find her fiddling around in Photoshop and perusing HBO Max for the next show to base her personality on (currently, it's "Succession").