The 22 Best Maxi Skirts for 2023
They're fall 2023's biggest (and longest) trend.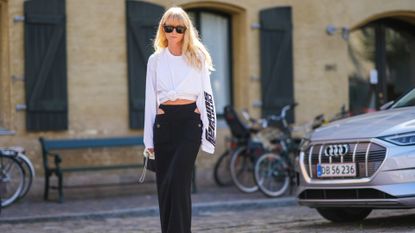 (Image credit: Edward Berthelot/Getty Images)
While the mini skirt has reigned supreme this summer, its sister the maxi skirt has become one of fall 2023's biggest trends, thanks to supermodels like Kendall Jenner and Elsa Hosk and mega-influencers like Emma Chamberlain. So we spoke to a trend forecaster about where the maxi skirt trend came from in the first place—and found the best maxi skirts to incorporate into your wardrobe for fall 2023.
It's not often that a single piece of clothing takes over my entire Instagram feed in a matter of days, but the maxi skirt is proving to be the exception, not the rule. I first noticed their prevalence when Kendall Jenner wore a white one with a pair of black Adidas Samba sneakers back in August. After that, I noticed styling videos featuring a plethora of longer, denim options on TikTok. Then, GANNI and Levi's included a maxi skirt in their latest collection. Most recently, fellow supermodel Elsa Hosk wore a cargo-style maxi skirt that obviously took inspiration from the massive cargo pants trend of the last few weeks.
It makes sense, considering brands like 16 Arlington, Erdem, Etro, and Altuzarra all showed maxi skirts as a part of their Fall/Winter 2022 collections earlier in 2022. Most recently, Tibi, Brandon Maxwell, Batsheva, and Khaite all showed maxi skirts in denim and sequins as a part of their Spring/Summer 2023 collections at New York Fashion Week. Plus, there's actual data to back up this trend: "According to Trendalytics, the style is up +18 percent to last year and is most saturated in the luxury market which is a strong indicator of an emerging trend," says Kendall Becker, the Fashion & Beauty Trends Editor at Trendalytics.
If you're anything like me, you grew up wearing maxi skirts in middle and lower school with your favorite graphic T-shirt or sweater from Abercrombie & Fitch. This time around, though, the maxi skirt is fashionable and not all reminiscent of my awkward tween years. It comes at a time in fashion where we're sitting in the middle of two sartorial extremes: On the one side of the spectrum, there are micro mini skirts, cutout dresses, and bra tops. On the other hand, the Coastal Grandma trend is prevailing.
"What's interesting this time around is the range: 16 Arlington showed a tastefully slitted silk skirt while Altuzarra opted for an edgier leather option, and Erdem and Etro kept fringe top-of-mind. Case in point, this trend is bound to be versatile and a vehicle for market innovation," says Becker.
No matter your preferred style of maxi, keep reading. Ahead, I've rounded up 22 of the best maxi skirts to style for fall 2023, including picks from COS, Farm RIO, ZARA, Mango, and more.
The Best Maxi Skirts
Meet the Expert