The 14 Best Maxi Skirts for 2023
They're the season's biggest (and longest) trend.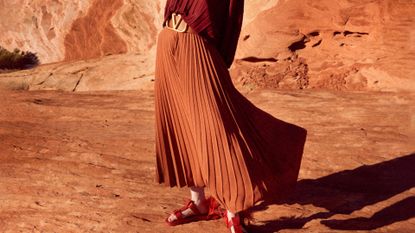 (Image credit: Betina du Toit/Future)
While the mini skirt has reigned supreme in recent seasons, its more demure and grown-up sister style, the maxi, is a front-running trend this spring. Look to the Spring/Summer 2023 runways from Altuzarra, Brandon Maxwell, Khaite, and Tibi, which showed an assortment of the season's best maxi skirts, some in utilitarian denim, others in opulent sequins. To wit, Kendall Becker, the fashion and beauty trends editor at Trendalytics, tells Marie Claire that there's actual data to back up the maxi momentum: "According to Trendalytics, the [maxi skirt] is up 18 percent to last year and is most saturated in the luxury market, which is a strong indicator of an emerging trend," she shares over email.
The Maxi Skirt Trend
Moreover, the spring 2023 maxi skirt trend comes at a time in fashion where we're oscillating between two sartorial extremes: On one side of the spectrum, there are micro-mini skirts, cutout dresses, and see-it-all sheers. But on the other end, conservative Coastal Grandma dressing prevails, and many are reaching for more humble classics like ballet flats. Becker says spring 2023's maxis reflect this split style perspective: "What's interesting this time around is the range: 16 Arlington showed a tastefully slitted silk skirt while Altuzarra opted for an edgier leather option, and Erdem and Etro kept fringe top-of-mind. Case in point, the maxi trend is bound to be versatile and a vehicle for market innovation," she describes.
Stitch Fix expert stylist Gillian McHattie also notes the maxi skirts' recent popularity, adding that 74 percent of Stitch Fix's clients say they'll opt for maxi silhouettes in the coming months. However, she believes there might be a deeper theme at play. "We believe a reason that longer silhouettes are trending in 2023 could be the Hemline Theory Index, which presumes that popular hemline lengths mirror the shifts in the economy," McHattie offers.
An abridged explanation for those of us who aren't fashion historians-cum-economists: Hemlines are shorter when the economy's doing well (see: the knee-length flapper numbers in the Roaring Twenties or the flirty '60s-era miniskirts), but then plummet to the shin and below in periods of financial downturn (the Great Depression's floor-length silhouettes, the flowing maxis during the stagflation of the 1970s, etc). And given today's economic turmoil and impending inflation, McHattie believes history could be repeating itself yet again.
The Best Maxi Skirts
No matter the why behind it all, the best maxi skirts are effortless and speak to a slew of aesthetics, from laidback and boho to experimental and futuristic. Ahead, we rounded up our favorite long skirts to style for spring/summer 2023, including picks from Banana Republic, J. Crew, SIR., Coperni, and more.
Best Black Maxi Skirt
Banana Republic Laurel Poplin Skirt
You can't go wrong with a black maxi skirt, as this flared style shows. This lengthy Banana Republic number is made from a lightweight, breathable cotton poplin (a material that will be your best friend come the warmer months). It boasts an ultra-wide hem, making it a piece that is begging to be twirled in, and deep-set pockets—pockets!—too. It's also offered in white and comes in an assortment of sizes, 0 to 20, to be specific, as well as tall and petite ranges.
Best Denim Maxi Skirt
We The Free Come As You Are Denim Maxi Skirt
Denim skirts are a massive fashion trend this year, so it's no surprise that Free People threw its proverbial hat in the ring with this maxi-length version. It boasts a mid-rise waist and A-line silhouette and comes in six different colorways, ranging from dark indigo to light blue to black. It's so effortless it might even usurp your favorite pair of jeans as your daily go-to: "Besides looking good, it's super comfy," writes one reviewer. "There's just enough fabric to make it easy to walk in but not so much as to overwhelm."
Best White Maxi Skirt
J. Crew Side-Slit Soft Gauze Maxi Skirt
A core aspect of any good summer wardrobe is a breezy, no-fuss skirt. And J. Crew's white maxi skirt made of an airy gauze cotton-blend fabric is that piece. In addition to its lightweight fabrication, this maxi features an elastic waist, making an already easy-to-wear style all the comfier, and an upper liner to the slit so you can rest assured there won't be any peek-a-boo wardrobe malfunctions. "Perfect fun skirt for a hot summer," writes one happy J. Crew shopper. "This can go anywhere from the beach to dinner!"
Best Pleated Maxi Skirt
Mare Mare Pleated Maxi Skirt
In case you were wondering: Yes, it is possible to wear a pleated skirt in 2023 without looking like you're a prep school student who's ditching the first period. The pro tip to ensuring your creased skirt is relaxed and refined instead of academic and juvenile is to style it with relaxed separates. Start with a structured pleated maxi—like Mare Mare's cotton and khaki piece—and team it with a loose crop top or effortless cami to create a preppy-meets-boho combination.
Best Floral Maxi Skirt
Surprise, surprise: one of the dominating trends of spring 2023 is florals. And while the natural motif is common and perennial, there are inspired iterations on this year's market that make the print feel less predictable. Case in point: SIR's blue floral maxi skirt. It's made of a lightweight cotton and silk blend and features two drawstrings: one cinched at the waist and the other ruched around the mid-thigh. The end result is an edgy cool girl attending a garden party.
Best Asymmetric Maxi Skirt
Washlab Denim Selma Pieced Asymmetric Denim Maxi Skirt
Denim maxi skirts are trending so fervently this 2023 season that we're including more than one on this list—specifically, we're also highlighting Washlab Denim's asymmetric jean style. Choose between five different colorways—inky black, dusty brown, and a washed-out white—and a 26 to 34 size range. One thrilled Nordstrom reviewer calls this frayed-hem style a "versatile and viable skirt" that's "wonderful, comfy, and fabulous." And it's worth noting that the denim isn't too rigid: "It's a stretchy material that moves easily with your movements and gives a very flattering shape," they write.
Best Gingham Maxi Skirt
Draper James Peasant Skirt
Continuing the Coastal Grandmother trend? Consider this gingham skirt from Draper James, which absolutely looks like something you'd find in the costume department of a Nancy Meyers movie. One satisfied Draper James shopper describes the skirt as "so clean and crisp" and "nice and airy for a hot summer day." As for styling the checked style, try teaming it with a breezy, sleeveless blouse in white and heeled slingback sandals.
Most Comfortable Maxi Skirts
Karen Kane Flared Maxi Skirt
For optimal comfort, look for a maxi skirt made of flexible materials with lots of give—Karen Kane's Flared Maxi Skirt is an ideal option. This ankle-grazing style is made of a stretchy rayon and spandex blend that feels like butter on the body. Take it from this pleased buyer: "I love the style and fabric in this skirt. It's super easy to pull on and comfortable to wear," they write in their Nordstrom review. Plus, as the reviewer points out, this black style is trans-seasonal. "I can see wearing this during any season: summer with sandals and in cooler weather with boots."
Best Satin Maxi Skirt
LESET Barb Hammered-Satin Maxi Skirt
If you don't have a slip skirt in your wardrobe, well, we're sorry to break it to you: That means your personal collection is incomplete. The good news, however, is that we've found the perfect one to snag for spring 2023 and get you back on track: LESET's satin maxi skirt. This carefree style is made from a light-reflecting hammered satin to create a slight texture that will masterfully catch the eye. Oh, and bonus: this floor-sweeping style boasts an ultra-easy elastic waistband.
Best Maxi Skirt With Slit
Aya Muse Spara Crystal Skirt
"I'm currently eyeing this embellished, ribbed knit option from Aya Muse," says Kendall Becker. The Los Angeles-based brand is known for its sultry, celebratory, and party-ready garments—and its Spara Crystal Skirt is no exception. "The column silhouette is undoubtedly chic yet offers just the right amount of sex appeal with the side slit. Basically, this is the ideal maxi skirt for going out on summer nights." Team it with the Los Angeles-based brand's matching high-shine, long-sleeved crop top, silver jewelry, and your favorite pair of barely-there strappy heeled sandals.
Best Convertible Maxi Skirt
Free People Silvia Sweater Convertible Maxi Skirt
This ribbed knit maxi skirt is similar to your all-time best sweater, but for your legs—or your entire body, considering this style can easily be turned into a dress. And its modularity isn't the only thing to love about it: the skirt's versatility is unending. Allow this Free People shopper to convince you: "This is a very special and versatile piece. I wore it to a wedding," but it's also "very at-home casual" when worn "with tennis shoes and khaki jackets." Another reviewer dubs it their "favorite purchase this year" and says it's "one of those items that you try on and just fall in love with."
Best Cargo Maxi Skirt
Under the umbrella of gorpcore (for the uninitiated: that's the fashion aesthetic comprised of 'good ol' raisin and peanuts,' practical, and camping-ready styles), cargo pants have experienced a massive surge as of late. As a result, so too have the more feminine cargo skirts. And we particularly love these multi-pocked bottoms from Coperni as a great way to incorporate the hard-working trend into your spring and summer wardrobe. However, given the sultry back slit and edgy silver D-ring hardware, there's no danger of going over the top into working handyman territory.
Best Sheer Maxi Skirt
For Love & Lemons Sienna Maxi Skirt
The sheer trend is going strong for spring and summer 2023—as evidenced by this see-through rosette style from For Love & Lemons that's a top contender for the season's front-running It piece. The sensual maxi skirt comes with a built-in brief lining (phew: no need to fret about the best undergarment to wear with the sheer bottoms) and even has a matching floral bra top if you wish to coordinate. Otherwise, consider teaming it under an oversized top, like a breezy blouse or even a roomy graphic T-shirt.
Best Tiered Maxi Skirt
Masai Copenhagen Sable Tiered Maxi Skirt
If you're hoping to master a boho summer style, the first step is to make sure you own a flowing, laissez-faire, tiered maxi skirt. And if you don't, may we suggest adding Masai Copenhagen's swinging skirt to your closet? It's made of a lightweight, soft viscose that creates an elevated, silk-like effect, and the smocked waist ensures you can wear it comfortably all day long. Plus, the bright yellow swirling print is an effective example of dopamine dressing (don't you feel a boost of joy just by looking at it on your screen?).
Meet the Fashion Experts