'Bridgerton'-Inspired Dresses to Shop Because Yes, I'm That Obsessed
We can't get the fashion in 'Bridgerton' out of our heads — so, like any obsessed fan, we found dresses inspired by Netflix's 'Bridgerton' to wear in real life.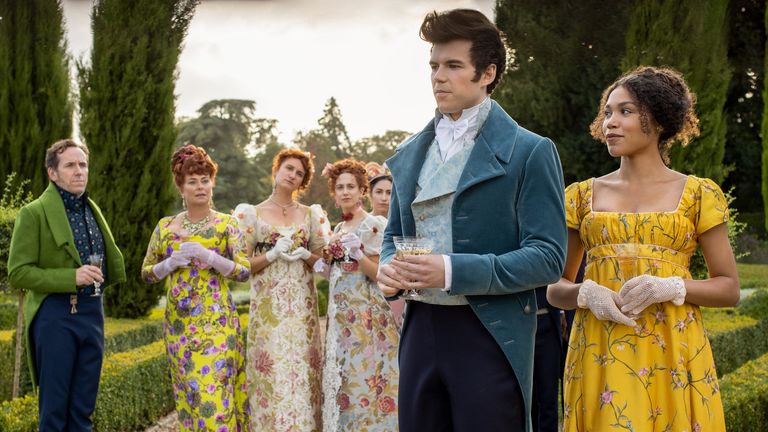 (Image credit: NICK BRIGGS/NETFLIX)
Shonda Rhimes knew we needed something deliciously distracting to watch during the holidays, so she dropped Bridgerton right into our laps. The show, which was adapted from a series of Regency romance novels by Julia Quinn, is classic Shondaland with hot male leads, romance, drama, and sultry scenes. A key difference between Bridgerton and Rhimes' other modern-day shows, however, is the fashion and styling. Instead of scrubs or a powerful pantsuit, we're given 19th century embellished ballgowns, lace corsets, waistcoats, and Swarovski tiaras. Personally, I was hooked from the first episode, thanks to the dresses and hot Duke Simon Basset (played by Regé-Jean Page, whom I immediately started following on Instagram).
In the show, there is no lack of color (the Featherington family loves florals and bright hues), sparkle, or glitter in the attire. The fact that some of the costumes look like they could be worn in present day was done purposefully, which makes me love the clothes even more. Though I shall pass on the show's crotchless bloomers and tight-fitting corsets, I'd happily dress myself in any of the bespoke frocks. Since it's a little difficult for anyone to get their hands on these pieces IRL, I did all of us (okay, really just myself and the Marie Claire team) a favor and found some Bridgerton-inspired dress dupes ahead. Like what you see? Scoop up your favorite dress, slip it on, and then promenade around the block in your new look.