What People Were Wearing the Year You Were Born
Let's embark on a 120-year fashion journey, shall we?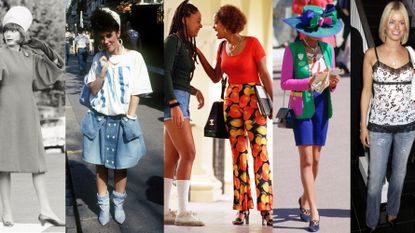 (Image credit: Getty Images)
There's nothing better than throwback fashion, especially when it reminds you exactly where you came from. From flappers in the 1920s to jean skirts in the early aughts, click through more than 120 years of street style, ahead, to see what people were wearing the year you were born. You're guaranteed to cringe, laugh, and reminisce.
1/121
1900
The beginning of the Edwardian age brought fashion looks like the S-bend corset and style standards of the "Gibson Girl," which were carried over from the last decade.
2/121
1901
These cool cats and kittens wore a trend popular in the western world. Broad hats decorated with feathers and other materials were thought to be a staple alongside "Gibson Girl" hairstyles.
3/121
1902
Pouter pigeon blouses and trumpet skirts were all the rage in 1902.
4/121
1903
Believe it or not, wearing your underwear inside out didn't start in Mean Girls. The camisole, which is still used today in modern forms, was a sleeveless undergarment for women usually accompanied with frills and lace.
5/121
1904
Frothy afternoon dresses started gaining popularity in the 1870s, but really started to peak in the 1900s. Stiff collars never looked better.
6/121
1905
Ruffled sleeves and waist-cinching bows were the defining features of dresses during this time—oh, and corsets, of course.
7/121
1906
Something makes us think that these bicyclists would be horrified (possibly enthralled...?) by today's current bike short trend.
8/121
1907
Conservative necklines were of the utmost importance in the Edwardian era. It even became fashionable for woman to take it a step further by adding a lace bib on the front of their dresses.
9/121
1908
How very Cora Crawley from Downton Abbey. Embroidered velvet or silk robes were all the rage as fashion began to shift towards more free-flowing styles in the early 1900s.
10/121
1909
Elaborately-beaded dresses like this one by the designer of the decade, Paquin, were common for formal evenings.
11/121
1910
High necklines, cinched waist dresses, and ostrich-feathered hats were the name of the game for Edwardian fashion.
12/121
1911
Coming out of the Edwardian era, boxy suits became a new wardrobe staple, although the high neckline and gloves remained key.
13/121
1912
A wide-brimmed sun hat covered in elaborate flowers and ribbons was the ultimate accessory in 1912.
14/121
1913
Opulent materials, like lace, muslin, and ostrich feathers, were status symbols in 1913.
15/121
1914
Wearing either a fur or ostrich stole on top of your many petticoat layers was the height of fashion, no matter what age you were.
16/121
1915
Women's bathing suits became a little bit more stylish around 1915 as designers started making them in a variety of cuts and patterns.
17/121
1916
This lovely lady would never get lost in a crowd with this hat.
18/121
1917
Can we all agree that if Beyoncé lived 100 years ago, this jacket would definitely have been a part of her wardrobe?
19/121
1918
The great-grandmother of the midi skirt makes its appearance in 1918 with the must-have accessory of the season: the pointy black umbrella.
20/121
1919
Nobody would be spotted at high tea without an umbrella, a wide-brimmed hat, or white gloves. Preferably, all three.
21/121
1920
For 1920, this thoroughly modern look is basically the 2004 equivalent of the Mean Girls miniskirt.
22/121
1921
Photographic evidence that the roaring '20s were the epitome of elegance.
23/121
1922
The woven skirt is a standout piece, but it looks even more chic coupled with the gloves that may or may not have inspired Lady Gaga's 2015 Oscar look.
24/121
1923
There's no such thing as too much fur, clearly.
25/121
1924
The fur hula hoop trend continues to grace the streets in 1924.
26/121
1925
These youthful ladies hit the tow modeling some flapper costume inspiration: beads, hats, and skirts your squad will be copying next Halloween.
27/121
1926
The bold bows, along with sassy pointy-toed pumps, tie these looks together.
28/121
1927
Between the sophisticated sun hats and the lace detailing on the skirts, 1927 is the year of garden-party chic.
29/121
1928
A pleated knee-length skirt can easily be paired with a Taylor Swift-approved bob and bold lip combo.
30/121
1929
Flowy pattern play and oversized floppy hats are the name of the game.
31/121
32/121
1931
These washerwomen expertly coordinate their on-trend looks, slaying those neck shawls along the way.
33/121
1932
Whoa, wait a minute...is that a pantsuit she's rocking? With the cinched belt detail, this is an impressively contemporary look for 1932.
34/121
1933
Structured, embellished shoulders complete these delicate looks, which might get you in the mood for a spot of tea and scones, TBH.
35/121
1934
This houndstooth ensemble screams, "step into my office."
36/121
1935
Throwing on a long fur coat and coordinating hat was clearly the move back in 1935.
37/121
1936
These sunbathing beauties show off beach glamour in its original form.
38/121
1937
Animal-inspired, bold-patterned coats aren't going anywhere in this decade.
39/121
1938
Accessories clearly take the reign here—see: the pom pom beret, fitted blazer, and heeled loafers. And we're happy to report that cute dogs are still a trend.
40/121
1939
A-line skirts quickly replace the pencil skirt suit, giving the legs just a bit of breathing room.
41/121
1940
Stripes: making backyard lounging stylish since 1940.
42/121
1941
Fur rules once again, pictured here with coordinated accessories—
a boxy bag and an elegant pointed hat.
43/121
1942
The USA creates fireworks in the fashion world in 1942, inspiring bursts of patriotic touches.
44/121
1943
A walk in the park requires a dash of springy florals, no matter what Miranda Priestly would say.
45/121
1944
Ruffles are absolutely everything in this look, and wedges give it a modern feel.
46/121
1945
These skirt-suited ladies are literally on their way to rule the city.
47/121
1946
Schoolgirl-inspired fashion capturred the best of both worlds at the time—pants and skirts...never without a cardigan.
48/121
1947
Christian Dior led the charge for the fashionable A-line silhouette that added emphasis to a woman's hourglass figure.
49/121
1948
The return of the pleated skirt with ankle-strap heels to boot.
50/121
1949
Behold: a distant relative of harem pants! The first-ever bubble hem hit the scene in 1949.
51/121
1950
Shoulder pads make their fashion debut with this coat and skirt set. And, of course, more leopard print.
52/121
1951
Printed wrap dresses accessorized with embellished hats and white sandals dominated the summer street style in 1951.
53/121
1952
Skirt suits still steal the moment in 1952, updated with a chunky beaded necklace and shoulder bag.
54/121
1953
These impeccably dressed ladies take the teeniest, tiniest bags with them on a stroll.
55/121
1954
The skirt suit is slowly evolving with the addition of a cape, an early source of style inspiration for the countless celebs who wear capes.
56/121
1955
Baskets are not just for Easter anymore. They happen to be the go-to accessory of 1955.
57/121
1956
Coats get longer and bags finally get bigger in 1956. Holiday shopping has never looked so fab.
58/121
1957
A fun silk neck scarf and a matching skirt-and-jacket combo is what any modern woman needs to get her through the day.
59/121
1958
The veiled hat allows literal shade to be thrown any time, anywhere.
60/121
1959
Automatic shade: the sequel. This look is proof that tossing on a trench and black sunnies is the way to make sass happen.
61/121
1960
This woman is also trying to figure out how she'll walk in the longest, pointiest shoes you have ever seen in your life. Podiatrists everywhere are thankful that trend didn't last long.
62/121
1961
Silky trapeze silhouettes are the newest trend to blow up in 1961.
63/121
1962
Just casually sitting on a car in a plaid skirt and scarf set, NBD.
64/121
1963
That hat though. And, finally, a bag that is big enough to actually hold things!
65/121
1964
The art of the trapeze coat swings back into action in 1964 with a classy updo to match.
66/121
1965
This woman struts her stuff in a bold-collared, long peacoat and a signature '60s high pony.
67/121
1966
The poncho officially becomes an evening staple when paired with sexy, strappy heels and a high-volume do.
68/121
1967
Street style gets a Shakespearean makeover with lacy cuffs, a lacy collar, and buckled black loafers.
69/121
1968
A look you could totally get away with in 2016: fitted turtleneck, plaid skirt, and high boots.
70/121
1969
The mini dresses and long, layered necklaces are cute, but those patterned tights are straight fire.
71/121
1970
Corduroy bell-bottoms? A couple of years ago we would have said no way.
72/121
1971
Who were you in 1971 if you didn't hit the streets in a psychedelic kimono set?
73/121
1972
Ah, the pure essence of the '70s. Namely that powder blue suit and matching ruffled shirt.
74/121
1973
If it weren't for the addition of black tights, we would totally be getting Dukes of Hazzard vibes from the denim shorts and button-down combo.
75/121
1974
1974: when something your great aunt knitted meets street chic attitude.
76/121
1975
Only in the '70s could you look like a human banana and still be runway-ready.
77/121
1976
Flares are very much still present (it is the '70s after all), this time combined with long wool jackets, scarves, and a beret to add a touch of sophistication.
78/121
1977
Long wool coats make yet another appearance. These original hipsters show us how the beanie is done.
79/121
1978
Every dancing queen needs a belted striped mini dress to let out her inner disco diva.
80/121
1979
This Farrah Fawcett-inspired sunny beach ensemble rounds out the '70s quite well. You can never go wrong with bright yellow platforms.
81/121
1980
Blue and red color blocking was 100 percent a thing back in 1980, as were mom jeans and leg warmers in case you couldn't tell.
82/121
1981
Don't you miss the days when you could go out in a puff-sleeved belted leotard? Just ask your mom, she'll tell you.
83/121
1982
A never-before-seen pic of your aunt and uncle heading into a Journey concert.
84/121
1983
Never mess with a woman in head-to-toe pleather.
85/121
1984
Now here's the '80s look we dreamed of in every Molly Ringwald movie. Who decided to do away with pockets that could actually hold our belongings?
86/121
1985
As the song goes, in 1985 there was Springsteen, Madonna, way before Nirvana. And it definitely holds true for these lace-gloved Madonna fans.
87/121
1986
Blue on blue—1986 was a monochromatic time.
88/121
1987
This dress might actually still be in your mom's closet. (Whether she can still get away with it is not up to us.)
89/121
1988
The choice to wear heels while shopping seems misguided, but the idea to match the two daughters in Madeline-inspired outfits is genius.
90/121
1989
Mom and daughter team match
91/121
1990
Crop tops, tight dresses, and sequins galore—today's trends are still taking notes from the 1990s. (And we're still copying their poses, too.)
92/121
1991
Friends who nail the light-wash jeans trend together stay together.
93/121
1992
94/121
1993
We won't tell anyone that she raided grandma's closet for this head-to-toe look—including the bright white hat and a small, over-the-shoulder bag—because in 1993 standards, she definitely worked it.
95/121
1994
You can't touch this look, no matter what you do.
96/121
1995
This is 1995 nightlife fashion at its finest: a white mock-neck tennis dress with cutouts paired with white sneakers. Cue "This Is How We Do It" blasting through the speakers.
97/121
1996
The late '90s were the days—when your look could include denim cutoffs, knee-high socks, or citrus fruit print flares and no one would judge you in the slightest.
98/121