What I Wear to Work: Megan Roup
The Sculpt Society founder on the joy of embracing athleisure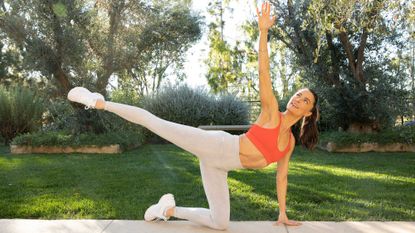 (Image credit: Deitch Pham)
In this biweekly series, we're interviewing female executives, founders, and CEOs on their "power suit," aka the outfit they wear every day for easy dressing to conquer whatever the job throws at them.
Like most of the hundreds of thousands of people who follow her on Instagram or subscribe to her workouts, I'd never had the pleasure of actually meeting Megan Roup in real life when I set out to chat with her for this story. My friends who are longtime loyalists of The Sculpt Society's online workouts have a habit of speaking about Roup as though they're old friends, which I'd put down to yet another quirk of living through the pandemic—but I have to admit, I get it now. Even the quickest dive into Roup's feed is a delight, whether it's snippets of exercise sessions with her celebrity supermodel friends, photos of her baby daughter Harlow, or some gloriously unfancy recipe content (apple dessert nachos are a low-key highlight), all doused in West Hollywood sunshine.
Roup's signature exercise program is an compelling combo of effective sculpting exercises and dance cardio choreographed to feel-good banger anthems in a way that made me go, "Ohhhh, of course," when she told me she used to be on the NBA's Brooklyn Nets dance team. "I was always hustling in the city, juggling my career with the Nets, teaching fitness classes, and working in fashion. I quickly fell in love with teaching and the connections and impact I was having on other women, and I knew it was something I wanted to do forever."
Now celebrating the three-year anniversary of The Sculpt Society's app, Roup's day-to-day is anchored in spreading joyful fitness. Recently, she taught exactly that kind of class at Marie Claire's Power Trip event in collaboration with FP Movement, a brand that speaks to her love of the elevated athleisure that dominates her work wardrobe. Afterward, we connected on what's inspiring her everyday wellness, fitness, and happiness.
On Her Morning Routine:
"I will start off by saying that I am not a morning person, but there are some strategies I've mastered throughout the years to make the process a little easier. I'm really trying to avoid doom scrolling at night and reading a book instead for a better night's sleep. If I'm going live on The Sculpt Society app, I like to lay out my outfit the night before. Since becoming a mom, I naturally have to rise earlier, but my husband and I are a team, and we'll tackle a morning feeding together or separately, depending on the day. I always start with a cup of warm water with lemon and coffee—I love coffee!
"After I go live on the app, I will have my go-to eggs on Ezekiel bread with hot sauce (the best!) and probably sneak in some snuggles with Harlow or take a walk with my husband down the street to grab (another) coffee. Once we're caffeinated, I'll connect with my team and kick off my day, which could include a private class, programming new workouts, working on marketing initiatives, creating content for Instagram and TikTok, implementing user feedback, or brainstorming with other brands on fun ways to collaborate."
On Getting Dressed:
"I would say that my personal style is very classic. Since my job is teaching fitness, you can usually find me in a workout set paired with a cropped sweatshirt or jacket. Free People Movement is definitely always in my rotation. I'm obsessed with the brand's Good Karma sets. It's so easy to add a FPM jacket and my sneakers to run out the door for a quick walk or errands and still feel pulled together and confident in my outfit. I think of athleisure as multifunctional and stylish. The explosion of this aesthetic is even more relevant today as most of us are working from home and the demand for a comfortable, stylish aesthetic has increased."
On Happiness:
"I'm a firm believer in committing to less, to show up more. This could be exercising less or attending fewer social events so that you can prioritize your own happiness and self-care and show up as the best version of yourself for your loved ones. My daughter and husband make me ridiculously and deliriously happy, and I try my best to show up as my best self for them—although that may not always be the case. (I'm human, after all!) When I'm not feeling my best, I like to indulge in a little self-care, whether that's a hot shower or spending time in the sauna, reading a book or binge-watching a show with a glass of wine.
"Stepping away from work or a frustrating situation always gives me better clarity and makes me feel better to show up the next day (or hour) as a better version of myself. The Sculpt Society community always makes me really happy, and I'm so proud of what we've built together. I can't wait to see how this community grows in the next three years."
On the Motivational Power of a Good Outfit:
"When I'm getting dressed, I want to feel comfortable, confident, and feminine. I tend to dress in a lot of neutrals when it comes to my everyday outfits, but when I'm filming workouts or going to an event, I like to play with colors. Color makes me happy, and a good outfit makes me feel confident."
Shop Megan's Favorite Pieces:
Celebrity news, beauty, fashion advice, and fascinating features, delivered straight to your inbox!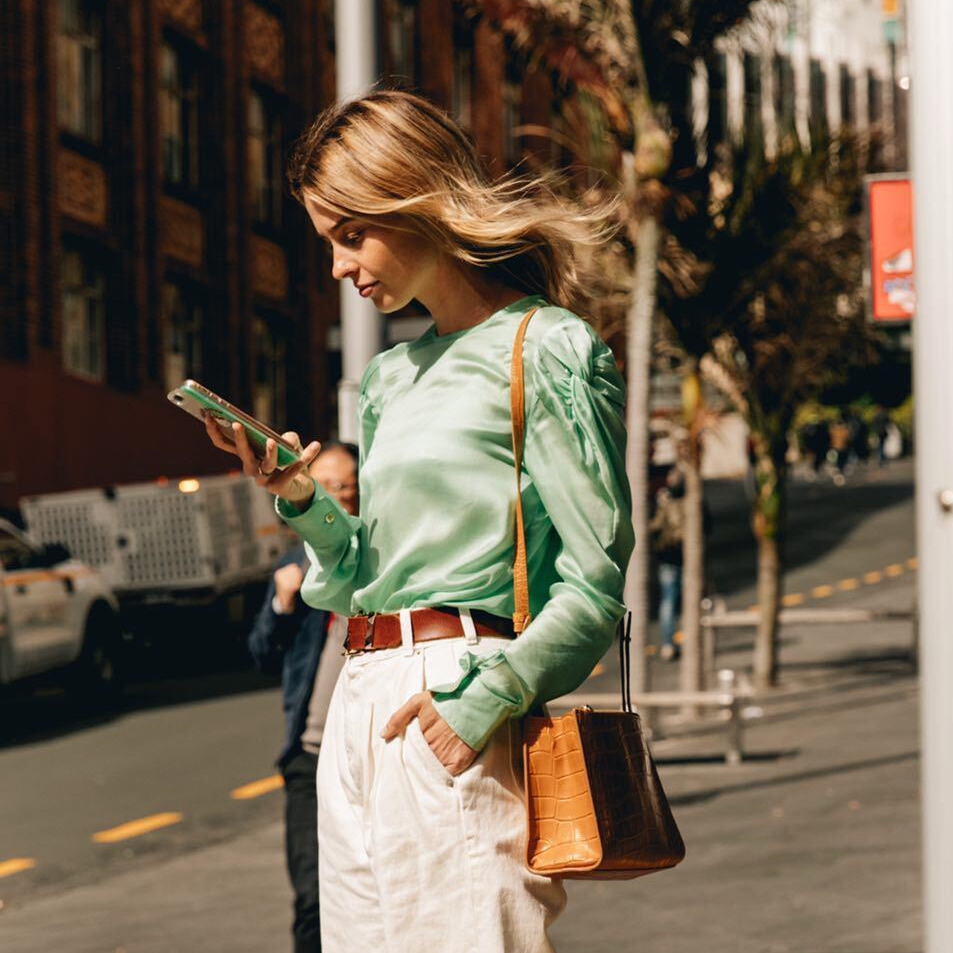 Executive Director, Brand Studio
A self-described "serial collaborator," Natalie Cantell is the executive director of Marie Claire and Who What Wear's Brand Studio. New Zealand–born and New York–based, Natalie began her career as a model, then as a stylist and fashion writer contributing to the likes of RUSSH and Vogue Australia just as street style took over the sartorial world. Her personal style has been covered and coveted by every major international fashion publication, which she credits with driving more than a decade of collaborations with top global brands and retailers both in front of the camera and behind the scenes. When she's not creating beautiful imagery and storytelling, you'll find her working her way through New York's endless restaurants, dragging her friends to Pilates, or practicing her (very average) French on her dog, Ruby.