How Hillary Kerr Navigates Motherhood and Inspires Us Along the Way
Plus, see the Cartier pieces she's coveting on her wish list.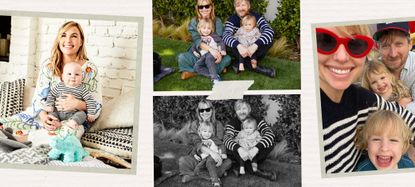 (Image credit: Future)
The topic of motherhood has come up in conversation with my friends more heavily in recent years. Many of us are moms to young children, navigating the incredible journey of parenthood while holding on tight to the other greatest gift in life: ambition. How does one balance the two? I'm not exactly sure—I'm still figuring it out. I have two children: My daughter is 4, and my son is 10 months old, and I have a brand-new appreciation for the phrase "attempting to do it all" (emphasis on attempting).
My career started far before I was thinking of becoming a parent, and it started with Hillary Kerr. The co-founder of Who What Wear and the chief content officer of Marie Claire has always been the North Star for many of us who work in fashion media, and as some of us entered motherhood, so did she. Kerr's motto and attitude toward the journey is "Happy mom, happy kids," and I know exactly what she's implying. "And by this I mean you have to take care of yourself, too," says Kerr. "My kids come first, but I have made it a point to carve out moments for myself, and that has made all the difference in my life and my ability to parent the way I'd like to (most of the time, anyway)." I realize this can mean different things for everyone, but for me, indulging in my love for fashion is one way to carve out "me" time.
One thing Kerr and I have in common is our affinity for timeless treasures that can be passed down to our children as heirlooms—an idea Cartier has long stood for. Since May is the month we celebrate the beauty of motherhood, it was high time we got to chatting about the ultimate Mother's Day gifts—and parenthood in general.
Marie Claire: Do you have any advice for women who have strong ambitions but also want to become parents? How do you approach the balance between the two?
Hillary Kerr: If you decide to become a parent, and you decide to do it with a partner, the most important thing is to choose the right person. I'm extremely lucky that my husband is a true co-parent and is just as involved in raising our kids as I am. Because we both love our careers, he's incredibly supportive when I have work commitments, and I try to do the same for him.
MC: What's your ideal Mother's Day gift?
HK: My husband knows that I love jewelry over everything else, so that part isn't a surprise. His interpretation of what that means, though, is always a delight because he has the most incredible taste. In a perfect world, I dream of owning anything from the Clash de Cartier collection. I also have the Panthère de Cartier Ring on my wish list. It truly is the chicest piece!
MC: What's the one thing that surprised you most about becoming a mother, especially of two?
HK: I'm surprised by how much I love being a parent. I knew I would love my kids, but I didn't really realize how much I would adore all the ages and all the stages. Kids are deeply fascinating, and I feel extremely lucky to have the ones we do.
MC: When it comes to treating yourself to gifts, what type of items do you splurge on?
HK: I love the idea of creating a collection of sentimental pieces that mark all my major life events and then passing those pieces down to my daughter if she wants them. The first thing I will probably share is my beloved gold Panthère de Cartier Watch. It's truly timeless and looks chic on everyone at every age.
More Incredible Pieces We Love for Moms
Whether or not you know what's on their wish list, a classic Cartier piece is the perfect surprise. See our favorites here.
Celebrity news, beauty, fashion advice, and fascinating features, delivered straight to your inbox!