Exclusive: Fashion Week Interview with Serge Azria, Joie's Creative Director
Serge Azria Joie Interview - Joie Fall 2013 Presentation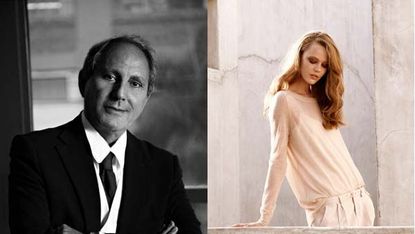 (Image credit: marie claire )
Every season, Joie churns out delightfully chic, light, and understated pieces in everything from the edgiest of leather boots to the daintiest of flirty blouses.
The mastermind behind this label: Serge Azria, who has been sole owner and creative director since 2007 and has since expanded Joie into a contemporary clothing powerhouse. Moments before the brand's Fall 2013 presentation, styled by Kate Young, we spoke with the designer about his creative process, daily routine, and dream collaboration.
How do you maintain an aesthetic that is at once both ultra-chic and very relaxed?
It's like you're asking me how to stand on your two feet. You need two feet to stand. It's black-and-white. It's soft and ridged. It's all the balance between these.
When you're creating a new collection, what is the creative process you go through?
It's a process that goes the whole year round. So we're very structured by category with about 20 people in the design room and each one of them has a different responsibility by product. Then, we start with the concept of the season and everybody gets to work! We sketch something we like and then go with color — no color, more colors — and we make a decision.
The color is actually the first thing to do, because you can take any jacket or any pant or any shirt, and if it's white or if it's black it's not the same meaning if it's a pink or blue.
What is your daily routine like in the weeks before Fashion Week?
We are so organized, you have no idea. Everybody has their job and everybody knows what they're doing — much more advanced than you may think. We started this about six months ago. Nothing is rushed, nothing is pressured — it's pressured, of course, now, more than before. I believe it's all about the team. It's like in sports: You have 11 players in soccer, five in basketball, and they all have to be good to win, right? And I'm the coach!
Do you have a particular favorite item in the collection this season?
Right now I really like a lot of leather, and I like coats mixed with fur. I also like the mini-print blouse — black-and-white with different prints in the same garment. And of course lace is part of our DNA in the company, especially black lace.
Joie is also all about staples. What are the three most important pieces of clothing a woman needs in her closet?
One silk blouse in off-white. One lace top in black. And one printed dress in silk. And sometimes cashmere in a beautiful color.
You have a few boutiques in New York all throughout the city. What are the stylistic differences between these three stores?
The first store we opened is on the Upper East Side, and the store looks like an Upper East Side apartment. In Soho, the store looks too much like the one on Madison Avenue, so we're going to change it to be like an apartment, a loft, in Soho. I hate when stores look like chains where every store is the same. We're not yet there, but give me another year or so.
If you could collaborate with any designer, dead or alive, who would it be?
Ossie Clark! I am very much inspired by his dresses. He's English, he's eccentric. He's cool.
Marie Claire email subscribers get intel on fashion and beauty trends, hot-off-the-press celebrity news, and more. Sign up here.