How to Find Figure-Flattering Plus-Size Coats
Full-figured fashionista Nicolette Mason combs the racks to find the chicest coats and outerwear for winter. Button up, ladies!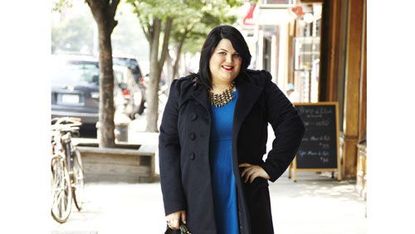 (Image credit: Perry Hagopian)
Here's a little-known fact about Los Angeles natives like myself: We don't own proper coats. Why bother when the weather is 75 degrees year-round? For a tallish, top-heavy girl like me — 5'7", size 16 on a good day with (eek!) a 38G chest — this arrangement proved ideal, sparing me the torture of yet another cramped ?tting room. But then I moved to New York, where owning a good coat is as essential as Chinese takeout. One of my first outings in the city was a trip to the "Women's" section of Macy's, where I settled on a mature black bouclé number with Chanel-inspired white trim — cute, but nothing I'd have chosen if size weren't a factor. I'm sure you've all been there at one point or another.
That was 10 years ago, and thankfully, in the years since, the options for big girls have vastly improved — provided you know what to look for. That's where I come in! As a fashion editor and stylist, I know which cut most flatters every shape. So I devised this list of effortlessly chic coats to get you through the cold winter in style!
1. The Cape: The forgiving silhouette on this runway fave is ideal for relaxed days, when the last thing you want is to be all buttoned up. I love the modern, rain-slicker-ish detailing on this woolen DKNY Jeans poncho. Avoid the mushroom effect by pairing it with an ultra-?tted bottom, like skinny jeans or a pencil skirt.
2. The Bright Car Coat: Talbots' kicky, modern version of the standard-issue winter coat (also available in emerald green, up to size 24) is cut with extra room in the bust and hips. Keep in mind: Bright colors paired with neutrals like gray, black, or navy are consistently slimming — and never boring.
3. The Reinterpreted Trench: La'Dan's Closet specializes in inventive takes on the classics. The "Eye Spy" waist-length trench boasts a gorgeous button-detailed shawl collar. Available in navy, camel, and red, up to size 5X.
4. The Embellished Black Coat: If you're going to buy yet another, make it this standout from Danish brand Carmakoma, whose never-basic black coats are always tricked out with fun, quirky decoration, like oversize buttons on wool peacoats and ruching along rain-jacket bodices.
5. The Faux-Fur Swing Jacket: Glam up your holiday cocktail dresses with this PETA-friendly alternative from ASOS Curve (sizes 16 to 22). The U.K. label has an extraordinary free shipping and return policy, even internationally. Love.
Like what you've read here? There's more where that came from! Check me out online at marieclaire.com/nicolettemason.
Celebrity news, beauty, fashion advice, and fascinating features, delivered straight to your inbox!