Your Guide to All Things Champagne This New Year's Eve
Including the best bubbly that's not $$$$.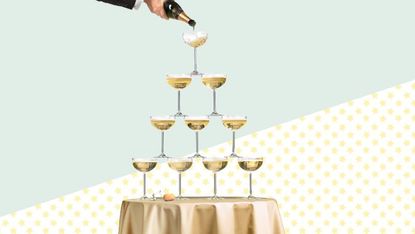 (Image credit: Getty; design by Katja Cho)
Marie Claire Newsletter
Celebrity news, beauty, fashion advice, and fascinating features, delivered straight to your inbox!
Thank you for signing up to Marie Claire. You will receive a verification email shortly.
There was a problem. Please refresh the page and try again.
New Year's Eve and champagne go together like Chrissy and John (that's Teigen and Legend, for the uninitiated), so we made this comprehensive guide on all the ways to incorporate the bubbly into your celebration. Because let's be real—New Year's Eve may only be one night, but your love affair with booze will last forever. Priorities, people.
Mini bottles of booze are adorable and will guarantee your party gets 'grammed. Plus, a pint-sized serving means you don't have to share.
What to buy:
1. A blueberry-flavored Chardonnay that'll remind you of summer (in a pretty aquamarine color, to boot). Blanc de Bleu Cuvee Mousseux (187 ml) $6; finewinehouse.com.
2. Ohhh this one comes with a mini straw! Coppola Sofia Blanc de Blancs (187 ml), $17 for 4; wine.com.
3. What else were you really doing to do with that ten-dollar bill? Le Grand Cortage Blanc de Blancs Brut (187 ml), $7; shopwinedirect.com.
For the Budget Babe: The Best Bottles Under $20
To make sure you have enough $$ left over for your NYE dress, stock up on these delicious and wallet-friendly champagne—okay, fine prosecco and cava—options.
What to buy:
1. Crisp, creamy, and fruity—sold! Saint Hilaire Limoux Blanc de Blanc Brut, $14; wine.com.
2. Rosé sparkling wine. 'Nuff said. Rotari Brut Rose, $20; wine.com.
3. A refreshing "extreme brut" with soft peach and nut flavors. Rondel Gold Brut Cava, $10; totalwine.com.
4. Because if there is any reason to bring back summer-friendly rosé, it's NYE. Louis Bouillot Perle d'Aurore Rose, $17; totalwine.com.
5. This Italian Prosecco tastes light and citrusy. Cupcake Vineyards Prosecco, $12; wine.com.
For the Hostess: How to Build a Champagne Tower
What better centerpiece than a champagne tower? (Seriously guys: What Would Gatsby Do?) Not only will it look super impressive, but it's also a great way to avoid having to continually restock the bubbly.
Step 1: Find a solid surface for the tower (pro tip: if you are worried about this surface put down a table cloth—things could get sticky).
Step 2: Using identical coupe champagne glasses—AKA the shorter, round glasses and not flutes—set up your bottom square, making sure that the glasses are as close together as possible. The space in-between the cups will form diamond shapes, which is where you will center the stems of the cups on the following layer.
Step 3: Now, put down your second layer of glasses on top, which should be one less glass vertically and one less glass horizontally (e.g. if your bottom layer is 8 x 8, the next layer is 7 x 7). Continue stacking the cups until you are left with one glass on top.
Step 4: Once guests arrive, gently pour a bottle of Champagne into the top glass and watch it cascade downwards. If you're trying to spare your carpet, then consider filling all of the glasses with champagne as you stack, so that guests can carefully take a glass before midnight.
For the Foodie: The Best Champagne-Infused Snacks
Do you know what goes best with champagne? More champagne. But when you want to take a break from the bubbly, try some of these champagne-infused candies—because this way you don't really have to take a break.
What to buy:
1. Chocolate + booze = 🙌. Charbonnel et Walker Champagne Truffles, $24; bloomingdales.com.
2. Squishy little jelly beans flavored like champagne. Champagne Flavored Jelly Beans, $6; jellybelly.com.
3. Almost too pretty to eat—almost. Champagne Bubbles, $8; sugarfina.com.
Follow Marie Claire on Facebook for the latest celeb news, beauty tips, fascinating reads, livestream video, and more.
Celebrity news, beauty, fashion advice, and fascinating features, delivered straight to your inbox!
I'm a writer and editor based in New York City. I love a good coat, a well-articulated feminist rant, and face masking (yes, that's a verb) like it's nobody's business.