Tallulah Willis Stripped Down to Her Underwear to Talk About Body Image
Prepare to feel inspired.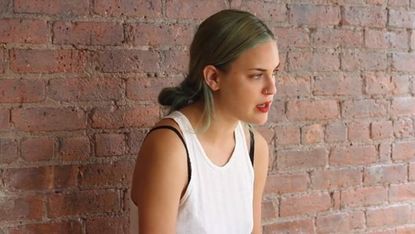 (Image credit: Archive)
The children of celebrities don't always have it easy — they are tabloid targets from the day they're born. Tallulah Willis, the 20-year-old daughter of Bruce Willis and Demi Moore, highlighted the negative effects of celebrity in an interview with StyleLikeU. The video series, The What's Underneath Project, asks a number of notable people to remove their clothes to honor true style. It's not the clothes you wear, but your spirit and comfort in your own skin.
Willis bravely revealed how she struggled with body issues when she was younger. "I'm diagnosed with body dysmorphia from reading those stupid f*cking tabloids since I was like 13, and just feeling like I'm ugly, like always," she said.
Willis lamented that it was easier for her to believe insight from strangers more so than loved ones. "Because of this position I was born into I would read these things on the internet and I was like, 'Why would someone write that if there wasn't some basis for truth there?'" she added.
She shared that this made her start to dress in a way that showed off her body more, wearing denim shorts and push-up bras. This led to her dramatic weight loss. "I was trapped in this body," Willis said. "I started starving myself and losing a bunch of weight and I got down to like 95 pounds. When I lost my curves and when my boobs shriveled up into like nothing and I had no shape, it put me in even more of a cage."
But now Willis is in a much better place. It took her until about a year ago when she buttoned up a shirt to her neck and wore long, loose pants, finally feeling "so beautiful," because she didn't feel the need to distract people with other parts of her appearance.
Now, with a new sense of confidence and self-worth, Willis said, "It's crazy to like yourself, and not just the way you look, but to like yourself." We're happy she's feeling happy — and we think it's pretty amazing for her to speak out on such a difficult time in her life for the purpose of educating and helping other women.
Watch the full interview, below:
Related:
30 No-Makeup Celebrity Selfies That Are Totally Gorgeous
Scout Willis in NSFW Topless Protest at Instagram Nipple Policy
Meet the 18-Year Old Who Created Underwear with a Feminist Agenda
10 Signs That You're a Feminist
Photo Credit: YouTube
Celebrity news, beauty, fashion advice, and fascinating features, delivered straight to your inbox!