CEO Myra Biblowit
Breast Cancer Awareness Commemorative Coin - New Currency Revealed Today by the U.S. Mint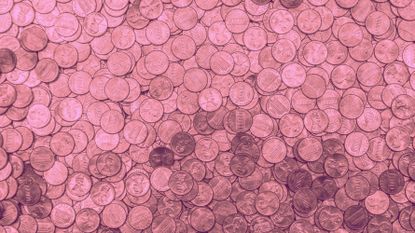 (Image credit: getty images )
Marie Claire Newsletter
Celebrity news, beauty, fashion advice, and fascinating features, delivered straight to your inbox!
Thank you for signing up to Marie Claire. You will receive a verification email shortly.
There was a problem. Please refresh the page and try again.
You'd be hard pressed to find anyone in our country who hasn't been affected by breast cancer—more than 100 women die from this disease every single day. The unbearable toll is too much; it's time to end breast cancer once and for all. To do so, we need to fund medical research. That's why, today, we are unveiling a new commemorative coin designed and produced by the U.S. Mint. Starting in 2018, when you buy this Breast Cancer Awareness coin, you'll be helping to raise the critical funds needed to eradicate this devastating disease.

Every year since 1998, the U.S. Mint puts on sale two new commemorative coins to honor outstanding individuals, organizations, or events to raise funds for a worthy cause. Next year, thanks to a law sponsored by Representatives Carolyn B. Maloney (D-NY) and Pete Sessions (R-TX) and Senators Heidi Heitkamp (D-ND) and Kelly Ayotte (R-NH), the Mint will issue the first-of-its-kind Breast Cancer Awareness Commemorative Coin. More than just a beautiful reminder of the fight, the coin will directly contribute to research—the kind of research that has decreased mortality rates by 38 percent over the last 25 years—with surcharges from sales going to the Breast Cancer Research Foundation (BCRF), the highest-rated breast cancer organization in the U.S.
You could spend your coin like any other currency (it has a $5 face value), but you won't want to. Fifty thousand of the coins are 85 percent gold, and—in recognition of the color so closely associated with the fight against breast cancer—the Mint will be using a special alloy combination that will give the gold coins a pink tint, something it has never done before.
Following a nationwide competition, the U.S. Mint today unveiled the design for the new coins: On one side of the coin will be an image of two women, one with a scarf covering her head, looking upward with undeniable expressions of strength. On the other side is a butterfly, signifying renewal. This powerful image reminds us of the perseverance of patients, survivors, those living with metastatic disease, caregivers, medical professionals, and researchers who dedicate themselves every day to eliminating breast cancer.
In addition to the $5 pink gold coins, the Mint will also produce up to 400,000 $1 silver coins, and 750,000 half-dollar clad coins. The Mint will make coins based on demand, and we are hopeful that the desire for these collectibles will mean that the coins will sell out. The more coins sold, the more money we raise to defeat breast cancer.
BCRF is tackling breast cancer from every angle—learning how to defeat cancer from the start, slow its progress, and one day stop it from occurring altogether. From targeted therapies to genetic screening to lifesaving breakthroughs on the near horizon, BCRF researchers have been part of every major advance in the field since 1993. This year, the Foundation is funding $59.5 million in grants across 15 countries, making BCRF the largest private funder of breast cancer research in the world. With these new funds from the commemorative coin sales, BCRF will be able to expand its support for studies across the nation and around the globe.
We know that the key to ending breast cancer is funding, pure and simple. The dollars raised through these sales could be the ones that fuel the breakthrough that so many are hoping for. By supporting BCRF through this unique program, you are propelling research forward, faster. We know that with this effort, we will one day consign breast cancer to the history books.
Celebrity news, beauty, fashion advice, and fascinating features, delivered straight to your inbox!
Julie Vadnal is a freelance writer and founder of the weekly newsletter Jules. (You should definitely subscribe.) Her work has appeared in New York, Cosmopolitan, Domino, Real Simple, and Architectural Digest. She lives in Brooklyn.