Leah Kelley Gained Weight, Lost Weight and Learned to Love Herself at Every Size
The former plus-sized model on her #bodyevolution.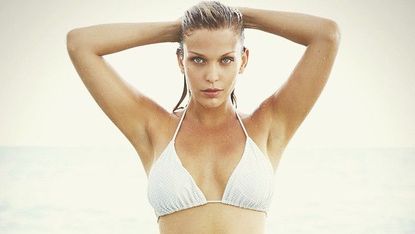 (Image credit: Instagram)
While gaining weight resulted in gained success as a plus-sized model, Leah Kelley realized that booking major campaigns wasn't worth putting her health at risk.
Years after shedding most of the pounds she purposefully put on, the blonde beauty reflects back on that "unhealthy" time in her career and how she finally learned to love her body—through thick and thin.
"#TBT to my #bodyevolution over the last 8 years," Kelley wrote in an emotional Instagram post, showing herself at three different stages. "The picture on the left is from my first test shoot in NYC At 19 years old. I was my #naturalsize but was not #confident and always would be #bodyshaming myself. The photo in the middle is after I purposely gained #weight to make it in the plus model world. This is also the time I learned to love my body."
The 28-year-old revealed she felt more "perfect" the heavier she got; that she was working in a "parallel" fashion industry where bigger was considered most beautiful.
"I was finally proud to have been the tallest, curviest girl growing up," she said. "I was baffled for years as my straight size friends would be told they needed to lose a few inches here or there, while I was being told I was too skinny."
Yes, she was proud of her size, but Kelley is the first to admit that her health started to suffer as her body began to change.
"I was tired all the time and any physical activity was hard," she explained. "My childhood asthma came back, my joints hurt, everything hurt. I started to realize that my health was and would be effected for the rest of my life if I didn't make a change."
While she finally feels her best at what she considers her "natural size," the Wilhelmina-represented model appreciates every phase of her physical transformation.
"When I look at these 3 pics, I see three #babes. One that was not very healthy or confident (constantly dieting/shaming) but totally should have been, I see one sexy #BBW who is feeling herself but unhealthy as well, and I see myself now," she concluded. "Someone who is happy in her own skin regardless of your or anyone else's opinion. I see the healthiest version of 'me' I have ever been."
Follow Marie Claire on Instagram for the latest celeb news, pretty pics, funny stuff, and an insider POV.