What It's Like to Train With an Ocean Rescue Lifeguard
For Alice Henley, ocean rescue is a full-time job (the distance running is just for fun).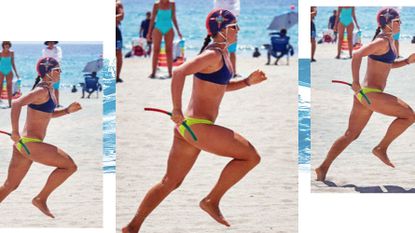 (Image credit: Courtesy)
Earlier this month, near-freezing temperatures, driving rain, and 25-mile-an-hour wind gusts kept 23 elite runners and scores of amateurs from crossing the finish line at the Boston Marathon. Alice Henley, an Ocean Rescue lifeguard from Dania Beach in South Florida, didn't mind the conditions much—or, at least, she could imagine a few bleaker scenarios.
"I've suffered a lot in the wet and the cold," says Henley, who completed the 26.2-mile race—her fourteenth—at a more-deliberate-than-usual pace, while wearing two pairs of pants. "At least I wasn't going to get eaten by a shark on the course. That's what I told myself around Mile 17."
Dogged persistence isn't so much an attribute as it is a job requirement when you save lives for a living. Henley, who grew up a "land creature" in Maryland and discovered distance running in the fourth grade, admits she didn't immediately realize when she began training in 2012 how intense Ocean Rescue certification—a brutal barrage of endurance swims, beach workouts, rescue simulations, and watercraft training—would be. "On my first test, a 500-meter swim in under 10 minutes, I was a pity pass," she recalls. "But they knew I had the athleticism and a lot of grit, so they gave me the benefit of the doubt."
These days, owing to her racing extracurriculars, Henley starts her day with a pre-workout workout—usually a run or bike ride or long swim—then joins her Dania Beach patrol team (she's the only female on a team of six) for group training. "We're an HR department's worst nightmare," she says. "We come up with workouts to torture each other. You can crash into someone with a kayak; you can take someone's paddle, disassemble it, and throw it in the ocean. It's challenging, but I always end up laughing. I think that's why I didn't quit those first six months."
Competing with her male colleagues comes naturally to Henley, but female lifeguards face unique challenges, including finding swimsuits that provide the perfect balance of performance and style and—more importantly—don't end up floating 50 feet away from their owner during an ocean emergency. "The last thing you want is to have your boobs falling out during a rescue," Henley says, laughing. "At the same time, you don't want to be stuck wearing the 1950s 'mansuit.' We've moved past that." Henley finds the right balance in Athleta, swimwear that stands up to her daily demands—from rock running to swimming to paddling through choppy cliff water—and keeps her looking sleek in the process. "It's exciting that Athleta has recognized that there's a demand for athletic performance wear that isn't ugly. A lot of suits out there sacrifice one element for another, but Athleta has nailed it."
Of course, in a high-stress, high-stakes field like ocean rescue, it's helpful to eliminate wardrobe malfunctions altogether from the lengthy list of occupational hazards. "I've definitely shown the whole beach my butt on a rescue," she admits. "Right by the pier, so I'm sure the fishermen got a view as well." Ever the professional, in that moment, Henley says she decided to do the only thing a lifeguard can:
"Reach down, pull 'em up, keep swimming."
Alice's Training Essentials
1. Gecko 30 Liter Waterproof bag
"This is the perfect work bag! Whether I get caught in the rain or need my bag to go on a boat or in a kayak for a race, I can rest easy with a sport series bag that is waterproof and durable. It's also big enough to fit all my uniforms and workout gear (and food!) for the day, without feeling cumbersome. The bag even features a laptop pocket if your day takes you from office to ocean or visa versa. They also offer smaller and larger options depending on your needs."
"This suit is super comfy and versatile and can withstand underwater rock running, beach running, and swimming and paddling along the sloppy choppy cliff water."
3. Costa Del Mar Anaa 580P Polarized Sunglasses
"These are great for lifeguarding and don't sacrifice anything in appearance. The high polarization is essential for eye protection, and it highlights all the areas in the water I need to see—rip currents, sandbars, deep spots, the occasional shark. I also love their unique frames and pretty lenses. People talk about looking through rose-colored glasses… well, mine are turquoise-tinted!"
Celebrity news, beauty, fashion advice, and fascinating features, delivered straight to your inbox!