CBD Completely Changed How I Handled My Anxiety
And my approach to stress management forever.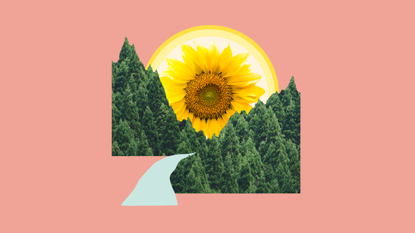 (Image credit: Morgan McMullen / Getty Images)
"It's made from one of the main compounds in marijuana," the barista explained as I was taking my first sip of a hot chocolate at The End, an eclectic Brooklyn cafe known for creating the unicorn latte. I froze. Panic washed over me. It was 2017 and the last time I'd consumed any type of marijuana—more than three years before—I'd experienced paranoia, heart palpitations, and I'd fainted. (Yes, fainted. And yes, it was embarrassing.) The barista assured me that I would not get high from the CBD in my drink, so I kept sipping. Instead of panic, I felt a cozy sense of calm.

As someone who's long suffered from anxiety (starting with general pangs of uneasiness about why we're here on earth that date back all the way to Kindergarten, maybe even earlier), I wasn't about to let my experience with CBD begin and end with that latte. Over the years I've learned to master my anxiety...er, at least I've befriended it so we can co-exist. I've done this mainly by accepting that this is just the way my brain works sometimes and limiting my intake of caffeine, alcohol, and sugar, and exercising and meditating regularly (if you have anxiety and haven't tried these things—do). But despite all my progress, feeling anxious—even if it's just occasionally—sucks. I don't think anyone with anxiety would turn their nose up at a natural, quick fix.
On the G train home, I took out my phone and started Googling CBD—short for cannabidiol, one of the many compounds found in the marijuana plant. I was fascinated by the idea that I might benefit from a plant I had long regarded as "not for me." My search led to a lot of confusing and convoluted articles, most of which were written by people peddling CBD products. I have two science degrees and still found myself confused about how CBD, hemp, marijuana, THC, and cannabis all fit together. The confusion made me all the more motivated to figure out exactly how to use CBD the correct way.
As someone who's been studying alternative medicine and herbs for years, I knew that cannabis was one of the most powerful plant medicines ever discovered. To be honest I'd always been bummed that seemingly something about my physiology meant I would never really understand its benefits. But here was a realization. I was hooked on the idea that I'd just been underestimating the complexity of the plant and that there was hope yet for cannabis and me.
I started experimenting with different doses and delivery methods, looking for the moment when I understood what all the fuss was about. I'd felt calm after that first latte, but one experience wasn't enough to convince me it was anything more than a hope-filled placebo effect. I wanted to crack the code on CBD and figure out an exact equation, something like: I took X amount of CBD via Y delivery method and got Z effect. The second time I tried CBD is was a sublingual oil at 5 milligrams (mg), which seemed to do nothing. Then I tried 40 mg twice a day and felt sleepy and lightheaded. I moved on to creams, balms, tinctures, sprays, vape pens, bath bombs, drinks, eye creams, and serums. There's no official dosage recommendations for CBD; this sloppy trial-and-error approach is pretty standard for the newly curious.
By the end of that year of experimentation, I was so deep down the cannabis rabbit hole that I'd begun writing what ultimately turned into my first book, CBD Oil: Everyday Secrets. I was also working full-time at a media company, meaning the book was written in what felt like 80, 35-minute increments that were squeezed in at 11 p.m. on Tuesdays, 8 a.m. every other Monday, and on the weekends when all my friends were being carefree and eating tacos without me—which triggered some major anxiety. Much to my dismay, it turns out that writing a book about a compound with anti-anxiety benefits does not make you immune to book-related anxiety. (Even in my most panic-ridden moments, the irony of having CBD book–fueled anxiety was not lost on me). But I just doubled down on the idea that clearly, we could all benefit from some all-natural anxiety relief.

My research took an important turn when I leaned that the best CBD products offer an "entourage effect:" when THC and other compounds in the cannabis plant help bolster CBD's unique anti-inflammatory, immunomodulating, and anxiolytic properties. This entourage effect seemed like some abstract trip until I experienced it first hand. While visiting California in early 2018, I kept seeing non-psychoactive, high-CBD cannabis oils sold in dispensaries across the state. More accurately, most of the high-CBD cannabis oils were sold out due to the high demand. I tried out some of these California CBD oils, which are differentiated mostly by the ratio of CBD:THC they contain, looking for the ultimate ratio for my anxiety. I (very cautiously) made my way from 30:1 to 20:1, 18:1 to 10:1, and all the way down to 8:1, which is considered the threshold for intoxication. Of course there were a few mishaps, since not all brands test their products' THC content and others often mislabel their offerings. But I slept them off, ate some snacks, and learned to distinguish the good brands from the not-so-good ones.
One of my favorites? Care By Design. I visited their manufacturing facility in Northern California, had a two-hour-long conversation with their chief scientific officer, and settled on their 18:1 CBD:THC oil. I take two or three drops under my tongue and the results are subtle but nice. When I'm in the crowded train carrying three heavy bags, I don't feel cortisol coursing through my veins in quite the same way. When I'm bombarded with emails and a million tasks to complete in one day, I'm better able to sit still and tick them off one by one without my body going haywire.
I also keep the 8:1 CBD:THC ratio oil from Care by Design on hand, mainly for flights and acute anxiety situations like a panic attacks. The effects of the 8:1 are noticeable—I might equate it to a very subtle xanax.
If I'm using one of the hemp-based CBD oils available in all states, I take a 15 to 20 mg dosage of CBD oil by Lord Jones or Bloom Farm when I'm stressed, traveling, or feeling less-than-optimal. (It's a life-saver if I've had one too many cocktails the night before.) I also use a combined CBD and THC topical balm from Papa & Barkley on my chronic neck and jaw pain, which is exasperated by my anxiety and the fact that, like so many people in 2019, I sit staring at a screen for most of the day. I've tried everything for my neck pain—from acupuncture and chiropractic work to physical therapy and massage. These all helped to varying degrees but nothing gave me quick relief except Advil, which has been problematic since I've basically made it my life's mission to reduce my use of over-the-counter and prescription drugs.
When I discovered topical cannabis lotions (I use one that's even higher in THC—a 1:3 ratio of CBD:THC—since applying it topically won't give you a negative reaction), it changed the game for me. Even though cannabis is expensive, it's nothing compared to going to physical therapy twice a week. The science on topical applications of CBD is still very much in development, but I can tell you that it really, really works for me.
I started using CBD as a total skeptic. But after I did my research, it upended my life: my approach to stress management, how I feel about cannabis as a whole, even my career. Many people still feel the way about CBD that I used to. But my hunch? Pretty soon our entire country's opinion of CBD will be changed, too.
Gretchen Lidicker is the author of CBD Oil: Everyday Secrets and the forthcoming Magnesium: Everyday Secrets (available April 30, 2019).
RELATED STORIES
Celebrity news, beauty, fashion advice, and fascinating features, delivered straight to your inbox!