The Best Infrared Sauna Blankets and Sauna Mats, According to Experts and Editors
100 percent worth the hype.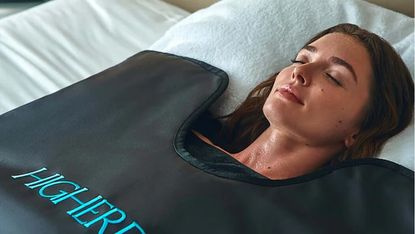 (Image credit: Courtesy of HigherDose)
Marie Claire Newsletter
Celebrity news, beauty, fashion advice, and fascinating features, delivered straight to your inbox!
Thank you for signing up to Marie Claire. You will receive a verification email shortly.
There was a problem. Please refresh the page and try again.
In a dream world, I have a custom, outdoor infrared sauna with benches to boot plopped in my backyard. But, I live in a New York City apartment and that sounds just about as impractical as impractical can be. That all said, I can still reap the detoxifying, stress-reducing, sweat-inducing rewards day in and day out with one of the best infrared sauna blankets or mats. They are hundreds of thousands of dollars more affordable than a full fledged build out, can be rolled up and stored in small spaces, and work just as well—if not better.
"Research-backed health benefits of saunas include increased cardiovascular function, relief from chronic pain, stress reduction, reduced water retention, post workout recovery, increased circulation, and reduced inflammation," explains Lauren Dovey, Sauna Expert and Founder of Heat Healer. "With a sauna blanket you can experience the same benefits more hygienically, conveniently and in the comfort of your own home, at a fraction of the cost."
The benefits, in my opinion, justify the steep price tag—so long as you're actually going to use your blanket regularly. Just make sure you're purchasing one that'll live up to hype, has the proper safety certifications (you want one tested by the FCC), and packs in power. To save you the internet scouring, I've done the hard work and firsthand testing for you. Here, you'll find the best infrared sauna blankets and mats money can buy, along with all the info you need to know about the sweating process.
Do Infrared Sauna Blankets Really Work?
I'm all about setting realistic expectations, so I won't sit here and tell you that buying a sauna blanket is going to take the place of your gym routine or negate the need for cardio. But, a super-charged sweat session has undeniable mental and physical benefits, so one of these products will serve as a great addendum to a healthy lifestyle. Here's how: "When you turn on the blanket, the heating elements emit far-infrared radiation, which is absorbed by your body and heats it from the inside out," HigherDOSE co-founders Lauren Berlingeri and Katie Kaps tell Marie Claire. "This type of heat penetrates deeper into the body than traditional steam or dry saunas, reaching up to two inches below the skin's surface. This deep heat helps to increase blood flow and circulation, which can help improve overall health and wellness."
The heat is also going to trigger a process called thermoregulation. To sum it up all neat and tidy, the body gets overheated and attempts to regulate its core temperature by sweating—a lot. "This helps to remove toxins and impurities from the body and can also lead to weight loss, as the body burns calories to produce sweat and cool itself down." As a result, you can have more restful sleep, a happier mood (endorphins!), and less anxiety.
What to Look For
"EMFs are artificial electrical frequencies and should be mitigated as much as possible, given you are immersing yourself in the sauna blanket," says Dovey. Short term, concentrated exposure can be harmful to health, so it's best to look for a blanket that has a low or zero EMF claim.
Different sauna blankets are going to have different heating elements (think: stones or crystals). While there's not necessarily a "best" material per se, you do want to make sure that the blanket is equipped to evenly distribute the temperature across your entire body. Heat Healer for instance uses a layer of jade and tourmaline stones, which help radiate and absorb heat, while HigherDOSE uses charcoal and crystals to intensify your detox and push heat deeper.
Any well-respected, highly rated sauna blanket *should* be using non toxic and high quality materials, but if you want to be extra sure everything is up to par, check the label for certain certifications. "You want to make sure your sauna blanket is test against FCC standards for radiated emissions, SGS Labs for toxins, and tested by an accredited lab against international safety standards," says Dovey.
This one isn't a need, but a want. Depending on your height and your storage situation, you're going to pay close attention to the size of your blanket. Some come equipped with travel bags, others are large enough to fit someone who is six foot six.
The Best Sauna Blankets and Mats
The Best Infrared Sauna Blanket Overall
HigherDOSE Infrared Sauna Blanket
"The HigherDOSE blanket, designed with non-toxic, non absorbent PU leather material, heats up to 156-158 degrees Fahrenheit utilizing far infrared technology. There's additional layers of charcoal and crystals inside the blanket to further deepen your detox," explain Berlingeri and Kaps. "Once you turn the blanket on and select your heat level one to eight, zip yourself inside either fully clothed or using our towel insert, and get your sweat on." The best part? "Each session also releases DOSE chemicals (dopamine, oxytocin, serotonin and endorphins) that boost mood, reduce anxiety and support more restful sleep."
Pros: Releases DOSE chemicals; Gets very hot
Cons: Expensive
The Best Zero EMF Infrared Sauna Blanket
Heat Healer Infrared Sauna Blanket
With a zero EMF claim, a towel insert for easy cleaning, and a remote controller that allows you to adjust the temperature, Heat Healer is one of the best on the market. "I incorporate my sauna blanket sessions into my morning wellness routine," explains Dovey. "I start with a 15-minute cardio session to get my heart rate up before getting into the sauna." Then once she zips herself up, she makes the most of her experience. "While in the sauna I love to practice stack meditation and manifestation. The heat clears my mind and makes me focused."
Pros: Zero EMF; Customizable treatment; Fortified with jade and tourmaline crystals
Cons: Some say heat escapes through the top
The Best Sauna Blanket for Muscle Pain
MiHigh Infrared Sauna Blanket V2
Get this: You're going to burn 300 to 600 calories by spending up to an hour in this baby. It gets pretty hot, so chances are you won't need to turn it up past level six. That said, you can crank it up to level nine if you're feeling it. This specific mat is loved by customers who are dealing with muscle and joint pain. It creates even heat distribution, really concentrates on the leg area, and still gives your head enough room to breathe. I'm a big fan of doing a treatment right before bed' I promise you'll sleep like a baby.
Pros: Good for travel; Ideal for muscle pain
Cons: Velcro closure
The Best Velcro Closure on an Infrared Sauna Blanket
SunHome Saunas Infrared Sauna Blanket
Never have I ever seen more positive reviews than the ones on this infrared sauna blanket. Out of 2,821 total reviews, 2,819 are five stars. And majority of the comments are straight-up love letters to the blanket, which boasts non-toxic materials, low-EMF heating, and industrial-grade velcro to lock in heat. The design is what really sets this tool apart from the pack—there's a "U" shaped opening on the front panel that allows your head to peak out. If you want use of your hands though, secure the velcro on your chest and keep all the heat inside.
Pros: Easy to clean; Strong closure
Cons: Expensive
The Best Luxe Infrared Sauna Blanket
HydraGun Heatpod Sauna Blanket
Customization is the name of the game with this product. The temperature ranges from 86 to 176 (!!) degrees and you can set a time for five minutes up to an hour. Once you have your settings ready to go, just crawl in and prepare to feel toasty. The blanket was designed with carbon fibers that coil their way from top to bottom in an effort to ensure equal heat distribution. I'm not going to deny that this particular design is expensive, but I will say that the price makes sense when you really examine the materials. It's made from vegan leather, has insulating cotton complete with advanced thermal sensors, and has a thick zipper that's designed to be durable.
Pros: Luxe; Long-lasting; Even heating
Cons: Expensive
The Best Infrared Sauna Blanket With Arm Holes
LifePro BioRemedy Infrared Sauna Blanket
One of the biggest benefits of sauna blankets is that you can use them at-home—and multi-task while using them. If you're a habit stacker and want to work or read a book while you get your sweat on, this specific blanket is for you. It's designed with productivity in mind and has built-in arm holes. It's also a great option if fat loss is top of mind. You'll get two detox wraps with your purchase (they look like aluminum), which are great for boosting detoxification and weight loss. Just make sure you turn the temp up to the highest range.
Pros: Arm holes; Good for aiding weight loss
Cons: Takes a while to cool down
The Best Infrared Sauna Blanket on Amazon
Vanell Far Infrared Sauna Detox Blanket
If two-day free shipping is your love language, then look no further than Vanell, which is available through Amazon Prime. The quick delivery might attract you, but the fancy features will keep you interested. This blanket, which is available in four different colors, has a zipper closure, heats up to 185 degrees, is made of odor-free material, and has a flexible stretch to the material for comfortable wear. Just zip yourself in a few times a week and get ready to experience increased circulation, quicker healing, and a feeling of general serenity.
Pros: Comes with remote; Flexible material
Cons: Clunkier than others
The Best Infrared Sauna Blanket With Leg Room
REVIIV Far Infrared Sauna Blanket
Does the mere thought of being stuck in a zippered bag for 30 minutes have you feeling claustrophobic? I get it, which is why I'm going to sing the praises for REVIIV. Their sauna bag is as roomy as you're going to get, making it perfect for anyone who requires a little space to move around. The tech is also up to par—it goes up to 185 degrees, automatically shuts off after an hour, has a remote control with a long chord for easy access, and obviously has low EMF. Plus, you'll get a towel insert with your purchase that'll absorb all your sweat for easy cleanup.
Pros: Lots of space; Comes with a towel
Cons: Some report a chemical smell
How Often Should You Use a Sauna Blanket?
Recommendations will differ from device to device, but at the end of the day consistency is key if you want to see real results. "The frequency of using an infrared sauna blanket at home can depend on several factors, including your individual health needs, lifestyle, and personal preferences," say Berlingeri and Kaps. "In general, it is recommended to start with shorter sessions and gradually increase the duration and frequency as your body adjusts to the treatment." Start off by using your blanket around one to two times a week and try and work up to three or four times a week. On some occasions, you may even be able to tolerate a daily sauna session. Most devices recommend 30 to 60 minute sessions.
What Should I Wear in a Sauna Blanket?
This may not have been the first question that popped into your mind when you purchased your sauna blanket, but I promise you it's one you'll want to read up once you have your mat rolled out in front of you. "We recommend only natural fibre clothing and towels for inside the sauna blanket so your skin can breathe, and the fabric can absorb sweat," advises Dovey. "As an alternative you can lay a towel over the stones and wear cotton pants, a long sleeve top, and socks to best absorb sweat." In short: Wear clothes that you can toss right in the washing machine—they're bound to be sweaty.
How Do I Clean My Sauna Blanket?
Because you're getting all sweaty inside the blanket, you're going to want to clean it between each use. "It is a very simple process to clean your sauna blanket," says Dovey. "Allow the blanket to fully cool down and wipe over with a damp cloth with some natural detergent or an antibacterial wipe." Sometimes there will even be a towel or cotton insert inside that you can just toss in the wash.
Meet the Experts
Lauren Berlingeri studied at The Institute of Integrative Nutrition where she became a certified holistic nutritionist and health coach. Lauren is a Canadian host, fitness expert and international model. She was the star of the popular web series "Woman Vs. Workout" which grossed over 15 million views. She has been featured in Women's Health Magazine, Shape Magazine and Fitness Magazine.
Katie Kaps is a startup executive and entrepreneur. She holds degrees in International Economics from Georgetown University and the London School of Economics, and took Tough Mudder from $10m sales to $150m sales, earning her employee of the year in 2013. She also has worked in investment banking, venture capital, and held CEO roles in startups prior to launching HigherDOSE.
Celebrity news, beauty, fashion advice, and fascinating features, delivered straight to your inbox!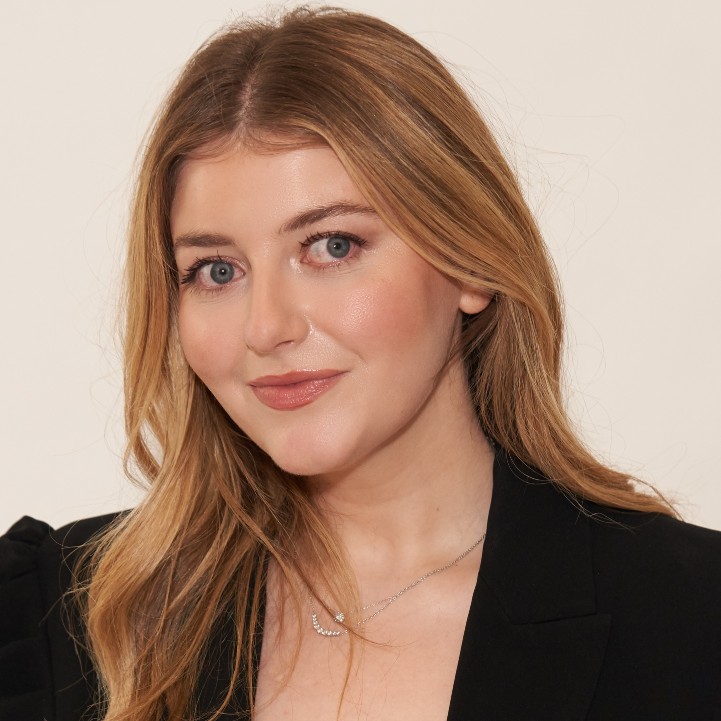 Samantha Holender is the Beauty Editor at Marie Claire, where she reports on the best new launches, dives into the science behind skincare, and keeps up with the latest trends in the beauty space. She has previously written for Us Weekly, Popsugar, Makeup.com, Skincare.com, and Philadelphia Wedding. Follow her on Instagram @samholender.