Do Infrared Sauna Blankets and Mats Really Work?
I added HigherDOSE's infrared devices into my winter self-care routine to find out.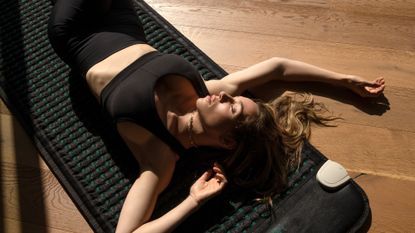 (Image credit: Courtesy of brand)
With winter approaching, it might be time to reassess your current self-care routine. Colder temperatures mean less time outside and less daylight, which can be extremely stressful on both the mind and body. I am personally dreading the stagnation that my body really feels in December and January, and without group classes and the gym to turn to, I started searching for at-home options (opens in new tab) to keep my limbs limber and my mind clear. Enter: the HigherDOSE Infrared devices, specifically its sauna blanket and infrared mat.
The brand's sauna blanket (opens in new tab) is a cult favorite, so it wasn't a hard sell for me to seal myself into the heated, human-sized pouch. Its adjustable heat technology has been shown to increase the body's thermal energy and promote a temporary increase in blood flow, which means major detoxification and a serotonin hit without hitting the gym.
As a Y7 (opens in new tab) devotee, I'm currently a lazy shell of my sweaty, limber former self, so the chance to get my heart rate up and perspire while also staying horizontal sounded almost too good to be true. But sure enough, after a 45 minute session cocooned in the sturdy leather wrap—and damn, it can get hot—I emerged drenched in sweat with the same euphoric feeling I used to feel post-Bikram. Now, you can find me wrapped up in my sweaty little burrito at least twice a week.
The blanket's newly released sister, though, is what really caught my eye during my research: the Infrared Mat (opens in new tab). It resembles what I believe carpeting would look like on a UFO, but the science behind it is rooted in Ayurvedic practice. It combines healing negative ions, high tech PMEF (pulsed electromagnetic field therapy)—which has been used to treat medical issues like wound healing and depression—with ancient materials like amethyst and tourmaline to promote immunity, improved mood, boosts of energy, and quicker muscle recovery. Before laying myself down on the seemingly miraculous mat, I consulted Juhi Singh (opens in new tab), an oriental medicine specialist, acupuncturist, Chinese herbalist, and founder of New York City's Juhi Ash Center.
According to Singh, absorbing negative ions sound counterintuitive, but it actually balances the body. "From the moment our feet hit the floor in the morning, positive ions are on an onslaught-alert to stress our day: your phone, computer, television, pollution and poor nutrients align themselves in barricade formation," she says. " Exposure to negative ions is the tunnel to ahhhhhh. Once they reach our bloodstream, negative ions produce biochemical reactions that increase serotonin levels."
As for the crystals inside the mat, both amethyst and tourmaline are commonly used in Ayurvedic treatment practices like Singh's own center thanks to their wide-ranging benefits.
"Amethyst has been used as a health stone for thousands of years. It is considered a crystal of spirituality," says Singh. "It's known to activate the crown chakra and third eye—both are connected to our dream state, which is why it's an excellent stone for sleeping." Additionally, Singh says it can strengthen the immune system, alleviate pain, soothing and even enhance the skin's glow.
Meanwhile, tourmaline is a stone of detoxification. "It lifts the heart and emotions, but it also eases physical ailments. It is one of a handful of minerals that has the ability to emit negative ions and far-infrared rays (FIR), which stabilize the nerves, improve blood circulation, cleanse the liver and kidneys, and aid in treating skin disorders."
This sounded like a tall order, so I took my time testing out the mat. It comes with an adjustable controller, with which you can control the heat settings, turn the ions on and off, and even set a timer so you don't have to keep constant watch. The directions recommended laying on the mat on and off throughout the day, which turned out to be a perfect reset during the workday when I needed to take quick breaks from writing. I kept the heat setting low enough that I wouldn't sweat but enough to enhance the crystals' effects, which means you don't need to plan to wash your hair afterward as one might with the sauna blanket. After a couple days of use, I started to feel calmer at baseline. And as horrible of a sleeper (opens in new tab)as I typically am—it takes hours of tossing to drift off and I wake I frequently—I actually slept really well, without waking up even once.
Absolutely, the price tag for both of these products are steep. But without a gym membership or the cost of group classes one might spend pre-pandemic, the investment could truly be worth it—especially with the possibility of another lockdown. My whole body has benefited from just a few weeks of use: The sauna blanket keeps my physique feeling rejuvenated, and the mat has added some much-needed tranquility to my daily routine; I plan on using both for the foreseeable future.
Taylore Glynn is the Beauty and Health Editor at Marie Claire, covering skincare, makeup, fragrance, wellness, and more. If you need her, she's probably roasting a chicken, flying solo at the movies, or drinking a bad Negroni at JFK.