U.S. Open Star Sloane Stephens Opens Up About Mental Health
The tennis player and Mercedes-Benz ambassador is giving herself some grace—and, some pizza.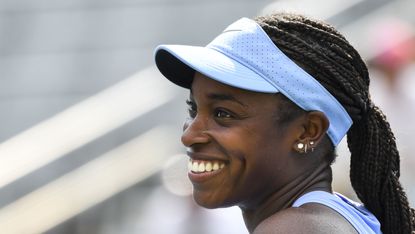 (Image credit: Minas Panagiotakis)
Today, Sloane Stephens will play her first match of the 2021 women's US Open against Madison Keys. It's not the first time the two—who are friends—have battled it out on the courts: In 2017, Stephens beat Keys in the tournament's finals, clinching the coveted title—and, while winning is certainly on the brain, Stephens is fighting for more than a trophy this year. She's fighting for change in the game.
Stephens is one of the many athletes—including Simone Biles and Naomi Osaka—opening up about how the intense pressure in professional athletics impacts a player's mental health. Speaking with Peloton's Tunde Oyeneyin at a Mercedes-Benz event last week (Stephens is a proud Mercedes-Benz ambassador), Stephens shared how she once based her own choices on other people's opinions or the public perception of her, which led her down a dark path.
"I've been in a place where it's been dark and it's been deep and it's been sad," she said at the event. "I'm like, 'I need to get out of that place. I need to take care of myself because it's a cold world out here."
So this year, instead of basing her self worth on other people's opinions, Stephens is prioritizing her own mental health and is doing what makes her feel best before stepping on the court—even if that means, yes, eating pizza right before play. She says something as small as eating the food you are craving can be empowering, on and off the court.
"It might not be the best food to eat pre-match, but it makes me happy and feel good," she says. "And sometimes your performance is based on you going out there and being happy."
It's taking small steps like eating pizza—and larger ones, like speaking openly about her own experiences—that will truly move the needle. She's hoping the chorus of voices demanding change in professional athletics will help protect up-and-coming athletes. "I've been saying it for years that we need to change the dynamic of how the tour is run and how these tournaments are played and how long we're playing for," she said. "We play a season from January to November, which is unheard of. There's no break...I think that younger athletes are not told enough that it's okay okay to be sad, it's okay to be happy, it's okay to show your emotion. No one, I feel, in the sports industry is comforting in that."
As a member of the Women's Tennis Association Players' Council, Stephens says she has fielded a lot of these types of concerns from athletes. "I think that obviously, we can do better to support each other," she said.
Stephens and Keys are leading by example. Though competitors, the two still find ways to support one another. In fact, Stephens shares how in the 2017 Open finals, Keys gave her sushi mid-match — a food Stephens often fuels with during play.
It's too soon to say if we'll see fish-swapping on the courts this year, but one thing is certain: by speaking out, speaking up, and giving herself grace, Stephens earns a win for athletes, everywhere.
Megan DiTrolio is the editor of features and special projects at Marie Claire, where she oversees all career coverage and writes and edits stories on women's issues, politics, cultural trends, and more. In addition to editing feature stories, she programs Marie Claire's annual Power Trip conference and Marie Claire's Getting Down To Business Instagram Live franchise.