Study Finds that Abortion Rate Hits Lowest Point Since Roe v. Wade
The rate hits its lowest point since 1973.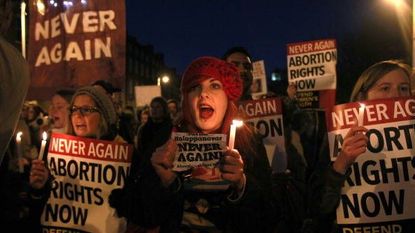 (Image credit: Archives)
A new study from the Guttmacher Institute found that the abortion rate has dropped to its lowest point since 1973 (opens in new tab), possibly due to increased use of effective contraception.
According to study, obtained by The Huffington Post's Laura Bassett (opens in new tab), the abortion rate declined to about 17 abortions per 1,000 women in 2011. To put this in context, the rate was at its highest in 1981, when there were about 29 abortions per 1,000 women.
Earlier this year, the Guttmacher Institute released a study that found that 2013 was a dismal year for abortion rights (opens in new tab), as more state-level restrictions were enacted between 2011 and 2013 than in the entire previous decade. While researchers did not study the reasons for the abortion rate dropping, they did suggest that the decline could have something to do with the prevalence of effective contraception.
In an interview with The Huffington Post, Rachel Jones, lead author of the study, said, "Contraceptive use improved during this period, as more women and couples were using highly effective, long-acting reversible contraceptive methods, such as the IUD. Moreover, the recent recession led many women and couples to want to avoid or delay pregnancy and childbearing." Jones said that the study also coincided with "a steep national drop in overall pregnancy and birth rates."
With the Affordable Care Act, health insurance providers are now mandated to cover birth control. Some birth controls are offered for free and without co-pay, some are not. To learn more about how to access insurance-covered contraception, head over to healthcare.gov (opens in new tab).